Its Expo Lucha season sports fans! This Saturday and Sunday from the Harry West Gymnasium at San Diego's City College (in San Diego, California for those who need the extra reminder) Masked Republic's now annual celebration of lucha libre returns, full of legendary luchadores, popular stars of today and, of course, wrestling shows! There will be four shows coming out of Expo Lucha this weekend and I will be bringing you coverage of two of them. We start with the big show on Saturday night (preceded by a pre-show party hosted by "The Juice" Juventud Guerrera) named Lucha Society X. If that title seems familiar, that's because it is a tribute to the cult classic promotion Wrestling Society X, which aired a decade ago on an evil station that shall not be named. This show will be very much in the style of Wrestling Society X (minus the explosions and pyrotechnics), with some Lucha Underground, some So Cal style and a whole lot of lucha libre thrown in. So what are we waiting for? Let's get to the preview, which will also include a look at a certain video game competition happening throughout the weekend.
BHK & Yuma vs. Phoenix Star & Zokre
What to Expect: My memory is a bit hazy but didn't Phoenix Star and Zokre used to be the guys who dressed in chicken costumes? Or am I just thinking about that guy Kane Tombstoned at a Wrestlemania once? In any event, this match should be fun! Phoenix Star and Zokre aren't the PWG regulars they once were but they're still good, and those who don't know RockNess (BHK and Yuma) will be happy with what they see. And in fact they do know one member of RockNess, as BHK was once on Lucha Underground as Son of Havoc's biker buddy/rival Son of Madness! Remember Son of Madness? He was cool (at least to me) and he should be again in an opener that is likely to be light, fun and quick.
Winners: RockNess takes this one.
Joey Ryan & Ruby Raze vs. Peter Avalon & Shotzi Blackheart
What to Expect: What delightfully weird teams! They're both such a contrast; on one side you have famous dick wrestler Joey Ryan teaming with the powerhouse Ruby Raze while on the other side you have a Librarian teaming with the future lead of the Tank Girl remake. It's definitely the sort of idea that could only come from the mind who thought this up.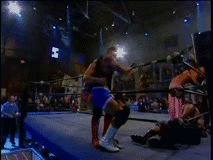 Now you shouldn't expect explosions from this one but, like the opener, you should expect something fun and light on its feet. I don't know a ton about Ruby Raze, but both Ryan and Avalon are solid, really charismatic guys and Shotzi Blackheart is one of the most unique female performers in wrestling today, and I'm not just saying that because of that one EVOLVE spot. She's also very familiar with Ryan so that will probably lead to at least one or two sequences between them. I don't know if this will be lucha centric, but it'll probably be funny and hey, who doesn't like comedy? Besides the people who hated Orange Cassidy signing with AEW I mean.
Winners: Sorry Joey; all the dick strength in the world won't help you here. Avalon and Shotzi emerge victorious.
Gauntlet Rumble Match
Adrian Quest vs. Disco Inferno vs. Dragón Yuki vs. El Mariachi Loco vs. Human Tornado vs. La Máscara vs. Laredo Kid vs. Lil Cholo vs. Mr. Iguana vs. Oraculo vs. Serpentico vs. Tyler Bateman vs. Último Panda vs. Luchador Sorpresas
What to Expect: We arrive at this match with some terrible news sports fans? Are you ready? Are you sitting down? Okay, here it goes…La Máscara has escaped from the La Máscara zone. He's back, he is ready to bore us to tears again AND DAMMIT HE MUST BE SENT BACK!
On the plus side La Máscara's presence here did accomplish one thing; if he's paired against Disco Inferno at one point, it'll be the first time I've rooted for Disco since he was teaming with the actual greatest dancing wrestler of all time Alex Wright. You take your small victories where you can. In all seriousness, this Gauntlet Rumble match should be the start of this show getting really good, particularly since it won't eliminate dives with eliminations only occurring via pinfall and submission. There's a whole lot of talented guys here like Lil Cholo (Mr. Cisco) and Mariachi Loco of Lucha Underground fame, the crazy Mr. Iguana, the breakout star of last year's Expo Lucha Adrian Quest and, oh yeah, Laredo Kid. You know, only one of the best luchadores/wrestlers alive as we live and breathe. Throw in what should be some nice comedy from Último Panda and whatever Disco does and really, the only thing to worry about is La Máscara. Then again, he was good at Expo last year, it's always possible that he's rediscovered his passion for lucha and, if nothing else, there are a whole lot of people in this match. I'm pretty sure there's not a lot of damage he can do by just going through the motions. But yes, this should be a blast.
Winner: I mean, the only reasons you put Laredo Kid in a match like this instead of a bigger showcase is if he's winning, he's putting over a guy like Quest to make him a star or the booker is off his rocker. I'm pretty sure the answer will be the first, which means Laredo is adding another victory and accomplishment to an already outstanding 2019.
OVW Anarchy Championship Match
Sinn Bodhi (c) vs. Mr. Aguila
What to Expect: This is why you've got to love Expo Lucha; what other show out there is giving you Kizarny vs. Essa Rios?! This might wind up being one of the more unique matches on this card given its for the OVW Anarchy Championship, a title where the defending champion gets to choose the stipulation for his defenses. Given how eccentric Sinn Bodhi is I get the feeling the stipulation for this one may be out there. Whatever it is it'll just be nice to see Mr. Aguila again. He was a rare bright spot when he briefly returned to AAA right before they got out of the dark ages last year, and I expect we'll get the same type of performance here.
Winner: I guess a title change is always possible, but I'm guessing Bodhi will successfully retain in order to bring the title back to OVW, where he'll then defend it even more bizarre matches for as long as he wants.
Black Taurus, Demus, Psicosis vs. Daga, Ryan Kidd, Tiago
What to Expect: The only concern I have for this match whether or not Daga is going to have the brass knuckles with him. I know that's an AAA thing but you can never be too careful with your worries sports fans. Besides that this match should be a lot of fun. It's always great to see Demus, especially when he's dropping someone on their dome, and Tiago (the former Mini Charly Manson) should work really well with him. Meanwhile Black Taurus (aka Taurus from AAA) is always excellent with all around game, Daga is tremendously talented when he's determined to showcase it, Ryan Kidd (the unknown in this match) is a talented young dude very familiar with the lucha style (him wearing a mask should endear him to the crowd) and Psicosis remains Psicosis. And by that I mean he's still willing to destroy himself with major bumps, as if he's still working Blitzkrieg on a random episode of WCW Nitro. By the way, where the hell is Blitzkrieg on this show?! Shouldn't he be a guest referee at least? In any event, this will be cool.
Winners: Taurus is the hot guy right now so I expect him to be going over huge this weekend. He leads Demus and Nicho to victory after destroying poor Kidd with some amazing move.
Aeroboy & Septimo Dragón vs. Aerostar & Drago
What to Expect: At last year's Expo Lucha Future Legends show, the third match from the top, an atomicos where Adrian Quest, Destino Negro, Douglas James and La Máscara took on Black Danger, Eli Everfly, Taurus and Vapor not only stole the show but ended up propelling the card into a strong final third while also showcasing break out performances by James and Quest (you can watch the match here starting at the 1:34:00 mark!).  It also wound up being the last time La Máscara was cool before he shuffled off into the La Máscara zone for what I presumed to be good (dammit all!). Now this year we have another match that looks to do the same for this show, only with 100% more Aerostar. You know; the guy who does stuff like this!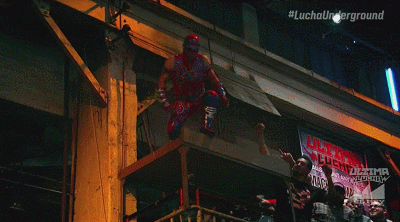 But seriously; wow this match looks great! Obviously the focus going in will be on Aerostar and Drago and understandably so; both are stars from their AAA/Lucha Underground tenures, Drago is one of the most beloved luchadores due to his awesome gimmick and Aerostar, at his best, is up there with any other luchador alive. But don't sleep on their opponents. Septimo Dragon, who has worked with The Crash, IWRG and DTU over the years, is a really talented high flyer who's just needed a platform to break out, while GALLI Lucha Libre Champion Aeroboy is one of those ultra talented dudes who seems to standout in whatever situation he's in (his match with Fenix for the AAA Mega Championship in GALLI last year was tremendous). Both guys have a shot to really stand out here and I think they'll do so with two other high flyers to work off in Aerostar and Drago. Expect nonstop action, a lot of dives and maybe even the best match on this show. When it comes to Aerostar I do not doubt.
Winners: The two thirds of the Lucha Underground Super Friends take this one after Aerostar hits one of his wacky moves on Septimo Dragon for the pin.
Four Way Match
Flamita vs. Juventud Guerrera vs. Rey Horus vs. TJP
What to Expect: They had me at Juventud Guerrera with this one sports fans. I don't care how many years since it's been since Juvy's WCW days; more Juice is always a great thing! This match is designed to be nonstop movement and along with Juvy it's three dudes who can do the trick. Flamita and Rey Horus haven't popped up in any "Luchador of the Year" discussions but they've had tremendous moments this year and should be great here as well. And while my only recent exposure to TJP was a match at Impact's Slammiversary, he looked to be in fine form and has always worked tremendously with luchadores. It's the perfect environment for all three, and I'm hoping Juvy joins in on the fun. I thought he looked really good during his brief AAA run last year but more so as a base than a high flyer. This will give him a chance to do both and I'm hoping Juvy gets off a few cool dives here and there to remind the younglings that he was once right there with Rey Mysterio Jr. as one of the most exciting performers in the world.
Winner: I never bet against the Juice unless it involves Billy Kidman. Billy Kidman ain't here so thus the choice is easy. Juvy picks up the W here with a Juvy Driver on TJP.
Penta Zero M & Rey Fenix vs. Jack Evans & Teddy Hart
What to Expect: It's the big one sports fans. The Lucha Brothers vs. The Hart Foundation 2.0. The AAA Tag Team Champions vs. Teddy Jack! Team Lucha Underground vs. Team Wrestling Society X. The Man of Cero Miedo and the Man of A Thousand Lives vs. Mr. Velvet's Favorite Wrestler and…alright I'm not listing all of Jack's nicknames. But here's one screenshot so you can get an idea of how many there are.
Now for the match. It's pretty much a common occurrence for Pentagon and Fenix to encounter Teddy Hart in a match these days. The Lucha Brothers lost the MLW Tag Team Championships to Teddy and his cousin Davey Boy Smith Jr. back at MLW Super Fight in February, and the two teams will be colliding again in a two out of three falls match a week from tomorrow at Big Time Wrestling's McCoy Stadium event in Pawtucket, Rhode Island, an event I will be attending! This match however will be the first time Teddy has teamed with Jack, his long time friend and occasional rival, since Wrestlemania weekend in 2018, when the two teams collided at Wrestling Revolvers Pancakes and Piledrivers show. I personally thought that match was great and this one has a chance to be even better as both teams are now even better. We know what Pentagon and Fenix are capable of; both together and individually, and there might not be a more underrated team when they're together than Teddy and Jack. And that's before we get into the fact that Jack has been terrific in AEW teaming with Angelico, while Teddy is perhaps having the best year of his career as one of MLW's top stars. On paper this match has unlimited potential and is the perfect sort of Lucha Underground/Wrestling Society X match up to headline this show. Both the Aerostar tag and the four way have a shot as well, but this match should be the best thing on the show.
Winners: I'm very torn on this pick because the Lucha Brothers are great, Teddy is one of my favorite performers ever and Jack is, well, Jack. In the end though this is Expo Lucha and this show is called Lucha Society X so I kind of have to pick the lucha team. Sorry Teddy Jack, but the Lucha Brothers are coming out of this one victorious. I honestly wouldn't be sad with either team winning though. I will be with a draw though; this ain't the G1.
And with that I would normally be off to do something else. But wait; THERE'S A SPECIAL BONUS PREVIEW!
Special Video Game Challenge (Bonus Preview)
Jack Evans vs. The World
What to Expect: So you remember that whole thing about Jack Evans' nicknames? Later on in that Twitter thread I gave you a glimpse of, Jack would go on to reveal many of his nicknames have to do with video games, particularly how he was undefeated at games like Mortal Kombat, notably against the Lucha Underground roster. The people who put together Expo Lucha took notice of this and now there will in fact be a Jack Evans video game challenge at Expo Lucha. How could I not take an in depth look at this with a special bonus preview, complete with gifs of Jack doing kung fu?!
So what do you need to know sports fans? There will be two games set up; we're talking legendary titles Mortal Kombat and Street Fighter II. When the doors open to Expo Lucha on Saturday fans will be able to face each other to determine who then gets to face Jack. After that it is Jack against all comers…and I mean ALL COMERS. I'm talking fans, wrestlers, maybe even Kevin Kleinrock himself! Pentagon and Fenix can challenge Jack if they want. Teddy and Jack could take their battles from the ring to the arcade. Cain Velasquez' maestro Vinnie Massaro likely will after Jack insulted him on Twitter. Hell you, yes you, could battle with the Man, the Myth, the Legend Jack Evans, FROM THE HEAVENS yourself! The best part is this thing will be going for pretty much the entirety of Expo Lucha…well other than when Jack has to wrestle. In the words of Vince McMahon, this is such good shit! I have many hopes for this weekend, but my main one is that someone finds a way to take video of this and we get to see it. Between Jack and the potential of Jack winning or losing, it should be wildly entertaining.
Winner: I mean the world is a very big place. And Jack Evans is just one man. The world should be able to be one man after all…ah screw it. Jack Evans defeats the world and goes to, checks notes, 188-0 at Mortal Kombat and some other lopsided record at Street Fighter I'm sure. May Grodd help us all when he does.
And on that note I am officially done for the day! I'll see you all tomorrow night for the review of CMLL's Super Viernes, provided the drive down there doesn't tire me out too much. TILL THEN!
Please change disks to continue…