It has been an emotional day in the world of lucha libre, something that was inescapable on tonight's CMLL show in Arena Mexico. With the death of Universo 2000 looming large, CMLL did what they do best and put on a show that was both moving and above all else good, the opening match aside. I'd say more but frankly, the rest of the column speaks very well for the show so why don't we just get into that? Keep the tissues handy sports fans; you may need them.
Bengala & Leono defeated Grako & Príncipe Odin Jr. two falls to one
This was Leono's first match in nearly a year. With the way he performed it should be another year before we see his ass again. Holy shit does this man suck. And it wasn't just that he was bad, it was that he didn't put any effort forward in this match. He did the absolute bare minimum of offense and selling, with the low point being where he refused to take a Grako powerbomb because…he's an unprofessional asshole I guess. The sooner he disappears the better of we'll all be. Sadly I can't say he dragged this match down because there wasn't much to this match otherwise. There were a couple semi-inspired moments between Bengala and Príncipe Odin and Grako was trying, but the former two are so mediocre their stuff never stands out and Grako had nothing to work with. All in all it was a pitiful experience, with the only standout moment being Príncipe Odin coming out to P.O.D.'s "Alive." Now that's a song I haven't heard in a long time; almost as long as since Leono last gave a damn!
Angelito, Shockercito, Stukita defeated Pequeño Olímpico, Pequeño Universo, Último Dragóncito two falls to one
A substantially better match than the opener, if only because there was no way it could possibly get worse. I mean it; these six could've come out there and re-enacted the "I don't like sand" scene and it would've been better than the opener. Overall I thought this went exactly how I thought it would. The technicos were all really good to great, with Angelito really standing out from his partners with some great mat work transitions in the first fall (the way he escaped Olímpico's submission attempts was really fun) and a nice dive in fall three. They just didn't get much from the rudos, not because of a lack of effort but because you're only getting so much out of Olímpico, Universo and even Dragóncito, a late replacement for Pequeño Nitro who was in a role he wasn't accustomed to. It was nowhere near a special match, but it was nice to see Pequeño Universo there given the events of the day and Angelito finally got to cut loose a bit. I call that a success.
Puma, Tiger, Universo 2000 Jr. defeated Blue Panther Jr., Drone, The Panther two falls to one
Yesterday, when this was just a normal match between six luchadores, I anticipated this would be a very solid if similar match to what Puma/Tiger and the Panthers generally have. Then we learned of Universo 2000's passing this morning and you knew this wasn't just going to be another match. I wasn't surprised to see Universo 2000 Jr. in this match because, right or wrong, La Máscara working almost a year ago on the death of his father has proven that luchadores will continue on. It's just how they're built. Once it became clear Universo Jr. would be in this match however I knew this; there was absolutely no way Puma, Tiger, Drone and the Panthers were going to let him down. They did not. The effort from all of them was absolutely off the charts. Yes some of this was what we've seen before from these teams, but I also thought Puma and Tiger through a couple different wrinkles into their double teams (how about that surprise superkick on the apron) and without question they added some extra oomph with a few dive sequences. Universo Jr. wasn't involved in all of that but he didn't need to be; he did his normal stuff and everyone else made sure to make this match as easy an experience as possible for a young man who lost his father. I cannot praise Junior, Drone, Panther, Puma and Tiger enough for that; they were true professionals all the way.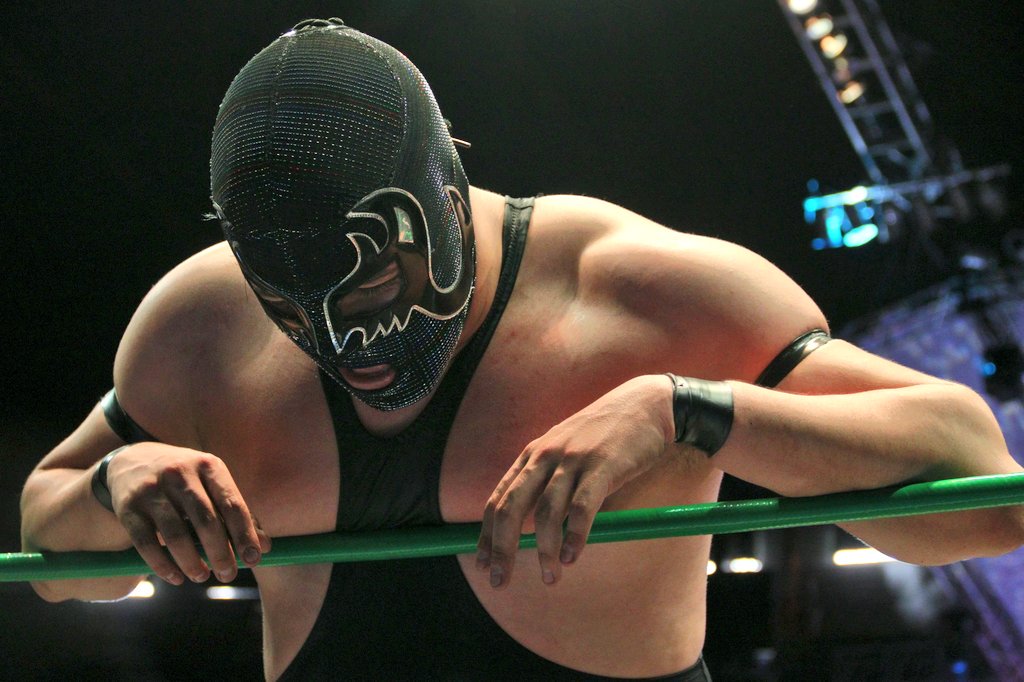 Of course just when it seemed like things couldn't get any more emotional following Universo Jr. picking up the win, the entire locker room spilled out to honor his father as he, and I at home, lost it. This is now the third time in the last year I believe CMLL has had to do one of these tributes to a fallen luchadore and that's frankly three too many. But for as sad a situation this was I cannot praise CMLL enough for how well they handled it. It was simple but it was emotional, with the focus never being taken away from the fact that this was about a son who lost his father. I cannot begin to imagine what Universo Jr. went through today, much like I can't imagine what La Máscara went through just a year ago when he wrestled the night his father, Brazo de Oro, died. I can only say he did the best he could and that wherever he is, his father would be extremely proud of him. I hope everyone in the lucha community is proud of him. There will be better matches this year and perhaps better moments, but in terms of matches and post match segments built on emotion and hard work, I find it hard to believe anything will top this. And in a way I hope not because I do not want to see any other luchadore go through this again.
Dragón Rojo Jr., Okumura, Pólvora defeated Rey Cometa, Stuka Jr., Titán two falls to one
Normally it would be very hard to follow an emotional scene like we saw in the last match and the immediate aftermath. Luckily this match did a hell of a job. Aside from Dragón Rojo Jr.'s hair, which was…I don't know what was going on there, this match was very enjoyable. All three technicos tried really hard and unleashed several dives, with Titán capping it off with a really nice Moonsault over the turnbuckle post and to the floor. The rudos weren't as high flying, but they were trying hard too and did a good job allowing the technicos to get their stuff in while not going overboard with the triple teams. In fact the genius thing about this match was that CMLL actually allowed the technicos to control all but a two minute block of space, keeping the match moving. I wouldn't call it a blow away match and it certainly didn't have the emotional stakes or effort of the previous match, but I found it to be quite enjoyable. Good effort from all six guys.
Mexican National Welterweight Championship Match
Soberano Jr. (c) defeated Magia Blanca two falls to one
On a night already filled with raw emotion, all that was left was for CMLL to deliver a great match. We got it. I said yesterday in the preview that this match was going to tell us a lot about Magia Blanca and I think we can safely say he's the real deal. This was a career defining performance for the young luchadore. I thought he was really good in the Copa Nuevos Valores tournament but this was even beyond it; he wrestled with all time high confidence and the smoothness of a veteran, nailing all of his big moves and breaking out some new ones like a moonsaulting arm drag while Soberano stood prone on the ropes. I'm still not sure how that all worked out but I'm glad it did! Even stuff like the mat work Blanca did in the first fall was exceptional; it was as if he transformed into Angelito out there with his transitions. I'm not sure where the young man goes from here but anyone who says this wasn't a potentially defining performance for Blanca is lying. I haven't seen a breakout like this since James Gandolfini's hotel scene in True Romance.
But as great as Blanca was, and he was great, Soberano was somehow even better. Obviously the pressure wasn't the same on him as it was on Blanca, who could've been doomed to a lifetime of openers and hopeless second matches if he choked like Jon Starks against the Pacers. Even still this was an opportunity for Soberano to show, in addition to making himself look great, he could help establish a lower card performer. That's exactly what he did. I'm pretty sure Soberano sold Blanca's offense better than any opponent Blanca has ever had tonight, all while also being in perfect position to catch the Copa Nuevos Valores winner on all his big moves. Naturally Soberano was also able to get his own stuff in, but didn't go overboard as to not overshadow his opponent. It was a tremendous performance by one of the best luchadores alive today, during a week where he might be getting the call to appear in the Best of the Super Juniors tournament in Japan. And while I can't say this was the best match Soberano has ever had, I do think it was his best overall performance in terms of what he brought and what he was able to bring out of Blanca. You combine that with Blanca's hard work and CMLL booking a fantastic story of Blanca throwing everything at Soberano only for it to not be enough because Soberano is that damn good and well, you've got yourself a borderline Match of the Year contender. A standing ovation to both of these luchadores.
Carístico, Diamante Azul, Niebla Roja defeated Mr. Niebla, Rey Bucanero, Último Guerrero two falls to one
It was one of those nights because even this main event, the "let's go quick to make the reservation" match, was kind of fun. They still didn't take that long of time but it didn't feel like a moment was wasted. Niebla brought his comedy and actually did a good job of basing for Carístico. Rey Rey Buc was kept to a minimum, and when he was involved it was doing the greatest hits with old tag team partner UG. Speaking of Último Guerrero he was TREMENDOUS in this match. It wasn't anything out of the ordinary for him but his timing and basing was exceptional, the sort of thing that will get lost because this wasn't a big match. And I liked all three technicos, with Roja impressing despite not getting a lot to do, Carístico looking sharp and Diamante Azul hitting all his big moves. It was nowhere close to the match that came before it nor did it come within a thousand miles of containing the emotion Universo 2000 Jr.'s match had. But it was fun for what it was and there are worse ways to close a CMLL show. Take last night's main event for instance.
That'll do sports fans. Once again, on behalf of Lucha Central, I'd like to extend my condolences to Universo 2000 Jr., Cuatrero, Forastero, Sansón, Cien Caras, Máscara Año 2000 and the rest of Universo 2000's family and friends. You will be missed Universo; thank you for everything you did for lucha libre. With that said, I shall now retreat till tomorrow when I will be doing some Lucha Underground writing. Till then, this.
Please change disks to continue…