CMLL Tuesday is in the books sports fans and there's only one thing on a lucha libre fan's mind; did Titán and Mephisto deliver? We'll get more in depth with that match in a bit but the short answer is yes, although not at the heights you'd have expected. Even still the match was indeed the best on the show (by a vast margin), while every other match was either good (the third match), featured good individual performances (the opener and fourth match) or sucked (second and main event). Your typical CMLL Tuesday show sports fans. Now let's get through this quickly so I can watch Conan clips for a little bit.
Bengala & Sonic defeated Inquisidor & Yago two falls to one
If ever there was a tag team match CMLL needed to turn into a Lightning Match, it was this one. Talk about A Tale of Two Different Matches. When Bengala and Inquisidor were in there it was if I was stuck watching Dude, Where's My Car? on infinite loop. In contrast, the Sonic/Yago sequences hummed. There was a nice pace to them, Sonic was trying some cool stuff (although he still was restricted from doing any dives) and Yago was on his A game when it came to basing. If it had been just the two of them this match would've been pretty good! Alas Bengala and Inquisidor anchored them down, and thus this match was merely okay. Still nice to see Sonic and Yago make the most of an opportunity.
Amapola, Metálica, Tiffany defeated La Maligna, Mistique, Sanely two falls to one
My Grodd, I haven't seen something as doomed as this match was from the first fall on then the movie Doom! And that was so bad The Rock even shat on it every chance he got.
How bad of a start did this match get off to sports fans? Try having one of the participants being sent to the back due to injury. That's what happened to Mistique, who appeared to tweak her leg going for an arm drag, only she couldn't hit it because Tiffany was out of position by a few feet. It just snowballed from there. Maligna had a rough night, botching several moves and looking lost. Then again she was in there with Tiffany for most of the time and Tiffany was on another level of bad tonight. With all that going on and Amapola in cruise control, only Metálica and Sanely came out looking respectable. In fact I thought Sanely looked better than she had last time I saw her, moving with far more confidence than before and even looking like she had learned how to hit the ropes. That wasn't nearly enough to save this match however, and when all was said and done I think this match accomplished the goal of being even worse than the luchadoras matches usually are. Hilariously bad.
Audaz, Black Panther, Blue Panther Jr. defeated Kawato San, Okumura, Virus two falls to one
This was the match the opener would've been if it were just Sonic and Yago. Alright that's not far; this still would've been a little bit better. Maybe I'm unconsciously judging this match a bit on a curve but I thought these six did some tremendous work. Audaz was, as expected, tremendous. He clearly has that magical ability to make his opponents look better than they are (look at how much better Okumura looked tonight than usual) and of course is capable of such electricity such as his Brillo…whatever that was dive he did in the third fall. It was crazy, out of control and he STILL stuck the landing on it! Meanwhile both the Panthers were on form, Virus was Virus and I'm starting to get the feeling Kawato is starting to find his footing. He looked really good here and not just against Audaz; I liked his dive, I liked his double stomp spot and he seems to finally be getting the hang of catching dives. We'll need to see it on a bigger stage but I'm beginning to get optimistic about all this. In any event he was on his game enough tonight, to go along with the other good performances, to help make this a good match.
Ephesto, Hechicero, Shocker defeated Kráneo, Soberano Jr., Stuka two falls to one
Considering how I expected this match to go, things could've been a lot worse. The effort was overall pretty good, with Soberano giving his usual strong performance, Hechicero and Stuka playing up their recent issues to decent effect and Kráneo surprisingly gelling in this match better than I expected. Valiente was supposed to be in for him and it looks like this was one of the few replacements that actually worked out. I still wouldn't call this good; Ephesto and Shocker were still around and, despite solid efforts, can only do so much and my Grodd that ending where Shocker and Ephesto pinned Kráneo and Soberano…I know it's a Tuesday show but COME ON CMLL! The Cubs don't lose to the Orioles, do they? It was really weird; but then again it is the Tuesday show so not sure what I was expecting. In the end this was okay, but still not worth going out of the way to see.
CMLL World Welterweight Championship Match
Mephisto (c) defeated Titán two falls to one
Here's the match we all came to see sports fans. As expected it was great. But herein lies the problem when you deliver matches like these two have had over the past two years; great is sometimes not good enough! And unfortunately this match, as great as it was, was definitely The Dark Knight Rises to January's The Dark Knight and September 2016's Batman Begins. I guess that makes the Guadalajara match Mask of the Phantasm.
So what went wrong here? Honestly I'm not sure anything did; in the end I just thought the first two falls were much quicker than usual and the match wrapped up a few minutes earlier than it should have. Mephisto didn't even get to attempt a Devil's Wings, let alone hit it. But despite all that the match was still pretty great, and the only way you're not going to think that is if you judge it by the standards of the other matches. Titán and Mephisto still did a whole lot of cool shit, Mephisto broke out a few new tricks (like that dropkick that I didn't know he could do) and I liked the mini-story of Mephisto working over Titán's left arm, something that nearly cost Titán a few times and even Mephisto once when he went too far back locking in an armbar. Truly the only thing this match did wrong was that it didn't live up to previous efforts due to match structure. In the end though it was still a great match, still the best match we're getting on the Tuesday show for the next little bit and another great addition to the Titán-Mephisto series. Not entirely what I wanted, but I'm still happy with what I got.
Mr. Niebla, Negro Casas, Rey Bucanero defeated Atlantis, Mistico, Volador Jr. two falls to none
I honestly am not sure the result is even right. I looked down for one second, looked up to see Bucanero submitting Atlantis, looked down again and the next time I looked up the match was over! It was legit a blink and you missed it match. Hey, at least for once I called a CMLL main event correctly for just trying to get in and out in a flash. As such nothing was eventful, save for Mr. Niebla falling while trying to enter the ring. Was he drunk? Was it Niebla being Niebla? Was it both? I'll let you decide. Either way there was nothing to this main event at all and the only positive is it didn't last that long.
That's game sports fans. I'll be back tomorrow for the Lucha Underground review. TILL THEN!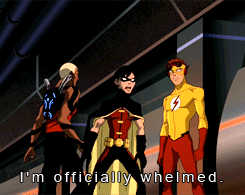 Please change disks to continue…