With all the big happenings in wrestling occurring this weekend (All In, Expo Lucha) it's easy to forget that CMLL is still around, putting on shows and not doing LA Park vs. Rush. Although actually this weekend they'll be taking a week off from depriving us of the match we all want, as Park and Rush will be on opposite sides in the main event of this Friday's show, secondary players to the arrival of Los Ingobernables de Japon. That's right; BUSHI, EVIL and the ringleader himself Tetsuya Naito are journeying to CMLL to give us a highly entertaining main event and the mouthwatering possibility of an LA Park-Naito standoff. The show should be good otherwise as well, with an intriguing Dinamitas-Casas trios match in the undercard and Matt Taven vs. Cavernario in the semi-main event. If only this event was occurring one of the biggest wrestling weekends of the year…oh, and after CMLL spent last week nuking any and all interest anyone had in them. Such is life in CMLL land. But enough ragging on them; I have a whole rest of the preview to do that and we don't want to waste any more time!
Arkalis & Robin vs. Akuma & El Coyote
What to Expect: This is actually a semi-important match sports fans, and I don't mean that just because we're seeing Robin for the first time in awhile. No, this is big because Arkalis, a Puebla regular, is getting his first big shot on a Super Viernes show! He's appeared on the Sunday show before (and obviously is frequently on the Puebla stream) but this will be his first appearance on a Friday show. Normally I'd say that isn't a big deal, but Arkalis is probably so happy to be getting a shot that isn't in DOA land of Puebla that it kind of is. He's probably celebrating as we speak.
He might also be celebrating because this opener actually has a chance to be good. Arkalis isn't just getting this shot for no reason; he's a talented luchador and he's got two good rudos in Akuma and Coyote to work with. Robin is pretty damn good himself and surely he'll be itching to try a few things. Whether or not he'll hit them flush is a different conversation but he'll sure as hell try! Restrictions will definitely play a part in this match and anyone expecting something great is out of their minds. But this can definitely be an enjoyable bout and if nothing else it'll be interesting to watch just to see if Arkalis rises to the occasion or books himself a life sentence in lucha libre Hades. And by Hades I mean Puebla. That was probably clear already but why not remind everyone just in case?
Winners: In typical CMLL (and Lucha Underground) fashion, the newcomer will come up short in his first match. Akuma and Coyote defeat Arkalis and Robin in three falls.
La Jarochita, Lluvia, Marcela vs. Amapola, Dalys, Reyna Isis
What to Expect: The good news for this match; it can't possibly get worse for the luchadoras than Tuesday's debacle. The bad news is the match will still be hopeless, with too many long ruda beat downs, too many sloppy spots and not nearly enough dynamic performers. Watch only if you want to take a quick nap before the rest of the show. How awful it is that CMLL has relegated their luchadoras division to being the nap break. This is what happens when you lose the Queen!
Winners: The rudas take it in three falls.
Cuatrero, Forastero, Sansón vs. Felino, Negro Casas, Tiger
What to Expect: Anakin, take up thy wheel and drive!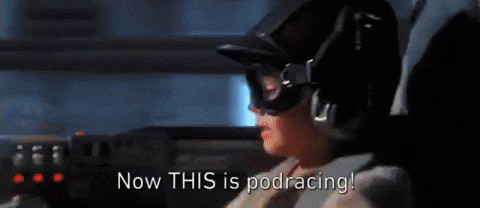 I mean if nothing else this is podracing for Tiger; he gets to team with his uncle and father in his first big match since Puma left him to go do spots with Taurus in AAA. Anything would be podracing for him at this point. Alright maybe not that luchadoras match but anything else! Certainly this will be a weird clash of styles considering the Dinamitas and Casas Dinastia are both rudos, but both teams are so good at adapting that I'm not too worried. Plus Negro Casas is here and he's incapable of not squeezing every last drop out of something. I think this will be a delightful match, especially since it'll be great to see Tiger getting a nice opportunity and Felino going full blast. We forget but that guy is pretty damn great when he wants to be. I think he'll want to be for this one.
Winners: A too close to call scenario sports fans, which means good ole Canadian Dollar is coming out. Heads Casas Family, Moose Dinamitas….and it's MOOSE! MOOSE! MOOSE! MOOSE! Dinamitas take it in three falls.
Euforia, Gran Guerrero, Último Guerrero vs. Ciber the Main Man, Scharly Rock Star, The Chris
What to Expect: I'm beginning to wonder if Vince McMahon doesn't love Roman Reigns as much as CMLL loves sticking poor Euforia, Gran Guerrero and the UG against Klan Kaoz. IT'S EVERY SINGLE TIME! I know they have an Aniversario match not a single person alive (except Klan Kaoz) wants to see but could we maybe give them something different to do one of these weeks? Friggin A man. At least it makes this preview easier I suppose because this is going to be the same damn match these two teams have had the last 5 times. Everyone will try hard, the Guerreros will have a few good moments and it'll still be aggressively average because Ciber, Scharly and The Chris have next to nothing left in the tank. Thank Grodd Expo Lucha should be starting around the time this match happens.
Winners: The first of two DQ finishes on this show! The Guerreros win when Ciber low blows the UG in the third fall.
Matt Taven vs. Cavernario
What to Expect: Are you ready to experience La Sombra vs. Volador from the 80th Aniversario, only with complete apathy instead of hate? Then this match is for you! What a shame for these two guys. I like Matt Taven. I really like Cavernario. There is little doubt in my mind that these two should and will put on a hell of a match tomorrow, especially since Cavernario proved last week that he's going to do everything and anything to try and get this feud over. I wouldn't be surprised if this turns out to be one of the better matches CMLL produces all year. Unfortunately it will be done in front of a crowd that likely isn't going to care because they all wanted LA Park vs. Rush at the Aniversario instead of Matt Taven and Volador vs. Cavernario and Rush. Maybe the people have been won over in a week but my guess is they'll be awkwardly silent like last week, leading to CMLL's version of the Bandido vs. Fenix vs. Flamita match that wowed everyone but the crowd they were in front of just a few weeks ago.
Winner: I have yet to be convinced that the Aniversario is ending with anything other than Taven and Volador getting haircuts so the smart money is on them getting booked strong heading in. Thus Taven will take this match in three falls, finishing Cav off with The Climax. Honestly I'd prefer the Frog Splash, but Taven will win fall one with that so.
Diamante Azul, LA Park, Volador Jr. vs. BUSHI, Rush, Tetsuya Naito
What to Expect: I'd like to believe that LA Park has only stuck with CMLL because a) of his Aniversario booking and b) this match, one that puts him across the ring from one of the best wrestlers in the world in Tetsuya Naito. What a world we live in. Naito; LA Park; IN THE SAME MATCH! One week after LA Park headlined and emerged victorious at Triplemania XXVI. If you had told me that last year things would've played out like the Batman and Robin meme.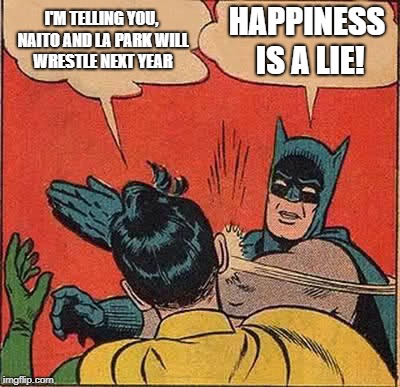 Evidently happiness does exist sports fans because we are getting that matchup, along with the added bonus of BUSHI and EVIL. Granted he'll just be standing at ringside, but some EVIL is better than no EVIL! We'll also be getting the potentially dangerous situation of Rush and LA Park interacting; I'm doubting CMLL will focus on that (Volador and Rush will likely get the most time together) but even still CMLL is walking on razors by sticking the people fans most want to see throw down in the same match. My guess is CMLL will try to stick with the Volador/Rush and Park/Naito pairings most of the match (with BUSHI sadly drawing the Diamante Azul straw) and hope the few LA Park/Rush sequences are short enough they don't overshadow anything else. Either way it should make for a hell of a main event. The crowd will be hot for Park, for the potential Park/Rush showdown and for a star like Naito, who will surely be looking to put on just as great a performance as Okada did a few weeks back. I don't know if it'll be as good as that match or as the Taven-Cavernario match right before this, but there's no reason to believe this main event won't be one hell of a time.
Winners: Another DQ is in order sports fans. Rush and Volador will find themselves one on one in the third fall, leading to Rush low blowing Volador for the DQ. Taven and Cavernario will probably run out to make things crazier and fans will still be sad they aren't getting LA Park vs. Rush. Even when CMLL wins, they lose.
That's game sports fans. I'll be back later with a massive preview of everything going on with Expo Lucha this weekend! Should be a fun time. Till later!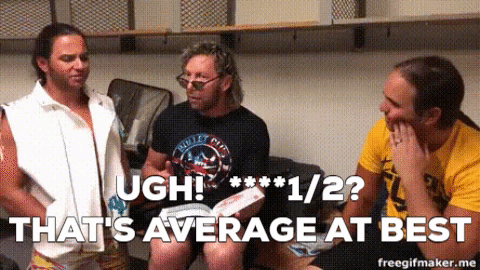 Please change disks to continue…