It's a time of sorrow sports fans. The week is coming to an end, which means the time to vote for Lucha Central's 2019 Awards is coming to an end (VOTE NOW!!!!), which also means another CMLL Super Viernes is upon us. Remember when that latter part used to be a joyous occasion? Now it's just more shit I have to do in between cleaning the house, doing laundry and not finding time to play Donkey Kong 64. This week is no different, as all CMLL is giving us is a Soberano-Templario match, more Cavernario-Felino build and the return of a guy who hasn't been good since…early 2018? Not a man among us can say sports fans. And on that note, let's start the preview!
Arkalis & Robin vs. Akuma & Espanto Jr.
What to Expect: Another Friday night, another opening match with Akuma and Espanto teaming together that I couldn't give a single, solitary shit about. I feel bad saying that too because I like Akuma and I know he can be very good. It's the other guy with the low rider bicycle that's the problem! Thus you can look forward to Espanto either doing way more than the technicos and botching several of their moves, while Arkalis longs for the days of Arena Puebla and Robin ponders what life could've been if he had just taken Bobby Z's place that one Saturday afternoon. Of course that implies that Bobby Z was in fact a person that did actually exist, something I still cannot confirm to this day.
Winners: Akuma and Espanto take it in three falls.
Diamond, Drone, Fuego vs. Kawato San, Okumura, Virus
What to Expect: And so continues the CMLL Adventures of Diamond, along with me wondering how the hell CMLL thought giving an El Santo esq gimmick to Príncipe Diamante was a good idea. Like if you were going to do that terrible idea to begin with, couldn't you have at least given it to someone good like Star Jr., Sonic or Super Astro Jr.? Alas Príncipe Diamante can now once again whelm us as Diamond, while everyone save Okumura tries to make this match fun because Drone, Fuego and Virus are all solid to great and Kawato remains quietly much better than people give him credit for. I don't expect greatness, but this should be solid unless CMLL goes overboard with giving Diamond shit to do.
Winners: Diamond, Drone and Fuego take this in three falls.
Atlantis Jr., Star Jr., Stuka Jr. vs. Ephesto, Mephisto, Negro Casas
What to Expect: You have got to love CMLL. Only they would run an angle where one of their stables (La Peste Negra) is imploding, and upon the leader of the group (Negro Casas) returning from Japan, they decide to stick him as far away from his feuding stable mates as possible. Thank Grodd I have that Randy Orton gif on standby.
Frankly a lot of things don't make sense about this match beyond Casas being here and not, say, in the main event. Like why are Atlantis Jr. and Star Jr. so low, and why did CMLL decide to stick two of their brightest young high flyers (along with the always reliable Stuka Jr.) against Casas and two older dudes who can barely keep up? It's very clearly a match made by bookers who think it's 2010 and Ephesto and Mephisto are still Grade A workers, only it's 2020, Ephesto is broken down and Mephisto only turns on the jets every few months. Sadly all the Juniors will just have to make due and while I'm sure Star Jr. and Atlantis Jr. will do at least one cool thing, it's very difficult for me to see this match turning out better than average. What a pity considering all CMLL had to do was move Virus up, stick Hechicero in and we'd be in business.
Winners: It makes no sense for the technicos to lose this match, which means they are totally losing this match. Casas and the gang take this in three falls.
Lightning Match
Soberano Jr. vs. Templario
What to Expect: Finally; a match of quality and substance on this Grodd forsaken show!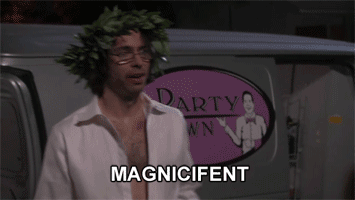 I'm sure there's a discussion to be had about how CMLL can only book one exciting match on a Friday night but we'll save that for another time. What's important is that Soberano and Templario are paired up with each other again and last I checked these two are absolute money whenever they tangle. The effort is there, the skill is there, the want to try cool new things is there and most importantly they're able to deliver the goods whether they're given fifteen minutes or in this case ten (and that's probably being kind). There are no guarantees in life, but if this match doesn't wind up being at least good then I'll be stunned more than I was when I read Rise of the Planet of the Apes reviews. "Wait…you mean its good?! WHAT?!"
Winner: Last time they did a Lightning Match between these two it was to set up Templario challenging Soberano for his Mexican National Welterweight Championship (which Soberano has held for forever now that I think of it). It be cool to see that again, unless they're fitting it in before or alongside the upcoming Torneo a Parejas Increibles tournament I'm not optimistic. Thus look for Soberano to pull out the victory here deep into the match, with the outside chance of a draw possibly looming.
Ángel de Oro, Niebla Roja, Titán vs. Euforia, Gil Muertes, Gran Guerrero
What to Expect: Oh hey; Gil Muertes is back! It's a good thing I prepared for the occasion by making a brand new meme.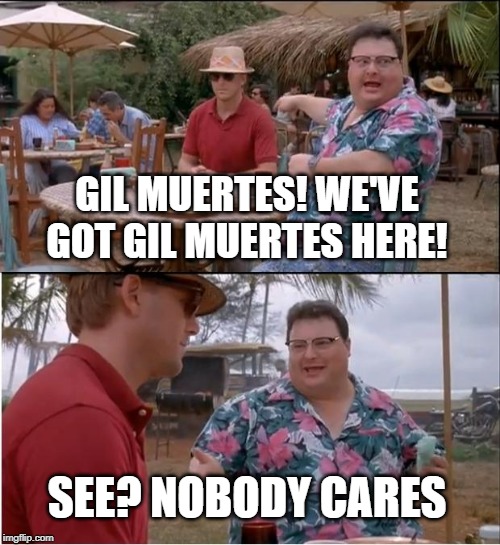 Now that may sound harsh but let's face it; it's also true. Not only has the former El Mesias (who I must remind you is going under Gilbert El Boricua now, a silly name that isn't as cool as combining it and Mil Muertes together like I did!) done jack shit in CMLL, he hasn't really looked great while doing very little, even if he has shown some brief glimpses. I suppose this would be his best chance to prove people he's still got it though. Ángel de Oro and Niebla Roja are as reliable of workers as they come, Titán might be the best guy in CMLL right now and you won't find better teammates for good ole Gil then Euforia and Gran Guerrero (who now finds himself obligation free thanks to Mistico's unfortunate injury). It really comes down to a) what Gil can do and b) CMLL hiding Gil effectively if he can't do shit. Either way those are the only questions about a match that otherwise looks like it should be pretty solid.
Winners: A tough one to predict given that there's not a whole lot to set up coming out. I guess I'll go with the rudos winning in three, with Gil Muertes doing something to set up a singles match with one of the technicos in order to give him something to do while Torneo a Parejas Increibles is going on.
Carístico, Cavernario, Valiente vs. Diamante Azul, Felino, Último Guerrero
What to Expect: And now it's time for Chapter 2 of La Peste Negra EXPLODES! How bad will it get between Cavernario and Felino this week? Will Último Guerrero be very sad about this development like he was last week? Will one of these guys actually make the turn from rudo to technico? And is there any way Cavernario vs. Felino isn't the Homenaje a Dos Leyendas main event at this point? I can actually answer that last question now; no, there is no way it isn't the headliner. Frankly I'm okay with that given Mistico-Gran Guerrero is off the table and the other idea was Ángel de Oro-Felino…so yeah. Besides all that this match won't be a whole lot; it'll get heat on Cav-Felino for sure, but beyond that Diamante Azul will continue to do little and Carístico, Valiente and the UG will put on their supporting player hats and support. It'll be fine, but it won't be anything you'll be reminiscing about months from now.
Winners: I see a victory for Azul, Felino and the UG here after Cavernario fouls Felino for the DQ in foul two. The only questions are whether Negro Casas comes out afterwards to try and keep peace and if Cavernario lays him and Zacarias out too. If I were Cav, I'd just lay them all out. As the great Xander Harris would say, break their hearts and make it a clean break. Sage advice from the Xan Man.
And on that note I am off to do laundry. What a life I lead. I'll be back tomorrow to review this show though, and if you miss me that much in the medium you can always check out my very emotional Máscara Dorada column. Otherwise, TILL TOMORROW!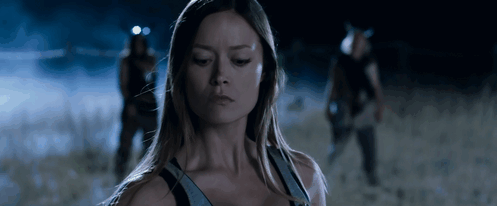 Please change disks to continue…
© 2020 Lucha Central
We invite you to follow us through our official social media accounts: