With yesterday's press conference in the rear view mirror, it can now be said we are now on the road to the 86th Aniversario sports fans. Is that good or bad? Beats the shit out of me. I suppose the good news is that now we know what we'll be getting on the biggest show of the year and thus can stop focusing on that and see how CMLL builds to the show, a mere four weeks from tomorrow. Of course, having lived through several Aniversario buildups now, I can also tell you that lame main events generally lead to lame builds and our main event this year, while better than what we all thought, is not exactly Omega-Moxley. All of that brings us to tomorrow's Super Viernes, a show that features some good things that could make this show good, some average things that may make this show skippable, and a main event program that no one asked for and no one may care for. Who knows what will happen! Let's break it down as best we can.
Shockercito & Último Dragóncito vs. Pequeño Violencia & Pierrothito
What to Expect: I had to do a double take on this one sports fans; surely this match was the opener for a Tuesday show and not Super Viernes right? Nope! I guess CMLL has decided that if their Friday shows are going to be hit and miss like all the rest that they may as well steer into the skid and make the openers completely hopeless. Or at least make this match completely hopeless. I suppose that's kind of unfair because Shockercito and Pierrothito are good and Último Dragóncito can be good…but let's be real, when's the last time you've seen any of them have a good match? Just like The Rock thought. Give yourself a half an hour before tuning in so you can avoid this mediocrity.
Winners: Pierrothito and Violencia (somehow still employed) take this in three falls.
Magia Blanca, Príncipe Diamante, Star Jr. vs. Cancerbero, Raziel, Tiger
What to Expect: This is an interesting one sports fans. On the one hand it's the second match on the show and Cancerbero and Raziel generally put as much effort into those matches as I do creating a UFC fighter in UFC 3. On the other hand…you have to admit the talent involved here is quite good. When they want to Cancerbero and Raziel are really good rudos and we know Tiger is capable of greatness. And while Star Jr., Príncipe Diamante and Magia Blanca aren't always the smoothest, they too, especially Blanca and Star Jr., can do extraordinary things when the situation calls. Is this said situation? I'm guessing probably not, but the talent is there to make this match something if they want to. Let's hope they want to.
Winners: I'm not sure I've ever seen Príncipe Diamante win a match on a Friday night and this certainly doesn't seem like the match where he'll break through. Los Cancerberos and Tiger take it in three falls.
Audaz, Soberano Jr., Titán vs. Hijo del Villano III, Mecha Wolf 450, Virus
What to Expect: Here's a match that may make this show worth tuning in for AND the most fitting match to break out that long lost gif of Anakin Skywalker.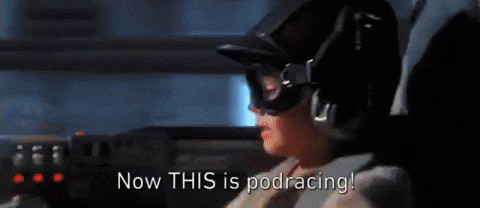 I'm super hyped about this one sports fans. I'm not super hyped about Templario leaving it while Hijo del Villano III stays but that's a minor grievance as Villano's biggest flaw is that he doesn't really do a whole lot. He doesn't botch anything either and will likely stay out of the way, which means there will be plenty of time for the mouth watering trio of Audaz, Soberano and Titán to lock horns with a rejuvenated Virus and the ultra talented 450, who's coming off a really strong performance in Puebla this past Monday. There's always a chance this winds up a little too crazy for its own good but in the end I expect this match to be a lot of action, a lot of fun and very likely the best thing we get on this show.
Winners: 450 challenging for a CMLL Championship before heading back to The Crash would be pretty cool and Soberano does have a Mexican National Welterweight Championship that needs defending. That's wishful thinking on my part sports fans so let's leave that at the door and be realistic; Audaz, Soberano and Titán take this in three falls.
Diamante Azul vs. Euforia
What to Expect: This match appears to be a one fall, no time limit contest for some sort of cup, though I cannot quite figure out which cup these two are fighting for or how CMLL decided these two worthy of fighting for it. Well actually I get that part; Euforia is great and Diamante Azul has scandalous pictures of CMLL higher ups he uses to get his continued push (I kid, I kid). In all seriousness I don't know what to make of this one. With the right person Diamante Azul can be really good, but that only happens once in a blue moon. Then again Euforia is a tremendous worker who always makes the best out of most situations, and if anyone can figure out how to get the most out of Azul it's him. So I guess there is some hope for this match after all, even if I expect a styles clash to ultimately be too much.
Winner: Everyone keeps expecting Diamante Azul to win something so why not this meaningless cup? He takes it over Euforia at the thirteen minute mark with a German Suplex.
Gran Guerrero, Negro Casas, Último Guerrero vs. Big Daddy, Ciber the Main Man, Gil Muertes
What to Expect: With this match we can officially kick off the road to the 86th Aniversario main event! And holy shit is there a lack of excitement towards it. On the one hand, that's not good. On the other hand the other choice was the UG and Ciber having a twenty minute match that would've made us all want to fling ourselves off rooftops like it was the end of Aiden's "Die Romantic" video so I'll take lack of excitement over self harm. Plus, now we have 100% more Negro Casas and Big Daddy involved! In the words of DDP, that's a good thing!
Alas for now this improvement in our situation isn't going to show up in the ring. On the rudo side Ciber is still Ciber, Gil Muertes is still hit and miss in the ring and Big Daddy…well I have no idea what to make of him. He didn't look terrible in the Grand Prix last week but he was also barely in it; the only thing I know for sure about him is that he's a great promo, and that's unfortunately not going to be a useful skill in this match. It's basically a rudo team that seems to leave very little for what would be a normally fun trios team of Guerrero, Casas and the UG to work with, and that's before we get into how this match will 100% feature an early DQ finish of sorts. In the end I'm guessing the only difference we'll be getting from this match is that UG and Ciber won't be the focus. Otherwise it'll still be quite lame and hopefully over really quickly.
Winners: Casas and the Guerreros get the W after Ciber fouls the UG in fall three.
Carístico, Dragón Lee, Mistico vs. Cuatrero, Forastero, Sansón
What to Expect: You've got to love CMLL. This is another match featuring some buildup for an Aniversario match (in fact it is an Aniversario match if you swap out Dragón Lee for Valiente) and yet its one spot higher on the card than the match CMLL has headlining. All of this goes to show you that CMLL is even aware that their main event idea was dumb and yet they're doing it anyway because they too are dumb.
In any event this match could be the best thing on the show if its given time and these six give a crap. The problem is I'm not sure that will be happening; not only does this match feel like it could end early in order to "get heat" for the Aniversario semi-main, but in general CMLL trios main events don't produce great matches these days (that's saved for the singles matches). It's quite possible this match will be kept short, the effort will be in the medium range and this will merely be okay to good instead of great. That said, the Dinamitas are one of the best trios around, a Carístico/Dragón Lee/Mistico team is hot fire and you can never discount the chances of these two sides having a great match. I just think the situation makes it unlikely. Here's hoping that, like CMLL, I too am dumb. At least in this instance.
Winners: Carístico, Lee and Mistico win this in three falls after Carístico taps out Forastero with La Mistica.
There you have it sports fans. I'll see you tomorrow for a review of this bad boy. TILL THEN!
Please change disks to continue…