Happy May 16 sports fans! It's a day of celebration, punk rock, finding out who the hell Joey Cape is and, apparently, previewing CMLL Super Viernes. That's because that show is tomorrow and if it's not previewed today, when will it be previewed? Asking the tough questions here. A quick look at the card makes me think the real CMLL excitement will be this afternoon (more on that shortly), but if nothing else this week does look to be an improvement. Of course it's CMLL so we could all be wallowing in pain and misery by the end of it but hey; let's save the negativity for then! For now let's get this bad boy done so I can go back to listening to Lagwagon.
Magia Blanca & Star Jr. vs. Akuma & Espanto Jr.
What to Expect: It just gets worse for the returning Magia Blanca. Last week he was stuck in a no win situation with Espanto Jr…and my how little things have changed since! I guess the good news is Star Jr. and Akuma are here so perhaps they'll do something cool, or Blanca will be paired with Akuma instead of Espanto. This is CMLL though, so look for Blanca and Espanto to get many opportunities to show off their nonexistent chemistry and for this to be another dud of a CMLL opener.
Winners: Akuma and Espanto take it in three falls.
Kaho Kobayashi, Marcela, Sanely vs. Amapola, Metálica, Tiffany
What to Expect: I'm going to be honest with you sports fans; I spent at least two minutes before typing this opening sentence trying to remember what the result was for the Kaho-Amapola Lightning Match last week (a match I recall liking) and I only remembered just now it was a draw! I'm not sure that's a good sign when even the CMLL feuds you're excited for don't leave a good impression. Then again maybe my head is just out of flow due to all the Lagwagon I've listened to this morning.
Stay on target Cult! Anyway, this match is clearly yet another step towards Kaho and Amapola squaring off in a hair match, something that may even be made official later today as CMLL has a rare Thursday presser scheduled. Until then we still don't know the day this match is occurring though, which means this match is sort of in a holding pattern. Not good…and that's before you realize that Tiffany is involved! Those two factors are enough to weigh this match down and I expect it'll be less like the last two weeks of the CMLL luchadoras division (which have been good) and more like the other 50 weeks of the CMLL luchadoras division. At least Sanely is around I suppose. I had forgotten she still worked for CMLL!
Winners: The finishes of this feud have been Kaho winning by second fall DQ twice and a Double Countout. A screwy finish would thus seem logical again, and because Amapola hasn't benefited from one of those yet I'm going with her to pick up the W for her team in two falls.
Esfinge, Rey Cometa, Tritón vs. Felino, Hechicero, Tiger
What to Expect: If only CMLL had found someone, ANYONE other than Esfinge to be Rey Cometa and Tritón's partner.
Seriously sports fans; if the wheel had just landed on Guerrero Maya Jr.'s name (or even Stuka Jr.'s name) instead of Esfinge, we're suddenly looking at a match that could've been a quiet challenger for the best thing on this show. Now it's just a match that has a chance, but only if a) Esfinge doesn't screw it all up and b) Esfinge doesn't lead Tritón down the road of bad old habits. It says a lot about how bad Esfinge is that I'm this down on the match; Rey Cometa and Tritón are exquisite performers (and no matter what Esfinge does you know Cometa will be unaffected), Felino is a solid, steady presence and Hechicero and Tiger are, in the words of Lucas from Empire Records, superb. Those five would normally be able to overcome a bad sixth wheel…except this time the sixth wheel is Esfinge. I hope to be wrong sports fans, but I've got a feeling this will be a far cry from what might've been (cause that was then!) with someone else in Esfinge's spot. Yes even present day Flyer!
Winners: The rudos take this in three falls.
Lightning Match
Soberano Jr. vs. Negro Casas
What to Expect: It has been a long, LONG time since I've used this gif sports fans…but my Grodd this match is the perfect place to bring it back!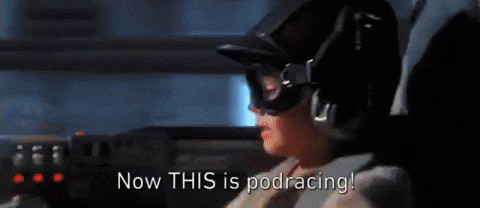 Holy shit I'm excited for this match! It's got Soberano Jr., my favorite luchador. It's got Negro Casas, another one of my favorite luchadores. It's a rematch of several bouts these two had in the last few years that were absolutely fantastic. Quite frankly the only reason to not be excited about the match is CMLL short changing this on time. Otherwise this looks like a sure fire winner. Both guys are fantastic, we've seen them be fantastic together and the likelihood is they'll be fantastic again tomorrow. I'd put serious money on this being the best match CMLL has all week.
Winner: Seeing as Soberano can always use challengers for his Mexican National Welterweight Championship, the logical choice here would be for Casas to upset Soberano to set up said title match next week. CMLL never seems to do this when you want them to though, so look instead for Soberano to win this at the eight and a half minute mark with Casas' La Casita. Yes I'm predicting this in hopes of reverse jinxing us into Soberano-Casas next week. But didn't I just reverse REVERSE jinx that by stating my intentions? DAMMIT ALL!
Euforia, Gran Guerrero, Último Guerrero vs. Ephesto, Máscara Año 2000, Mephisto
What to Expect: Like the Amapola-Kaho feud, the UG-Máscara Año 2000 issues are in a holding pattern until today's press conference (and likely will be even after that). Also like Amapola-Kaho, the match quality for UG-Máscara seems to be taking a step down, what with CMLL deciding to remove Cuatrero and Sansón from this match so Ephesto and Mephisto can take their place. Who on earth thought that was a good idea? Yes it would've been a bit stale going with the same trios match for three straight weeks but that was preferable considering Cuatrero and Sansón are actually good most of the time. Mephisto is good when he wants to be, but he's slowed down his effort level as he gets older while Ephesto has pretty much stopped trying altogether. It leaves the Guerreros in a similar situation to their feud with The Kl4n last year…and we all saw how that turned out. Throw in how this will mostly be about building up the UG-Máscara Año 2000 match anyway and I wouldn't expect much.
Winners: Another week, another two fall victory for Máscara Año 2000 over the UG after he sneaks in a foul while the ref isn't looking.
Carístico, Mistico, Volador Jr. vs. Cavernario, Cuatrero, Sansón
What to Expect: This was the match Matt Taven was supposed to be in. Now it's the match Cavernario will be in instead. Good stuff! Honestly I don't think it really matters. The match looked good with Taven in there and it now looks better with Cavernario; this issue is, as it always is with these CMLL main events, how much time these guys will be given. If CMLL decides to live dangerously and allows these six to go crazy for about fifteen minutes than this has a chance to be right there with Casas-Soberano. You always tend to be cautious with CMLL though, so my guess is this match is closer to ten minutes, not everyone tries (looking at you Volador!) and the match doesn't fulfill its potential. I'm happy to be wrong, but come on; we've seen enough CMLL to know where this is going.
Winners: The technicos send the crowd home happy with a three fall victory.
That's game sports fans! I'm now off to jam to some punk rock songs until that CMLL press conference. After all, it's just another Thursday.
Please change disks to continue…