After waking up at 1:30 this morning to watch Wrestle Kingdom 13 and then turning off Red Dead Redemption 2 to watch MLW Fusion, you'd think someone like me would be all wrestled out. NOT SO FAST MY FRIEND! For one cannot be all wrestled out when a CMLL show as good looking as this one rolls around. I'm all excited to see it and even more excited to bring you the Live Review. Let's remember this after every match disappoints and I throw my computer out the window. TO THE REVIEW MOBILE!
Ephesto, Gran Guerrero, Templario defeated Guerrero Maya Jr., Rey Cometa, Stuka Jr. two falls to one
Two things sports fans. First; I'm going to hound AEW until they finally send someone to scout Rey Cometa. The man deserves international exposure dammit! Second, I know this is just the fourth day of 2019 but I think we can safely say this will go down as the best CMLL opener of the year. It wasn't perfect; there was a little too much chaos for my liking in the first two falls and there was the occasional timing issue. Even still there was more than enough excitement to make up for the shortcomings, with Cometa standing out in a big way and everyone else having a solid to really strong performance. Even Ephesto was fun! There were faults but considering what the rest of the openers this year will look like, we should cherish this match and remember it fondly in our darkest hours. Aka the Tuesday show openers.
Lightning Match
Titán defeated Tritón
I was honestly about two minutes from blasting Dashboard Confessional's "Vindicated" during this match. Why? BECAUSE I WAS VINDICATED FOR BELIEVING IN TRITÓN THAT'S WHY!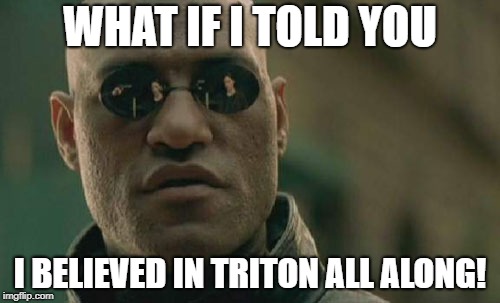 I'd like to imagine everyone who jumped off the Tritón bandwagon a few weeks ago when a botch of his nearly sent Titán to the hospital is regretting that right now. Or at least regretting that CMLL stuck him with Esfinge. This match was a reminder of how good he can be in a match specifically designed for him and Titán to go nuts. Some technico vs. technico matches don't work due to similar styles but, as I pointed out yesterday, these two go a long way back and you could tell how comfortable they were together rom the word go. The result; eight minutes (that's right; CMLL gave them eight minutes!) of nonstop lucha libre complete with nods to Will Ospreay's Wrestle Kingdom performance, several great dives, some submission spots and a whole lot of fun. This was the best kept secret of this show going in and Titán and Tritón just proved why. Tremendous Lightning Match.
Carístico, Valiente, Volador Jr. defeated Euforia, Mephisto, Último Guerrero two falls to none
CMLL made one mistake with this match; they made it two falls instead of three. I was certain the next match would be getting that but you know what they say; when you have the opportunity to have an excellent match with six great luchadores, you shortchange it and then give all the time to the match that's probably going to suck.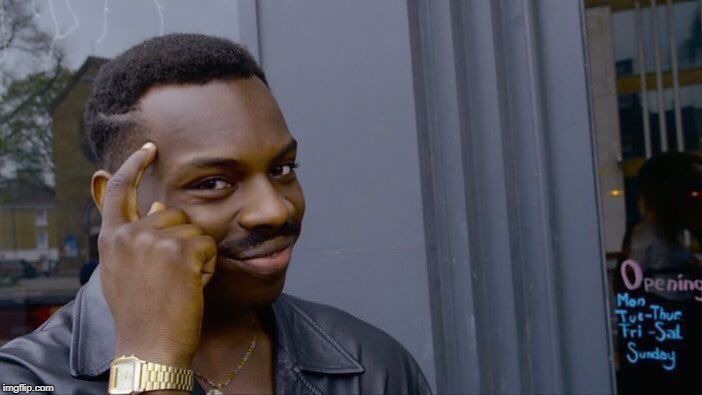 At least things were fun while they lasted in this one. With this being a big show Valiente came to play, and out of the gate he was doing Valiente Special's and all sorts of his cool tricks. Everyone else was on the ball too. It's hard for Carístico, Volador, Euforia, Mephisto and the UG to not fall back onto their old tricks here but even the greatest hits were exciting this time around, mostly because the energy of the match seemed to be up. Or at least the basing by Euforia and the UG was; Gringo Loco would've been impressed by the clinic they put on. I'd also be willing to forgive the match for being short if it does indeed lead to a Euforia/Valiente match based off Euforia's foul, but I won't hold my breath there. At least we can say it was a fun eight minutes while the match was going on, though not quite on the level of the Lightning Match that came before it.
Bestia del Ring, Rush, Terrible defeated Atlantis, Kráneo, Volcano two falls to one
In the words of Peter Griffin, it was exactly what it looked like. That was the line right? Oh who cares; you know what I mean! The match was a bit more interesting than I expected due to a fired up Terrible performance (he was wrestling like he was about to hang out with Tetsuya Naito for a week…which he is) and the crowd just being really into this due to the Atlantis-Rush issues. Otherwise though this was a match that easily had one more fall than it should've. That would've at least kept the Ingobernable brawling (on full display here) at a minimum, Volcano and Bestia at a minimum and Rush from getting bored out of his mind. Instead all of that came to pass and we were left with easily the worst match on this show. Yes I know there's two matches left to go but come on; even at their worst there's no way Dragón Lee vs. Cavernario or the Trios Titles match will be as bad as this.
Dragón Lee defeated Cavernario two falls to one
Hello 2019, I'm the Batman gif that shows up whenever an unbelievable match occurs!
Holy shit sports fans. I saw every match on Wrestle Kingdom and I saw two really good matches on MLW earlier tonight; what Dragón Lee and Cavernario did here was, at worst, on the level of Will Ospreay vs. Kota Ibushi and Chris Jericho vs. Tetsuya Naito from last night. I would've gone even higher if Cavernario had hit the splash to the floor! It was a match that had a little bit of everything. There was a long stretch of Cavernario dominating, really until the start of fall three. There was Tirantes calling a DQ for Dragón Lee's mask being a bit off and it not mattering. There was high flying action at a breathtaking pace. There was pummeling. Hell I'm pretty sure there were pathos and massive angst, mostly because this match had the sort of near falls that were missing from some of Wrestle Kingdom's bouts last night. It was all there and it all came together in one giant ball of awesome, serving as yet another dazzling performance for Cavernario and a statement from Lee, who is still just a few weeks removed from returning from a long layoff. It's too early to tell where this will rank come December of 2019 but for now…you're not seeing much better than this match anywhere else in the world. A must watch Match of the Year candidate.
Mexican National Trios Championship Match
Cuatrero, Forastero, Sansón (c) defeated Ángel de Oro, Niebla Roja, Soberano Jr. two falls to one
On a normal CMLL show a match like Dragón Lee vs. Cavernario would be followed by a main event that was so hopeless the luchadores would wrap it up as quickly as possible. On this show the main event turned out to nearly be as good! I didn't think it quite had the pace in the middle portions nor the intensity to match Lee and Cavernario's efforts but holy hell; put this match on any other show and it's the best thing you'll find. After a few weeks of being off the Dinamitas were back on their A game, focused and smooth throughout. It helps they click so well with Oro, Roja and Soberano, three guys who have also been itching at an opportunity to strut their stuff. I do think Soberano left a few things on the table (and his no selling of the Canadian Destroyer would be better served if he just flipped out of the move instead of taking it) but the dude was easily the most electrifying worker in the match and he more than made up for his disappointing performances with Forastero. And Roja and Oro (especially Oro) showed just why CMLL needs to give them more opportunities like this with top notch all around work. It won't go down as a Match of the Year contender like the previous match was but this Trios Titles match was very much a great match in its own right. Remember the last time CMLL had a semi-main and a main event that did all that? Pepperidge Farm doesn't even remember.
For the first time in quite awhile sports fans I think we can safely say this was an all around great CMLL show. Other than the Atlantis match everything was enjoyable, with the main event, Titán vs. Tritón (which will sadly get overlooked) and especially Dragón Lee vs. Cavernario standing out. The sad thing is it may turn out to be the best CMLL show we get all year, barring something on the level of LA Park's surprise return from last year. Oh well; at least we can say there was one right. Either way this was one hell of a show that was in some ways just as good, if not better, than some of the more hyped shows of this weekend and you'd do well to check it out, especially the three matches mentioned.
And with that the Live Review has ended and I am off to not watch any wrestling for a long awhile. And by a long while I mean till tomorrow morning when New Year Dash is on. Barring any news though you won't see me till the Puebla results are needed on Monday. Till them, take some time to vote on who the best luchador of the year was and other stuff…RIGHT HERE, ON LUCHA CENTRAL!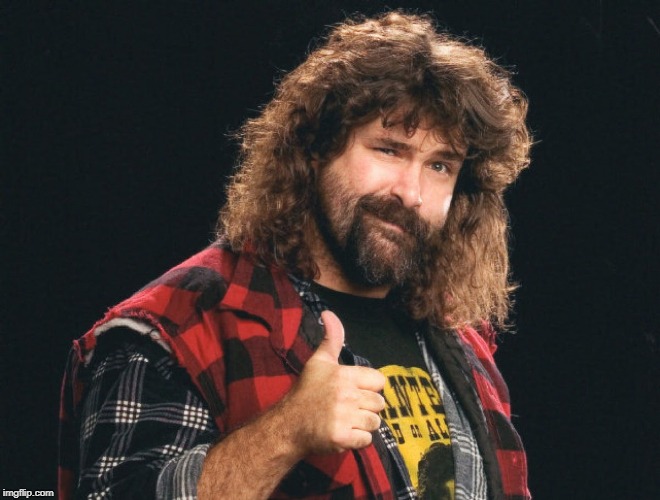 Please change disks to continue…