I live by only a few rules sports fans. First, an X-Files episode a day keeps the doctor away. Second, people who say the Young Bucks are ruining AAA are morons who deserve all the ridicule humanly possible. And finally, when LA Park is returning to wrestle in Arena Puebla, in a match featuring Último Guerrero no less, there must be a Live Review! And that's how my first review of a Puebla show in eons and my first Live Review of a Puebla show since…ever (?) came to be. Let's get started!
Fuerza Chicana, Policeman, Sombra Diabólika defeated Astro, Rey Samuray, Sonic two falls to one
You can tell it's a big night by this opener sports fans; we had a first fall Canadian Destroyer, a lot of really impressive moves by the technicos in fall two (including a brilliant yet scary Avalanche Victory Roll by Rey Samuray) and Samuray taking a death bump in fall three. That never happens in an Arena Mexico opener, let alone Puebla! Unfortunately I can't quite label this a good match as they rushed a little too quickly to the ending, with the rudos quickly wiping the technicos out in fall three. Even still this was a respectable effort and my goodness, you forget just how talented guys like Astro, Rey Samuray and Sonic are. These are guys that deserve a chance; naturally they'll get it ten years too late like Centella Roja I fear. By the way, we're up to nearly 4,000 viewers on YouTube. Can Park cross the 10K mark again?!
Cancerbero, El Perverso, Raziel defeated King Jaguar, Star Black, Tigre Rojo Jr. two falls to one
This match can only be described as the Cancerbero and Raziel special. For those who have forgotten what those matches are like, you're probably better off not remembering. I'll give credit to Tigre Rojo Jr. and Star Black for weathering the storm as best they could; both guys were trying and Rojo in particular did a hell of a job turning several rudo botches into something. But my goodness the rudos couldn't have cared less and it drove the match down. Perverso was completely off and Cancerbero and Raziel did what they did best; went through the motions with no effort whatsoever. It brought the match down something fierce, which I guess means it fit right at home with the usual Puebla affair. At least we're one match closer to Park now! Oh, and we're up to over 5K in viewers for those keeping score.
Felino, Templario, Tiger defeated Audaz, Drone, Stigma two falls to one
I tell you sports fans; we were maybe one more dive train away from this being an honest to Grodd good match in Arena Puebla. It was right there to be had I tell you! And yet…not quite.
I will definitely say that we need to have LA Park in Arena Puebla more often if we are going to get more efforts like this. Like the opener, this was another case of everyone trying really hard and the only flaw (aside from a rare Audaz botch trying to flip over the ropes) being that CMLL just didn't give them enough to do. Beyond that it was a really solid affair. Audaz, slip up aside, was terrific again and tore the house down with Templario in their numerous sequences. Felino and Stigma did what they needed to do without taking too much time. Tiger was strong. And for the first time in awhile Drone seemed to have his head in the game; there were times he was right there with Audaz I thought in terms of performance. You'd have to go back to before his FantasticaMania slip up for a performance this good. I just wish they had allowed him, Audaz and Stigma five more minutes to get some more cool stuff in. Do that and CMLL would've had a good match. Instead, they missed it by that much as the gif says.
Estrella Blanca Ceremony
Lost in all the excitement over LA Park was the fact that Arena Puebla was having their own Homenaje a Dos Leyendas event tonight. The honorees were Salvador Lutteroth (as always) and Estrella Blanca, a legend who has claimed to have won over 200 mask vs. mask matches. That's quite a few! I'm not too familiar with Blanca, but it was a nice moment to see him accept his plaque with his son, and unbelievably the segment came off better here than the Blue Demon one did in Arena Mexico Friday. If you had money on that, give it back cause you're lying.
Ángel de Oro, Niebla Roja, Valiente vs. Bestia del Ring, Cavernario, Terrible
On the one hand, who cares about the match sports fans when EL FRIGGIN TERRIBLE WAS SOMEHOW ABLE TO COMPETE THREE DAYS AFTER DISLOCATING HIS SHOULDER! AND HE WORKED LIKE NOTHING EVEN HAPPENED! Sorry; I should've been more composed there but how can I be because what a bad ass Terrible is! And now he's rocking the shaved look too so he's even more of a bad ass.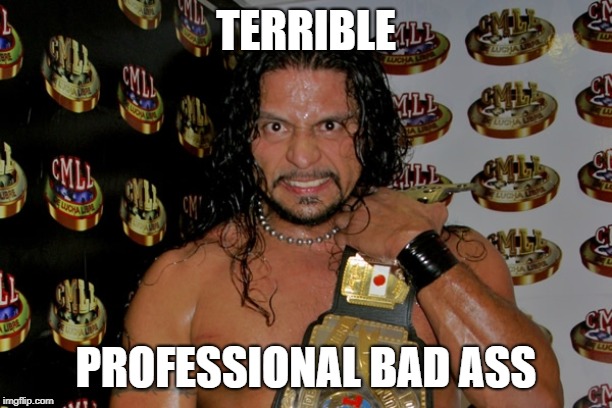 On the other hand…holy hell the ending to this match was bad. I was actually all set to say this was a respectable, if forgettable, match just a few moments ago. Yes Bestia del Ring was still Bestia del Ring, but everyone else was trying and my goodness Terrible's effort considering a few days ago was heroic. But naturally CMLL had to go and screw things up by finishing the match with a dumb double pin draw where everyone stood around confused. Well those who cared did at least, which appeared to just be the people in the ring. Ah who cares? Terrible's effort was awesome, everything else was okay and the ending was shit. ONTO THE MAIN EVENT!
Hijo de LA Park, LA Park, Volador Jr. defeated Euforia, Gran Guerrero, Último Guerrero two falls to one
Let's get the complaints out of the way first sports fans. Did Baby Park, Volador and Euforia need to be in this match? Probably not. I like all three guys but they were very much supporting players here, with neither of the three getting a whole lot to do except get in the way of what everyone wanted to see (LA Park vs. the UG). The ending sequence was also kind of a mess, with some miscommunication and the usual LA Park style finish that saw Tirantes (who was actually on his best behavior in this match) taken out, allowing Park to unmask for the DQ. Not the most inventive thing in the world. That's what was wrong with the match. Otherwise, HOT DIGGITY DAMN!
Just when you think you've seen it all from an LA Park match sports fans, along comes another one to show you there's more tricks in the bag. This was a match in many ways the same as the battles Park and Rush have had and yet completely different. For one, the Park-Rush trios matches didn't feature Gran Guerrero defiantly taking belt shot after belt shot to the chest, a moment that would've been mega star making in Arena Mexico. It also didn't feature Park busting out hurricanrana's and an unbelievable (and often forgotten) wheelbarrow arm drag into a powerslam spot that shouldn't be possible, and yet happened. That's the brilliance of this Park-UG matchup. It may not have the heat and intensity of Park vs. Rush, but Park and the UG have an amazing chemistry all their own and you can tell how much Park trusts Guerrero (one of the most dependable luchadores in the game anyway) with how much more he's willing to try. They were absolutely sensational together, so much so that the flaws of this match didn't really matter. And the best part is we'll now get to see it again next week with the same people involved. You can't trust CMLL with much of anything these days and the hope of a possible UG-LA Park match should be tempered for now. But that appears to be where they are going and I for one am fine with one more match like this before we get there, provided they give the other four guys more to do and work out the kinks. But even with those flaws, this match had an energy and a big fight feel that Puebla has been lacking for awhile and it elevated it something fierce. This was absolutely great and I cannot wait for next week. Oh, by the way; the viewership topped out at 8.1K for those interesting. The Chairman continues to draw, even if it wasn't quite 10K.
That's game sports fans! I'll see you tomorrow for the CMLL Tuesday results. TILL THEN!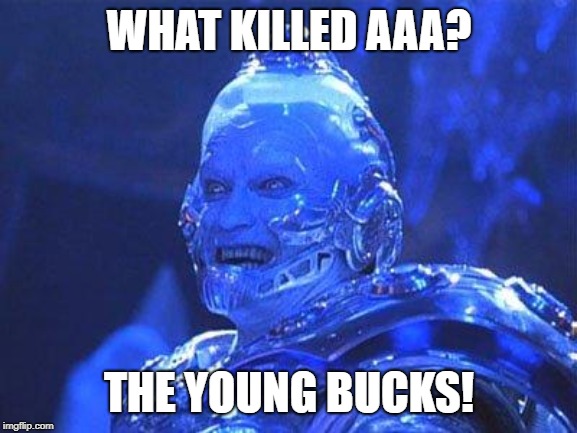 Please change disks to continue…