Spoiler alert sports fans; LA Park vs. Último Guerrero will not be happening on my birthday next week. Instead we'll be getting a match nowhere near as fun as that or the match we got last night. ONLY IN CMLL! The sad thing is I'm not even upset nor surprised about it; thanks for killing that in me CMLL. But enough of being annoyed. There will be plenty of time for that at the end of the review. Or even during the first match.
Black Tiger, Fuerza Chicana, Policeman defeated Astro, Asturiano, Meyer two falls to one
I think I speak for everyone when I say holy shit this match was DULL! Like this made Star Trek: The Motion Picture look like a beacon of entertainment. It honestly had me a little afraid LA Park wasn't making the show because the effort level was nothing like last week's opener. The rudos couldn't have cared less and surprisingly the technicos didn't seem to care much either. Then again, that may have been because the rudos were dropping them early and often in this match and they decided it was simply better to throw the towel in and live to fight another day. Whatever the reason this match was a complete and utter slog. Yet another putrid opener in a year loaded with putrid CMLL openers.
Arkalis, Pantera Blanco, Super Astro Jr. defeated Gemelo Pantera I, Gemelo Pantera II, Hijo del Signo two falls to one
My face when I saw Super Astro Jr. was wrestling again for the first time since nearly suffering a catastrophic injury last month.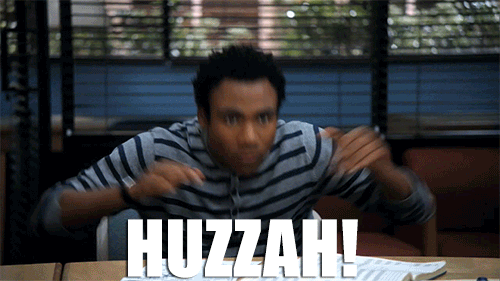 My face when I saw the rest of this match.
Yeah, this was pretty much the opening match with the only saving grace being Super Astro's presence. He tried hard and had a few good moments, but short of just going completely crazy there was nothing he could do to hide the usual poor Pantera effort (on both sides of the coin) and Arkalis and Signo doing little to nothing. At least Astro is back I suppose! Now he can be a ray of light in these otherwise brutal undercard matches.
Misterioso Jr., Olímpico, Sagrado defeated Audaz, Drone, Stigma two falls to one
You know sports fans…I had forgotten just how much I didn't miss Olímpico. Unfortunately I now remember thanks to this match. In Olímpico's defense he wasn't the dirt worst; he wasn't any good at all and CMLL inexplicably decided to spotlight his apron dive over an awesome Audaz dive but hey; still not the dirt worst! Olímpico's lame return aside this match was pretty much a slight better version of the second match on this show. Most of the guys didn't try, one guy did and luckily for this match that guy was Audaz. He was having good sequences with Sagrado during this match, and Sagrado cared so much that he actively didn't try to catch Audaz' first dive. Classy. Good thing Audaz is so good it didn't matter. Too bad nothing else in this match did either.
Ángel de Oro, Niebla Roja, Valiente defeated Bestia del Ring, Cavernario, Terrible two falls to one
Sum this one up for us Abed.
Seriously sports fans; the only redeemable part of this match was when it was over. And even then not so much! This feud was DOA before Homenaje a Dos Leyendas happened and CMLL's insistence on continuing it is very reminiscent of how Diamante Azul-Bestia del Ring continued for a few weeks after H2L two years ago. That isn't a compliment! It may be unfair for the feud to hang over this match so much but it does; it's just not fun to watch good performers like Oro, Roja, Cavernario, Valiente and Terrible stuck in a heatless slog that only benefits Bestia del Ring. And the worst part is it isn't over; Terrible fouled Ángel de Oro at the end for the DQ, which means we're totally getting one more tag match between these sides next week. Joy. What a stupid match.
Euforia, Gran Guerrero, Último Guerrero defeated Hijo de LA Park, LA Park, Volador Jr. two falls to one
Once again, LA Park and the gang were tasked with having to make an otherwise middling show something more. And once again, LA Park and the gang rode in on their white horses and delivered exactly what needed to be delivered…right up until CMLL screwed it all up in the end. But man was the ride down fun!
I think in some circles this match will get underrated compared to last week's borderline classic these two teams had but personally I thought this match was a lot smoother while still featuring all the chaos and cool shit we love from LA Park matches. Euforia and Gran Guerrero were still bit players overall (at least till the end) but Volador and Baby Park had a lot more to do and looked far more in synch with the rudos than last week. It really helped the match feel more complete. And of course Park and the UG were tremendous again, whether it was doing their usual moves (especially Park's spear, which the UG sold as devastating), some rare off the top and to the floor dives or the unbelievable chop battle on the apron they had in the dying moments of the match. That sequence, coupled with Gran Guerrero surviving a Volador Jr. Octopus submission in the background, may go down as one of the best things to happen in CMLL all year. It was awesome; naturally it was all washed away seconds later by CMLL ending the match with another DQ and then transitioning into, wait for it, Volador vs. Gran Guerrero! You know; the two guys who weren't feuding until the final two minutes of the match. Only CMLL could have a winner on its hands in UG vs. LA Park and then go "nah, can't do that!" The crowd was deflated, I was deflated and both Park and Guerrero looked ticked over it as well. What can you do; in the words of the kids, CMLL's gonna CMLL. The good news is I'm so used to this now that I can't be disappointed or shocked anymore. All I can do is say the match tonight was great (it was) and go back to not caring about this show next week. It is what it is. Thanks for the good time at least LA Park and UG. You guys deserved that match.
And with that, SLEEP! Till next time.
Please change disks to continue…