Sports fans, we are officially one day away from CMLL's 86th Aniversario, the biggest CMLL show of the year. If it feels like there should be more excitement about that, you're not wrong; I just can't muster any. It's always an adventure with CMLL, a promotion that never changes all that much and is more than happy to wallow in mediocrity, but 2019 has been especially tough if you're a CMLL viewer. The big shows don't seem as big, the Monday and Tuesday shows in Puebla and Arena Mexico are duller than ever and now even the Super Viernes shows have seemingly taken a step back. It's all kind of led to this Aniversario, a show that features some matches that could be great, while simultaneously featuring a main event and some curious decisions that highlight just how frustrating the promotion can be. It sucks; I want to be excited about CMLL and I most certainly want to be excited for this show. And yet here I am, doing a preview that really doesn't feel all that different from all the other ones I do for the normal CMLL Friday shows. Well other than it's longer I suppose. I guess we'll see if we can drum up some excitement as we break down the card. Let's get to it.
Audaz, Rey Cometa, Stigma vs. Misterioso Jr, Tiger, Virus
What to Expect: Two things sports fans. First, Stigma is in Star Jr.'s spot, it sucks and it's yet another example of good ole nepotism getting in the way of good lucha on a CMLL show. Second, even with Stigma and Misterioso (who I guess is here because Sagrado was unavailable?) this match should still be one of, if not the, best CMLL opener of the year. Tiger and Virus are two of the best rudos in the CMLL undercard and they've been having strong years overall. On the technico side the always fun Rey Cometa will be going balls to the wall for this show and Audaz is, well, Audaz. The only thing that will be shocking about his performance is if he doesn't do at least five crazy things. Those four guys are more than enough to overcome Stigma being middling and Misterioso just standing there, and the likelihood is both guys will raise their level anyway cause dude; THIS IS THE GORRAM ANIVERSARIO! Expect a fun opener.
Winners: Audaz, Cometa and the guy who isn't Star Jr. take this in three falls after Audaz submits Virus with a Rolling Armbar.
Diamante Azul, Dulce Gardenia, Titán vs. Hechicero, Hijo del Villano III, Rey Bucanero
What to Expect: You could probably tell Stigma getting a spot over Star Jr. in the opener upset me. That's nothing compared to here. I get that CMLL loves Diamante Azul; he's big, he's bad, he can occasionally be very good when he's not being really, really bad or hurt. But this should be Atlantis Jr.'s spot. We are only nine months into the youngster's CMLL run and he's not only exceeded most of the expectations we had for him but does in fact look to be capable of being a massive star like his father. He's got all the potential in the world and he should be here feuding with his rival Villano and doing cool sequences with Hechicero. Instead Diamante Azul is here, because why build to the future when you can push injury prone botch machines and do the same old stupid shit?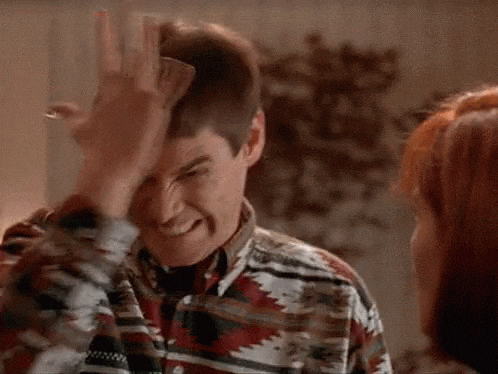 So that's got me really down on this match sports fans, enough so that even with the raised effort I'm not sure that this will be good. The best things about it are Dulce Gardenia, who like Atlantis Jr. has proven himself to be really good in a short amount of time, the always reliable Titán and a Hechicero who could make rolling out of the bed captivating. They'll be on fire here. The problem is Rey Bucanero is too broken down to do much even with a strong effort, Azul is Azul and Hijo del Villano III, while definitely capable of becoming a good luchador one day, is currently in the stage of his career where he does a splash, bases a little and otherwise stands there. It's the complete opposite of his brother Villano III Jr., who's already developed into one of the brightest young stars in AAA. He'll need to be better here, especially with Azul and Bucanero likely not being that good, and I'm just not sure he's ready for that. Never mind that wouldn't have been an issue if CMLL had just done the right thing and put Atlantis Jr. here. Instead we get this. What a pity.
Winners: The rudos win in three falls.
Mexican National Women's Championship Match
Metálica (c) vs. Dalys
What to Expect: There have been a few changes to the show (Dragón Lee was taken off because he dared to wrestle PWG's Battle of Los Angeles. THE HORROR!) but this match features the most notable. This was supposed to be the 9,001st clash between Marcela and Dalys for Marcela's CMLL World Women's Championship, only Marcela discovered she had fractured her ankle and had to pull out. In her place is Metálica, the Mexican National Women's Champion. On the one hand this is at least a fresher matchup considering the countless times Marcela and Dalys have tangled. On the other hand, CMLL ran this Metálica-Dalys match a month ago (ironically enough to determine who would be facing Marcela on this show) and the match was a disaster, with Metálica getting hurt/winded/whatever and Dalys (as she's unfortunately prone to do) dominating the whole match to the point no one cared. In fairness I can't imagine this match being any worse. I don't know how good Metálica actually is but she has talent (far more than what she showed a month ago) and her recent performances suggest she's motivated to right the wrong of that match last month. And while Dalys' never ending domination of the division is grating, she can work when called upon and she will be trying here. As long as everyone stays healthy and this match isn't a one sided squash I think it actually has a shot to be solid.
Winner: Metálica should win this match…but then again she also should've won last month too. In the end this is Dalys' world, the rest of us just live in it and she will be adding some gold when she defeats Metálica in the third fall with a Spiral Bomb.
Ángel de Oro, Mephisto, Niebla Roja vs. Euforia, Gran Guerrero, Soberano Jr.
What to Expect: This match sort of feels like it should be reversed given how Soberano teams with Ángel del Oro and Niebla Roja all the time and Mephisto is, well, a rudo. I guess CMLL just really wanted to team Soberano with his father for this show after Dragón Lee got the boot. Still, why not then at least put Templario, Soberano's big bad, in Mephisto's spot? Why am I asking this; IT'S CMLL! In any event this match should be one of the better bouts on the show. Euforia is tremendous, Gran Guerrero is tremendous and best of all, they're tremendous together! Ditto for Oro and Roja on the other side, which means the only question marks are how much can Mephisto (the once great but now sadly in decline rudo) give and can Soberano (who will be great individually) finally put together some great sequences with Euforia and Guerrero? They've tried a few times now and haven't quite nailed it down, but you know they'll be trying here on the big show. And if they can get it right, look out; this match could be special.
Winners: It's going to be a good night Big Euf, the GG and the Screw Master. The trio takes this in three falls after a triple submission spot, because when you're Euforia and Gran Guerrero, you have to end your Aniversario match with a triple submission spot. It's in the official CMLL rule book after all!
Mask vs. Mask Match
Microman vs. Chamuel
What to Expect: Only in CMLL would the biggest match on the 86th Aniversario be fourth from the top, while also featuring the smallest competitors in the promotion. For those who don't remember, this all dates back to the formation of the CMLL Microstars division a few years, which CMLL used to help them draw on Kids Day in April. The division has turned out to be a booming success, but no talents have enjoyed it more than Chamuel, the Microstars top rudo, and Microman, the son of CMLL legend KeMonito and arguably the smallest luchador alive today. As the division has ebbed and flowed those two have been the most consistent performers in the division, enough so that CMLL finally threw up their hands earlier this year and said "you know…maybe they should feud!" And so they have feuded in the back half of the summer, with the issues finally culminating here at the Aniversario in what should be, unbelievably, the biggest mask vs. mask match CMLL will put on this year.
In any event, this is the match most people interested in this show will be looking forward to the most and with good reason. Not only has the feud been solid but this should be the best, most emotional match on the show. Outsiders will probably scoff at this (they shouldn't but hey; that's why they're outsiders) but Microman is a legitimate star. He's got tremendous charisma, great fire, brings huge excitement to the table and is easily the most over star in the Microstars division. And Chamuel, the Euforia of the Microstars division if you will, has turned out to be the perfect foil for him, a highly charismatic and exciting performer in his own right. They are the perfect match for each other, and have shown it in the numerous trios matches (and one singles match) they've had over the past few years. I suppose the worry is the pressure will get too big for them here but I seriously doubt it, and if anything the big stage should only enhance what these guys bring to the table. My expectations aren't through the roof for the show overall but they are for this match. This should be tremendous and if you're going to watch the Aniversario at all, make sure you do it for this match. Trust me; it'll be worth your time.
Winner: Microman isn't just the star of the division; he's the young star of the division and there's no way he should be losing his mask this early on. So get ready to see Chamuel's face for the first time, as he's going down to Microman in three falls and then losing his mask.
Mexican National Trios Championship Match
Cuatrero, Forastero, Sansón (c) vs. Carístico, Mistico, Valiente
What to Expect: Good thing CMLL decided to put the two best matches on this show back to back right? I'd be stunned if this match gets the crowd as much as Microman-Chamuel (mostly because that match has a story) but they'll be hot for this one and it's hard to see it being anything less than very good given who's involved. You could argue there have been stronger technico teams in past years but that's only because most people think Valiente is slowing down. He is, but he steps up on bigger shows (and what show is bigger than this?) while Carístico has had a hell of a year and Mistico has at times been extraordinary. They'll be ready here, even if Mistico is booed out of the building (as is an Aniversario tradition). Meanwhile the Dinamitas have become such a formidable, great unit that I think we take for granted just how good they are. No one, not even the Guerreros, puts out more consistently good trios performances than Cuatrero, Forastero and Sansón and that's on regular shows. Grodd only knows what they'll pull out of the bag of tricks for this one. I don't think this will be better than Microman-Chamuel but I won't be surprised if it gets close, or if many others believe it will be. This is a strong match and it should be one of the best things about this show.
Winners: The Dinamitas have held these titles for awhile so a change isn't out of the question…but the Dinamitas are also the top trios team in CMLL besides Euforia, Gran Guerrero and Último Guerrero, and unless they're moving into the CMLL World Trios Championship scene there's no reason for them to lose the belts. I say they retain in three falls after Cuatrero and Sansón counter Double La Misticas from Carístico and Mistico and then do some double team of their own to get the W.
Seven Way Cage Match, Loser Loses Hair
Big Daddy vs. Cavernario vs. Ciber the Main Man vs. Gil Muertes vs. Negro Casas vs. Último Guerrero vs. Volador Jr.
What to Expect: In CMLL's mind this is the biggest lucha libre match of the year. In everyone else's mind this is the thorn in CMLL's side that has led to them having one of the weakest summers in recent memory. It's also not the match that CMLL wanted. The promotion spent the entire summer building towards a hair match between Último Guerrero and Ciber the Main Man (former AAA star Cibernetico). Only CMLL can tell you why this was the direction, as the UG-Ciber feud drew little heat, no bigger than normal Arena Mexico crowds and absolutely putrid matches, with the usually great UG being unable to get anything out of a broken down Ciber. In the end though CMLL backtracked (the rumor is neither Ciber nor UG could agree to terms with CMLL where one of them would drop their hair) and then put together this cage match, where they put Ciber and UG alongside Gil Muertes (the former El Mesias/Ricky Banderas/Mil Muertes who CMLL calls Gilbert El Boricua, but who I call Gil Muertes because it's fun to combine new names with old names!), foreigner Big Daddy and top CMLL stars Cavernario, Negro Casas and Volador Jr. (the latter four started feuding in a makeshift program following the CMLL Gran Prix). And that is how these seven wound up in a cage match where one of them will go home without their hair.
As you can plainly see, this match isn't exactly LA Park vs. Rush. Hell it's not even Matt Taven/Volador Jr. vs. Cavernario/Rush from last year, or Niebla Roja/Gran Guerrero from the year before, two good matches that were still considered weak Aniversario headliners. Obviously the cage match stipulation plays a part in this; I've personally never seen a CMLL cage match that I would call good. But even without the cage this would be a problem. I have no doubts about Cavernario, Casas, the UG and Volador; all four guys are still tremendous (Cavernario may even have a claim of being the best luchador alive right now) and all four will bring their A game. The problem is the other three guys. Gil Muertes was once one of the best luchadores alive but injuries have hobbled him something fierce, and while he can still go with the right guy, a cage match won't play to his strengths. Big Daddy, a long time independent worker, has proven to be a great talker and a guy whose style doesn't quite go together with the lucha style (and that's putting it kindly!). And Ciber…well he sucks. That sound harsh, but the former top AAA star (who was always threading the line between average and mediocrity even on his best day) has had trouble moving during some of these matches, and unless he has a mic in his hand isn't all that valuable to CMLL, even as a draw (likely because CMLL fans still see him as the enemy). Those three wouldn't be so much of an issue if they were getting out of the cage early…but with all three (especially Big Daddy and Gil) expected to be in the final three, it makes it likely this match will be tough sledding. Throw in the cage and you've got all the makings of the worst CMLL Aniversario headliner of the last several years. And only CMLL is unaware of how bad it is! That should tell you all you need to know about CMLL.
Loser: Our first ever "Loser!" section. If only I could include sound bites in this column; we could have the nWo voice over guy saying "Loser!" through this section. In any event, the smart money seems to be on Big Daddy, Negro Casas or Gil Muertes losing their hair here. My guess is it'll be Gil. Casas has lost a ton of matches leading into this, which seems to be a clear misdirection play, and Big Daddy has barely been around long enough for him losing his hair to register. With the rest of the guys being supposedly unwilling to lose their hair (Ciber, the UG) or it just being a bad idea (Cavernario, Volador) it just leaves Gil, who has a bit of momentum and who's hair will mean something if it's shaved. Not a ton mind you but enough to make it worthwhile. So look for the former Lucha Underground Champion to leave this show bald, after Cavernario defeats him in the final two pairing. Why Cavernario? Because that's the best final two they can produce with Gil and because Cav should be getting all the big wins possible these days. Don't be surprised if CMLL puts Casas in the spot though, if only to get a big pop.
There's your Aniversario preview sports fans. Unfortunately there will not be a review of the show tomorrow because CMLL isn't airing the show live. As of now there is no word on when the show will be up but the likelihood is sometime Saturday morning; thus you can look for the review at that time. TILL THEN!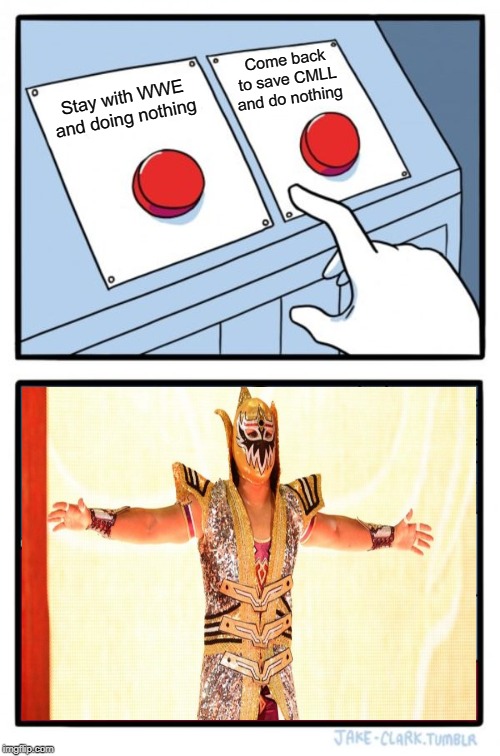 Please change disks to continue…