It's time sports fans. After being given a reprieve for one more day, it's time that Lucha Central brings Blue Panther Week to a close. How will we be doing it? Well we've spent the week reliving some of Panther's career, his greatest feuds and even took a look at the career of his sons. The only thing left to do, at least in my view, is to do a top ten list of Panther's greatest matches. And by Grodd that's what I did. After spending Friday and Saturday re-watching as many Blue Panther matches as possible, I've constructed a top ten list that I think most people would say is pretty good, as well as a few words on what makes each match great. There won't be links to the matches included here but don't worry; all are easy to find on YouTube. And with that I think we're ready to begin right? So let's get to it!
1o. Blue Panther vs. El Mariachi (AAA, October 30th, 1994)
The fact that we're starting off with this match, one that features some of the best paced, creative mat work ever in fall one, shows how deep Panther's catalogue is. Old school lucha fans love it for the impeccable technical wrestling, high flying fans will love it for Panther's suicide dive and Mariachi's selling it by flying into the second row. Fun fact; El Mariachi is actually the legendary El Solar under a different name, making this one of those rare Maestro vs. Maestro bouts.
9. Blue Panther vs. Negro Casas (CMLL, Homenaje a Dos Leyendas, March 2nd, 2012)
Its two legendary luchadores in what should be the twilight of their careers getting a chance to cut loose with some high drama, back and forth lucha. And they did all that with just one combined dive between the two and a double pin finish that saw both luchadores lose their hair. That's right; THEY BOTH LOST THEIR HAIR! Somewhere Antonio Peña smiled and pumped his fist when heard of this.
8. Blue Panther vs. Love Machine I (CMLL, 36th Aniversario de Arena Mexico, April 3rd, 1992)
The first battle in the legendary feud between Blue Panther and Love Machine is also the match that turned 8,000 thousand fans away from Arena Mexico. That's a hell of a lot of demand. Luckily those 8,000 got to watch the match on giant screens outside of Arena Mexico while 18,000 others caught the action from the inside. They caught a great two fall story of the veteran (Panther) outsmarting the talented young American who is just a little too green and a little too in over his head. Other Blue Panther matches were better, but to this day none have been as successful.
7. Blue Panther vs. Angel Azteca (AAA, September 4th, 1992)
If this list were about first falls in Blue Panther matches, this would be the best thanks to a breathtaking pace, Panther's basing and Azteca's athleticism. It settles down into familiar Panther tropes from there, but nonetheless remains high end work and Panther's first great singles match after making the jump from CMLL to AAA.
6. Blue Panther vs. Último Dragón (CMLL, January 31st, 1992)
Our third straight great Blue Panther match from 1992! And there's still more to come from that year. This might be Panther's most explosive singles match; it never stops thanks to Dragón going a million miles per hour and pulling off some of his greatest tricks. It also sports the best ending stretch to the second fall of a Panther match ever, with Dragón pulling out all the stops to try and put Panther away until the rudo catches him with a powerbomb out of nowhere to suddenly tie things up.
5. Blue Panther, Eddy Guerrero, LA Parka, Psicosis vs. Hijo del Santo, Jushin Thunder Liger, Octagón, Tiger Mask (AAA, Triplemania II-B, May 15th, 1994)
The only multi-man match on the list, though a trios match from 1995 just barely missed the cut due to it being mostly a Rey Mysterio Jr. showcase. This match is a far more balanced affair, not to mention Panther gets to mix it up with guys like Liger and Tiger Mask III, only two of the best junior heavyweights in the history of Japan. You could make the argument this is one of the best Atomicos matches in the history of AAA, which is saying something because it was at best, the second best match on one of the greatest shows in lucha history.
4. Blue Panther vs. Love Machine II (AAA, July 18th, 1993)
The sequel to Panther and Love Machine's highly successful CMLL bout may not have had the financial success, but dammit if it's not the superior effort. Part of that is how the match plays off the tropes of the first match, not to mention that it would be the catalyst for Los Gringos Locos' formation just one show later. Part of it is it's also just better thanks to more time and a finish that manages to top the first in great storytelling.
3. Blue Panther vs. Super Astro (AAA, October 9th, 1992)
If the match with El Mariachi and the match with Último Dragón had a baby, this match would be the baby. I can't believe I used the analogy either. It's true though; one minute the match is a master class of technical mat wrestling, the next Super Astro is flying around like a man a good ten years ahead of his time. In the end the best part may be Panther contemplating doing some dives of his own, only for the crowd to loudly advise against it (when Panther does do a dive, it goes wrong. The fans were right!). 1992 may have been Blue Panther's best year for great one on one matches and this match is the best of the bunch.
2. Blue Panther vs. Atlantis (CMLL, August 9th, 1991)
You've only got one chance to make a good first impression. Panther's match with Atlantis for the NWA World Welterweight Championship was his first big CMLL match and the one that would go on to influence many of his other great matches. With one exception it remains above them all. The mat work in fall one is some of the best ever seen in a lucha match. The difference between the grounded Panther and the athletic Atlantis (who jumps off the screen in a way people who have only seen him in the later years won't believe) is the perfect contrast. And in the end the only thing anyone could possibly find fault with this match is a slightly missed Atlantis dive through the turnbuckle. What else needs to be said; the match that made Panther a star remains a timeless classic.
1. Blue Panther vs. Villano V (CMLL, 75th Aniversario, September 19th, 2008)
All things considered, this match wasn't supposed to be any good. It was, at best, the third choice for the 75th Aniversario, featured a Villano V who many considered to be past his prime AND saw Villano injure his shoulder just weeks before the match took place. The fact the match even took place is a miracle; that it wound up a classic and the best match of both Panther and Villano's career is the stuff that they only come up with in movies. It's admittedly a bit weird that Panther's greatest match would be the same where he dropped his mask, a decision that no one saw coming. But this master class in drama does just that, overcoming all odds and obstacles to become Panther's greatest triumph.
And with that, Blue Panther Week is a wrap. Thanks to everyone who joined us here at Lucha Central for the ride; I think I can speak for everyone here when I say it was a blast reliving the career of such a lucha libre legend. Hopefully this will be the beginning of many more weeks where we pay tribute to some of the best luchadores in history. For now though, I must bid you adieu.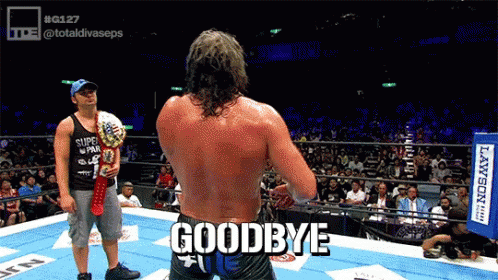 Please change disks to continue…