Check out more stories from Blue Panther Week!
The Life and Times of El Maestro Lagunero
Blue Panther vs. The American Love Machine
Match of the Day: Blue Panther vs. Ultimo Dragon
Match of the Day: Blue Panther vs. Super Astro
Who's got two thumbs and ready for more Blue Panther week? THIS GUY! And hopefully all of you as well. Today we're going to go in a different direction by doing a column not on Blue Panther, but on his son. Any lucha libre viewer will know that Blue Panther has two sons currently working in CMLL, and what would Blue Panther week be without showing them some love as well? So today we're going to take a look at the career of Panther's youngest son (of his sons working) and a luchador considered by many to be one of CMLL's most underrated talents, Black Panther. Or The Panther. Depends on what CMLL is calling him today.
The Career
We're gonna start this off with a fun fact for new lucha libre fans and even long time ones that just forget this factoid. One of the lucha libre traditions fans generally forget about is that luchadores are supposed to keep their name, age, years of experience and even where they live a secret until they are unmasked. It's not something I've generally encountered in doing these pieces because a) some luchadores don't adhere to this and b) a lot of the luchadores we've talked about at Lucha Central are guys who lost their mask/never had them and all their info is out there. All of this is to say that Black Panther/The Panther is unique because his age, place of birth and name are unknown, all because he is still masked. All we do know about him is that he's the middle child of Blue Panther, the younger brother of Blue Panther Jr. and the older brother of the yet to debut third son. Unless he chooses to disclose the information at some point or loses his mask, it's quite possible the man behind Black Panther will remain a mystery.
Now let's get back to the known. The Black Panther first appeared onto the CMLL scene back in early 2014, taking part in the 2014 La Copa Junior tournament alongside his brother. Some people consider this to be the official debut of Black Panther, but in reality he has been wrestling ever since 2011. Of course no one knows what gimmick he was working under or where he was working so that's just another riddle wrapped inside an enigma that is Black Panther, International Man of Mystery! Ironically when he came to CMLL it was Blue Panther Jr. that was given the name Black Panther, while the current Black Panther was given the name Cachorro. If you read all about Blue Panther's history a few days ago, you'll know that this is the name that Panther himself started with, making it all the more fitting that his son would start his big league career with the name. In any event the youngster did well in the Copa Junior cibernetico, making it all the way to the final five before being eliminated by eventual winner Super Halcón Jr. It was just the start of what would be a very wild year for Panther, though not as wild as being beaten by Super Halcón Jr. He's by the way no longer employed by CMLL if you're interested. Wonder why.
As Cachorro, Panther quickly joined up with his brother and father to form the trio Los Divinos Laguneros, a trio that any longtime viewer of CMLL will know very well. They battled frequently with Blue Panther's rival Felino and his sons, Puma and Tiger Casas, a feud that pretty much never subsided until Puma left CMLL earlier this year. Panther and his father also took part in the 2014 Gran Alternativa, where they made it to the second round before falling to Oro Jr. and some guy named La Sombra. Never made it anywhere that guy! In short, Panther's first few months were basically the first few months of any second generation luchadores career with a decent name; solid if unspectacular. That changed in March when CMLL announced the 2014 version of En Busca de un Ídolo. For newcomers, En Busca de un Ídolo is/was the most unique tournament in CMLL's arsenal, taking eight young luchadores, splitting them into two teams coached by a veteran (generally Negro Casas or Virus played this role) and then having the teams wrestle in one on one, round robin style matches. The luchadores would be awarded points based on results (20 points for a win, 10 for a draw, 0 for a loss) and would also receive points based on the score of four judges. The four luchadores with the highest point total would move onto a second round, where they would do the same thing all over again until only two luchadores were left to battle it out in a one on one match where the tournament winner would be determined. That's En Busca de un Ídolo and that's the tournament Panther qualified for thanks to being on the winning side of a cibernetico team in the qualifying match.
That turned out to be a great thing because this version of En Busca de un Ídolo is considered by many to be one of the best tournaments CMLL ever produced. In addition to Panther, the field included like Cavernario, Dragón Lee, Guerrero Negro Jr., Hechicero, Soberano Jr., Star Jr. and the aforementioned Super Halcón Jr. Of those eight, two have gone onto headline the CMLL Aniversario, four of them are legitimate upper midcard/main eventers and only Guerrero Negro and Super Halcón no longer exist within the promotion. This was a loaded field and Panther more than lived up to expectations, having several great matches during the tournament (particularly his two with Dragón Lee). He would go onto to advance to the second round after placing third in the first, but a loss to Hechicero on the final day of the semi-finals ultimately eliminated him (Cavernario would go on to defeat Hechicero in the finals for those not in the know). Regardless, En Busca de un Ídolo was a coming out party of Panther and you would think, after as good a run he had on that stage and given his name, a decent push was in order.
At first that's exactly what happened. Panther was rewarded with an opening match spot on the CMLL 81st Aniversario, where he teamed with his father and Dragón Lee to defeat Felino, Puma and Tiger in a well regarded bout. He also officially dropped the Cachorro name a few months later by changing his name to The Panther, perhaps the sure fire sign CMLL was about to go all in on him. And then…well it just kind of stopped. Instead of getting decent pushes like Cavernario and Lee, Panther instead more or less got stuck in the midcard afterwards, generally working with his father and brother in trios action. On the one hand this did lead to a lot of fun trios matches involving the Panthers and the Casas Family, who were frequently matched up against each other because CMLL had no ideas for them otherwise. On the other hand, given Panther's performance in En Busca en un Ídolo and his natural ability, CMLL's inability to capitalize on it would seem rather odd. Then again it is CMLL so…
Things did briefly appear to turn around for Panther in the fall of 2015. He once again made the Aniversario, teaming with Esfinge and Fuego in the opener and entered into his first real feud with Super Commando, a fourteen year CMLL veteran. The feud eventually grew into the main event of CMLL's annual Infierno En El Ring event in December, where twelve luchadores are put in a cage and the last one is forced to unmask. The Panther and Super Commando would go on to be the last two in the match and, what do you know, Commando would become the first luchador to date Panther has beaten for his mask. It may not have been the same as a one on one victory but it was still a decent accomplishment for Panther, and capped off what may have been the best month of his young career. In addition to unmasking Commando, just a few days prior Panther had teamed with Guerrero Maya Jr. to win his first title, the CMLL Arena Coliseo Tag Team Championships from Misterioso Jr. and Sagrado. Again, like unmasking Commando in the cage, it wasn't a massive achievement but it was an achievement none the less. Surely this was a sign that Panther was about have things go his way?
Yeah nope. Since December of 2015 the most eventful moments of Panther's CMLL career have been him and Maya dropping the Arena Coliseo titles to Black Terry and Negro Navarro a year later and Panther officially changing his name to Black Panther just a few months ago. Otherwise Panther's career has basically been his 2015 year January to November; a lot of really good trios matches with his brother and father, some tournament appearances, a few good Lightning Matches and almost zero movement up the card. To Panther's credit he (for the most part) hasn't let it faze him; he's frequently one of the best luchadores in any match he's in and should be one of the stars of this Friday's Copa Halcón Suriano.
Outside of Mexico
It hasn't just been all CMLL for Black Panther; the young man has stretched his legs, most notably in 2016 when he made appearances for both New Japan and Ring of Honor. As one might expect, the New Japan appearances occurred during CMLL's FantasticaMania tour, where Panther largely teamed with then partner Maya, successfully defending the Arena Coliseo Tag Titles against Okumura and Bobby Z. He did get a few singles opportunities as well though, defeating Okumura and losing to Bobby Z in the set up to the tag match. His performances were mostly well received, but he has not been back to New Japan since then, with his brother replacing him for the 2017 edition (neither Panther, Junior nor Blue Panther appeared on the 2018 FantasticaMania).
In some ways Panther's Ring of Honor appearances, though briefer than the New Japan tour, were more important. He appeared on two shows of ROH's Survival of the Fittest tour in November and in fact took part in the Survival of the Fittest tournament. He was victorious on night one, winning a first round, Four Corners of Survival match against Silas Young, Will Ferrara and Yohei "YOH" Komatsu (who Panther had faced in CMLL when YOH was Fujin). That victory moved him into the Six Way final the next night against Bobby Fish, Dalton Castle, Jax Dane, Lio Rush and Punishment Martinez (the main event of the show no less), where Panther was unfortunately eliminated early in the match by Castle (Fish would win the tournament). Never the less Panther not only got strong reviews for his work but the appearances were seen as a shot in the arm. Remember how I said he's mostly not let CMLL's weird booking faze him? The exception would be right before this ROH tour, where Panther suddenly put together a string of poor, unmotivated performances. At least in my view, Panther's brief ROH run got him motivated again and he has performed at a high caliber ever since. Really anyone from CMLL who's gone to ROH has come back better than before; well other than Misterioso Jr.
Matches You Should Check Out
If we're talking Black Panther in trios action then you cannot go wrong with any match he, his father and brother have had that involved Puma or Tiger. The fact that they fought so much for so long did get tiring but in the end they were always, at worst, really good and are well worth your time. A trios match not featuring Puma or Tiger (or even Panther's own family) worth checking out is one from August 4th of last year, (skip to the 44:40 mark)where Panther teamed with Rey Cometa and fellow 2014 En Busca en un Ídolo alumnus Soberano Jr. to take on Cuatrero, Forastero and Sansón of the NGD. This was during the period when the NGD were having money matches against anyone and it's one with plenty of action and excitement. It also took place on the undercard of the show where Panther's father fought Sam Adonis in a hair match, which pretty much makes this match required viewing! Finally, for singles matches you should take some time to watch both of Panther's En Busca en un Ídolo bouts with Dragón Lee and maybe even his bout with Super Halcón. The Lee matches go without saying; its two young, exciting luchadores fighting for their spot and doing a whole lot of crazy things to standout. That's a no brainer to check out. Why the Super Halcón match though? Because it will allow you to see the miracle of Super Halcón being good in a wrestling ring. That's just not something you see every day.
The Conclusion
We'll see what happens when the third Panther son appears but, in terms of skill and style, Black Panther/The Panther most resembles his father. Whereas Blue Panther Jr. has adopted a largely power based style with some high flying, Black Panther is in every shape of the word an all around talent. He's not as great a mat worker as his father but he's quite good. His fundamentals are tremendous. He has the speed and agility to work with almost anyone and adapt to whatever style. The big thing he has on his father is his high flying and athleticism; Blue Panther was an underrated high flyer (and in some ways still is) but he could not do some of the things Panther can do now. And yet despite all his skills in the air it's fitting that Panther's best dive is a simple suicide dive that he does with such pace and contact. It's one of the best suicide dives in Mexico, which is saying something because everyone down there does it. Arguably the only thing Panther doesn't have that his father has is the larger than life charisma, but then again who does?
In the end it's quite clear that Black Panther/The Panther/whatever you want to call him isn't just a great worker, he's one of the best guys CMLL has and is definitely the best of Blue Panther's two sons as of now (even Junior would agree with this). So why hasn't it worked out for him in CMLL yet? I don't know; it's CMLL. They're a weird, wacky group and that's not likely to change any time soon. Whether or not Panther's situation will remains to be seen, but given his father's loyalty to the promotion its likely Panther will not be going anywhere any time soon. There is some good news on that front; as long as Panther remains around then you can expect the third, fourth and occasionally fifth matches of CMLL's Monday and Tuesday shows to be watchable, mostly because Panther is that good at what he does. He's what we call underrated. I guess it runs in the family!
That's Black Panther sports fans. I'll see you tomorrow when we talk about Blue Panther Jr.! Here's a look at him.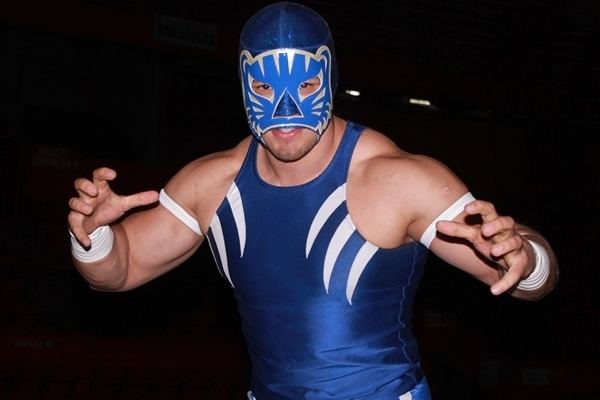 Please change disks to continue…