Are you ready for some more Blue Panther Week sports fans?! You should be because today we are taking a look at what I personally believe to be the greatest program Panther has ever taken part in. It remains such a vital part of modern lucha libre lore that last year's feud between Panther and Sam Adonis as very clearly influenced by it. I am of course talking about Panther's feud with the late American Love Machine Art Barr. What are we waiting for; let's start our journey, and we start in 1991 in the confines of Consejo Mundial de Lucha Libre.
CMLL
As we covered yesterday, Blue Panther joined CMLL full time in July of 1991 after years of working for the UWA (though he did work spot shows for CMLL, back when they were EMLL, throughout the 80's). All indications are he was brought in to be a foil for Atlantis, a CMLL top star who was just beginning to carve out his own legendary legacy. A classic match between the two in August established Panther as a star and the program as one to watch out for…and then it ended. Yup, just like that. Alright not just like that as Atlantis and Panther fought each other again in October, but after that the feud quietly disappeared. It's not exactly clear why Atlantis and Panther went their separate ways; one rumor is that the two were supposed to engage in a mask vs. mask feud at some point in late 1991/early 1992, but it was canceled after a worker's strike occurred (for what it's worth, I personally have found no evidence of a strike during that period). Whatever the reason the match never came to pass and Panther instead transitioned into becoming the inaugural CMLL World Middleweight Champion when he defeated El Satánico in December. That was a good month for Panther, fort the biggest victory of his CMLL career just so happened to coincide with CMLL bringing aboard a 25 year old American from the Pacific Northwest.
The best way to describe Art Barr in 1991 is polarizing (and that may be too kind). The son of wrestler/promoter Sandy Barr, Art had established himself as a talented up and comer wrestling in both the Pacific Northwest and WCW, where he wrestled as the Beetlejuice inspired character "The Juicer" (a gimmick created and given to him by his trainer and friend Roddy Piper). What hurt him were numerous legal woes, such as an arrest for cocaine and, more importantly, a conviction of first degree sexual assault after an encounter with a 19 year old girl after a 1989 show (Barr actually pleaded down to first degree sexual assault after initially being charged with rape). The conviction led to him losing his license to wrestle in Oregon (he would later get it back) and is largely considered the catalyst to WCW firing him. With nowhere else to turn Barr was saved by an unlikely source; Konnan. The two had become friends during Konnan's brief run in WCW and, knowing Barr's days were numbered, offered him a job back in CMLL, where Konnan was at the time a top star. Barr agreed and in December joined CMLL as the masked American Love Machine, where he was quickly pushed as a top technico.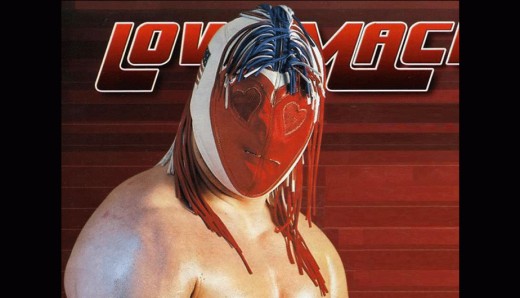 Records are spotty from the era but it appears the first encounter between Panther and American Love Machine was on November 15th, 1991, a trios match where Love Machine, Black Magic (Norman Smiley) and my hero Máscara Sagrada defeated Panther, Jerry Estrada and Pierroth Jr. It's unclear when the feud exactly took off but by the spring of 1992 Panther and Love Machine were in the midst of CMLL's hottest feud, the charismatic young American taking on the respected, all around veteran. Things were going so well that CMLL entrusted the two to headline the 36th Aniversario of Arena Mexico, one of the biggest shows of the year, in a mask vs. mask match. If that seems like a tall order for two guys with less than a year between them in CMLL…well it wasn't! The match was not only welcomed by fans but it wound up being one of the biggest successes CMLL had that year; by the time the show rolled around on April 3, 1992, CMLL had sold out the show and then some. Over 18K people jammed into Arena Mexico (which generally doesn't seat more than 17K by the way) while an additional 8K was turned away at the gate! CMLL luckily came prepared for the occasion (a previous mask vs. mask match between Rayo de Jalisco and Cien Caras had experienced similar high demand that left thousands of fans out in the cold) and set up giant TV's outside of Arena Mexico so fans could watch the match. Throw in Love Machine riding out to the ring on a motor cycle and the the 36th Aniversario of Arena Mexico was, in every shape of the word, an event of epic proportions.
It's a good thing then that the match turned out to be really good, though it has since been underrated in comparison to Panther and Barr's other work. The crowd, split between Panther and Love Machine, watched as Panther outwrestled his rival in fall one before submitting him with a stretch following one of the best Double Underhook Backbreakers you'll ever see. It's the final thirty seconds of Coheed and Cambria's "Three Evils" levels of good. The match takes a dramatic turn in fall two as Love Machine takes his control with his athleticism. There's just one problem; he cannot put Panther away despite hitting almost every move in the book. The frustration grows in Love Machine so much that it culminates in the technico hitting the one move you know never to hit in Mexico when the referee is watching; the Martinete, aka Tombstone Piledriver. The move was/is an automatic DQ in lucha libre, only poor Love Machine didn't know that as he was only a few months in. Regardless the move resulted in a two fall, DQ victory for Panther and the loss of Love Machine's mask, in an ending that could only be dreamed of by the mind of Antonio Peña. It was certainly the kind of ending fit for a feud that was only just beginning…to bad for CMLL they wouldn't see the end.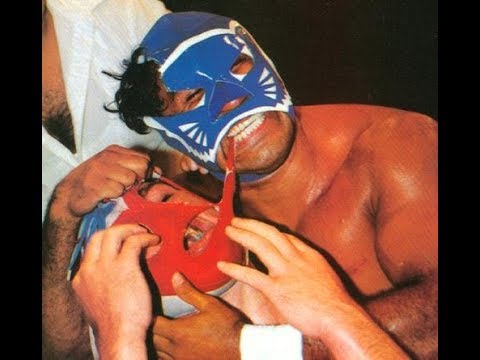 AAA
It took a little more than a month for CMLL to watch one of their top feuds go up in smoke. Panther and Love Machine continued to square off through the rest of April, suggesting CMLL had more planned for the two. What it was we'll never know as AAA formed in May of 1992. Not only did AAA, formed by a disgruntled Peña and Konnan, fill the void UWA had left after its decline but it led to a max exodus of luchadores following them from CMLL. Among them was Panther, whose debut in AAA in June quickly put an end to the Panther-Love Machine rivalry in CMLL. At first Love Machine stuck around with CMLL, remaining one of the few top stars to not jump to AAA. By the fall however Love Machine was having second thoughts (he was close friends with Konnan after all) and made the jump to AAA himself in October. No sooner did AAA scoop him up did they decide to re-ignite the feud between Panther and Love Machine in a unique way. How unique; try a match that neither man had much to do with.
Among the many talented young luchadores AAA had at their disposal during their inaugural year was an 18 year old Rey Mysterio Jr. While he wasn't the star he is today, even back then Mysterio was a lights out talent and AAA wasted no time putting him in a decent midcard feud with the rudo stable Los Destructores, consisting of Vulcano, Rocco Valente and Tony Arce. After taking Valente's hair on October 18th, Mysterio then set out to take Arce's hair on November 6th. In Arce's corner was Panther; in Mysterio's corner was a man dressed like his uncle, Rey Mysterio Sr., only he was far too tall to be Rey Mysterio Sr. Do you see where I'm going with this? As you may have guessed, Mysterio Sr. turned out to be Love Machine, and his appearance not only flustered Panther but led to him turning on Arce when the rudo attempted to get Panther's head back in the game. Mysterio would ultimately take the match and AAA found themselves with two Blue Panther programs lined up; one with Los Destructores and one with Love Machine.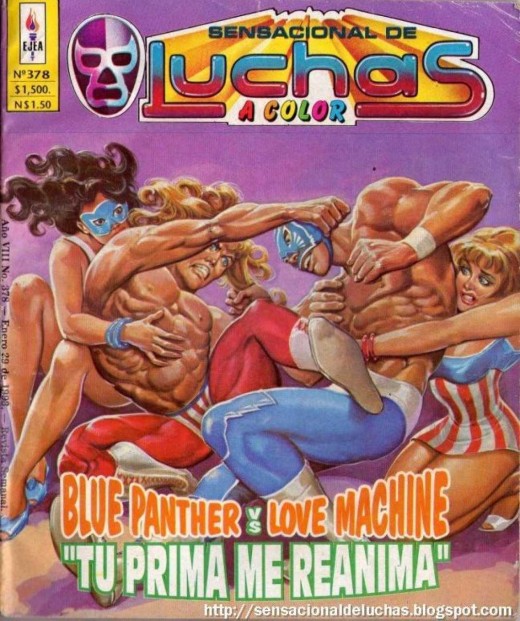 To AAA's credit they managed to pull off both at the same time; Panther managed to dispose of Los Destructores in early 1993 while also being paired against Love Machine in trios matches the rest of the time. The feud never lost a step; in fact it seemed to be even bigger than it was in CMLL, likely due to Panther and Love Machine both being more established and AAA presenting more creative freedom. This was best exemplified by an angle AAA ran on July 9th, just a week before Panther and Love Machine were to collide in a rematch, this time a mask vs. hair match. Panther was being interviewed by what looks like Arturo Rivera out in the street when a crazed Love Machine ran from out of nowhere and attacked his foe. The two ended up rolling down a flight of stairs before Love Machine got the upper hand and proceeded to slam Panther's right arm against the stairs repeatedly. If the feud between these two didn't have nuclear heat already, it sure as hell did following this attack. Best of all Panther's arm would play a key role just a week later, because of course it did.
Now to the rematch. Like the first match in CMLL, it's underrated in contrast to the rest of Barr and Panther's work. Also like the first match the crowd is very split between Panther (still a rudo) and Love Machine (still a technico). Unlike the first match things get started quite differently, with Love Machine gaining control via working over Panther's arm and scoring the first fall victory via a crossbody. Things changed quickly in the second fall, with Panther fighting back and working over Love Machine's leg before scoring a submission with a Figure Four. That brings us to the third fall, which would prove to be a career defining moment for Love Machine the character and Art Barr the wrestler. It plays out like the first match and the first fall of this match; Love Machine dominates, works over the arm, wows with his athleticism and will to win…and despite it all cannot put Blue Panther away. The difference is that this time it visibly gets to Love Machine, especially after the crowd rejects him as he tries to play to them, leading to Love Machine doing things unbecoming of a technico, like tearing at Panther's mask and picking him up when he has a three count. It all brilliantly builds to the callback to end all callbacks; Love Machine picking up Panther for a Martinete, only the same move that cost him his mask over a year earlier. Love Machine's second Perro Aguayo Sr., realizing that Love Machine is about to make a colossal mistake, jumps into the ring to reason with Love Machine. It's no good, leading to Aguayo pulling both Panther and Love Machine to the mat, with Aguayo specifically putting his hands on Panther. That's all Pepe Casas (father of Negro Casas, Felino and Heavy Metal) needed to call for the bell, giving Panther his second Apuesta victory over Love Machine by DQ. Amazing.
That result would be the last straw for Love Machine as a technico. Instead of blaming himself for making the same mistake again (letting his frustration get the best of him, thus going for the Martinete), Love Machine blamed Aguayo and viciously attacked the legend in the post match alongside Panther's second Fishman. It was there it became clear this whole match was one awesome double turn, as Panther returned to save Aguayo and turn himself technico in the process. It was all somehow even better than how the first match played out and yet it was just the first chapter of an angle that would explode off the screen just five days later in Mexico City. There a newly bald (and trying to cover it) Love Machine teamed with Eddy Guerrero and El Hijo del Santo to take on Panther, Fuerza Guerrera and Fishman. It didn't quite play out that way. Love Machine, fully off the deep end, instead stole a Santo mask off a young fan in the middle of the match and proceeded to attack Guerrero; not because he hated Eddy but because he was trying to convince Eddy that Santo had betrayed him. It would've been funny if it wasn't successful; it was and Guerrero ended up betraying Santo, once again leading to Panther trying to make the save before getting outnumbered by Guerrero, Love Machine and Fishman. In short, the second Panther-Barr match followed by this trios match a few days later would wind up being the birth of Los Gringos Locos, who would go onto become one of the greatest tag teams/stables in lucha libre history. I know; I couldn't believe it myself at first.
When Worlds Collide
While the feud between Panther and Love Machine was definitely put on the back burner in favor of Los Gringos Locos vs. El Hijo del Santo (and eventually Octagón), it didn't actually stop until December of 1993. In fact Panther and Barr were matched up against each other up till that point, with Panther regularly teaming with Santo to take on his rival before Panther quietly turned back into a rudo towards the end of the year. After that he would actually team with Love Machine and Guerrero a few times in early 1994, though he mostly kept away from the angle and feuded with Octagón. By the time the summer was winding down however Panther was becoming more and more involved with the Los Gringos Locos angle and often found himself competing against Love Machine in trios action and battle royals. It paved the way for Panther's involvement in what would become, even more so than their two matches, the defining moment of their rivalry and the biggest moment Panther would have in front of a US audience. I'm of course talking about the famous When Worlds Collide show in November of 1994, where Love Machine and Guerrero took on Santo and Octagón. In the corner of Los Gringos Locos would be Louis Spicoli (under the name Madonna's Boyfriend), while in Santo and Octagón's corner would be Panther, just one match removed from competing in trios action with La Parka and Jerry Estrada.
There's an alternate universe out there where Panther isn't involved in this match at all, both because WCW (who produced the show) was pushing for a Santo-Eddy match one on one and because Panther was a rudo at the time, making it weird that he'd be seconding a technico team (one with another rival in Octagón no less). He found himself there strictly because of his rivalry with Love Machine and it wound up playing a bigger part than anyone could've imagined in fall three. With Octagón already eliminated thanks to a Martinete by Love Machine (who hit it while the referee was distracted), Santo found himself in a 2 on 1 hole. He managed to take Guerrero out to the floor, distracting both the referee and Love Machine long enough for Panther to come in and give Love Machine a receipt; a receipt in the former of a Martinete of his own. After two years of feuding and Panther getting the best of Love Machine due to Love Machine's use of that very move, it was only fitting that Panther would use that same move to cost his rival when it mattered most once again. Indeed Santo would go on to pin Love Machine following Panther's Piledriver; the rest after that is history, and once again Panther would stand tall in the ring as Love Machine got his hair shaved off. It was yet another great moment in a great rivalry; tragically it would be the last, as Love Machine Art Barr died just days later at his home in Oregon at the age of 28. In the end, the When Worlds Collide moment between Panther and Barr would serve as the coda for their story, a rivalry ended far too soon.
Legacy
While the Blue Panther-Love Machine matches aren't considered among the best matches of Panther's career (which is nuts because they are both really, really great), the rivalry between them is undoubtedly the best feud either man had in their career. I'm not sure how that can be disputed. For Love Machine Art Barr, the feud was in many ways a life saver. He was a guy (largely through his own doing) who had burned every bridge there was to burn in North America before he arrived in Mexico. It was the feud with Panther that turned his career around, established him as a force to be reckoned with in lucha libre and also led him to the tag team that made him a star and would've turned him into a player for ECW, WCW or WWE if he had lived. Meanwhile for Panther it showed, after years of being a midcard/upper midcard guy in the UWA that he could be a high drawing main eventer on Mexico's biggest stage. You just don't hear stories anymore of matches drawing so well that nearly 10K fans have to be turned away. Blue Panther and Love Machine did that in their CMLL match, and keep in mind they had both been in CMLL full time less than a year when they did so (Panther had been there for nine months, Love Machine for five). That's incredible.
But even beyond the great business Panther and Love Machine did together is the great moments they created and inspired. Both of their matches work if you haven't seen the other, but my Grodd together they are forces of nature in regards to the storytelling and callbacks they use. It's no coincidence that all of Panther and Love Machine's best encounters ended with someone hitting or attempting a Piledriver; that is Grade A continuity that you don't see even in some TV shows. And yet it was here. It's no wonder so many people still fondly look back on this feud and why it was such an influence on the Panther-Sam Adonis feud from a year ago. It may not have been a shot for shot remake of the Panther-Love Machine battles (Panther was obviously the technico of the Adonis feud and their rivalry was more Mexico vs. US based than Panther-Love Machine was) but the influences were still present, and Adonis doing the Frog Splash and wearing the Love Machine mask showed how rooted the feud was in Panther's battles from long ago. When you put it all together and consider the creativity, the box office, the storytelling, the great matches, the unforgettable moments and the influence it still has, there's little doubt that Love Machine Art Barr was the defining opponent of Blue Panther's career. He had proven he could be a great performer prior to this feud; with Love Machine he proved he could be a legend.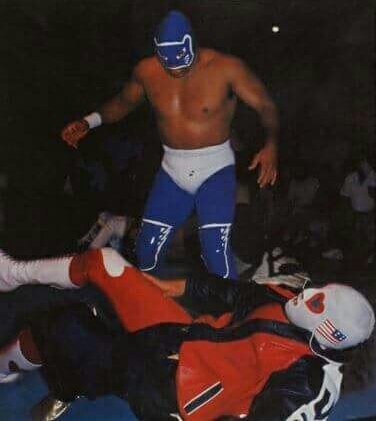 Please change disks to continue…