I expected to be a normal day; I'd get up, go to the grocery store, head over to my latest dog sitting gig and settle in for a day of keeping the two dogs from fighting each other while I wrote a preview for tomorrow's CMLL Super Viernes. Naturally the second part of my plan went to shit when I went on the internet and saw that Impact's Wrestlemania weekend show is now featuring Lucha Underground with an "Impact vs. LU" theme. Needless to say, it's exciting stuff, both because it's cool to see two companies of Impact and LU's status work together and because people can now break out that Spider-Man points at Spider-Man meme because so many people (Johnny Mundo/Impact, Taya, Sami Callihan and King Cuerno/El Hijo del Fantasma, among others) work for both LU and Impact. But most importantly it's exciting because it presents the opportunity for a whole lot of cool, cross promotional matches. So after an hour of marking out and wondering what the hell LU/Impact was going to do, I decided it was best not to wait and come up what they should do myself! So with that, I enlisted my good pal, fellow LU fan, Impact fan and Sami Zayn expert Caleb M. Baldwin (@SMC_CalB) of The SMC Podcast to help put together a card for this shindig, featuring the LU/Impact talent announced in the press release and other talent that has already been promoted for WrestleCon that weekend (note; not every name we put in here was announced, though they might be/hopefully will be added later on). Below is the end result. Enjoy yourselves!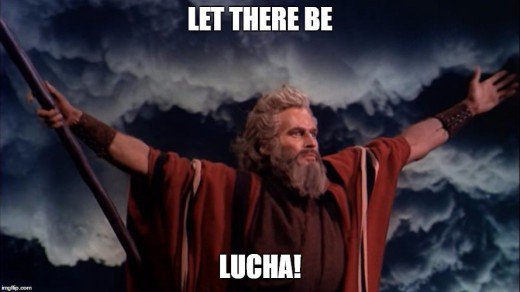 Triple Threat Trios Match for the Lucha Underground Trios Championship Match
Dante Fox, Killshot, The Mack (c) vs. Dave Crist, Jake Crist, Sami Callihan vs. Jack Evans, Johnny Mundo, P.J. Black
You can't have any sort of big LU show without the Trios Titles, the dynamic team of Dante Fox/Killshot/Big Willie and the Worldwide Underground. So why not combine the three and throw in Sami Callihan and his cooky pals oVe into the mix? Everything about this combo works. The Worldwide Underground will provide cocky arrogance and live commentary from Evans. oVe will provide craziness while Callihan screams "EVERYTHING!" repeatedly in an attempt to have me pull every hair out of my scalp. Fox, Killshot and Mack get to show the wrestling world just what they're missing with all three. And most importantly, these three teams are super athletic and super fun, which means spots galore and OMG moments up the wazoo. The perfect choice for a hot opener, even if it does relegate Mundo/Impact a bit lower than he deserves.
Kobra Moon & Taya vs. Laurel Van Ness & Rosemary
Caleb and I went back and forth on this one. I thought it should be Taya and Van Ness against Kobra and Rosemary, both because Taya and Van Ness appear to be tight in real life and because the gimmicks lined up better. Caleb meanwhile thought we should do the two LU girls vs. the two Impact girls in order to "keep the theme pure." I don't think you can go wrong either way, but for the sake of the column will go with the LU vs. Impact theme. And hey, it doesn't present the interesting scenario of Taya having to work with a Snake Queen while Van Ness and Rosemary are stuck with a partner who is crazy and yet a different kind of crazy as their own. Plus Taya and Rosemary get to battle again, which was a big hit when Taya first hit the Impact seen in mid 2017.
Triple Threat Match for the X-Division Championship
Matt Sydal (c) vs. Trevor Lee vs. El Dragon Azteca Jr.
It's pretty much the first match, only with six fewer guys and quite possibly even more high flying. What's not to love? You could maybe argue there are better options than Azteca, who hasn't yet taken off in LU unless it's involved going through cages or the Temple bleachers, but he's exactly the type of high flyer who mixes well with a great overall talent in Lee and the madman that is Sydal. Plus, did you not read the part where I said Azteca went through bleachers? That alone earns him a spot.
Impact Knockout's Championship Match
Allie (c) vs. Ivelisse
You cannot have a supercard of any kind these days (unless you're PWG) and not have one bonafide, big time women's match on it. You especially can't do that when you're Impact and LU and have some of the best women's performers out there. Thus the idea of Allie vs. Ivelisse came about. Frankly you couldn't go wrong by doing Taya vs. Rosemary or any other combination of the women on this show, but Ivelisse-Allie really clicks for me. Both have gotten over in their respective promotions as inspirational underdog babyfaces, with Allie having to overcome the manipulative Maria to standout on her own while Ivelisse overcame injuries, weird relationship angles and other shit to become one third of the first ever LU Trios Champions, as well as coming inches from beating Mil Muertes to become the first ever female Lucha Underground Champion. Both are accomplished, long tenured veterans who honed their craft all over the world. Oh, and both are exceptional workers. Put them together and this could be a Mania weekend show stealer.
Special Guest Referee: Jack Evans
Angelico vs. Teddy Hart
You'll see two matches on here that I just couldn't resist adding and Caleb just went along with it. This is one of them. We know Jack Evans will be at this event. We know Teddy Hart was scheduled to be on this event. It only makes sense at that point to fly Angelico in, put him against Teddy and make Jack the referee so he's forced to choose between one of his best friends or…one of his best friends!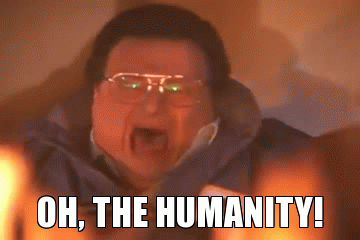 I know; it's kind of cruel in a way but it's also got the potential for high entertainment. It always is with Jack and his loudmouth ways, but now imagine him being forced to have to decide between the guy he broke into the business with and the guy who he became (until Pentagon and Fenix came along) the best tag team in Mexico with. DECISIONS DECISIONS! That doesn't even account for the fact that you're dealing with two excellent workers here. I know; Teddy Hart is Teddy Hart, but he's in my opinion one of the athletically talented performers I've ever seen in wrestling, and he seems to have his head on straight during what looks to be a career renaissance. And it's easy to forget that Angelico is an awe inspiring worker who's only lost momentum because of a) injuries and b) AAA being AAA. This could be the exact kind of showcase to remind people how good he is, provided the Jack shenanigans are played just right and Angelico and Teddy are allowed to do their thing. Overall, I love this idea, and so will you once it ends with all three hugging it out and deciding to just become a cool ass trio.
Four Way
Brian Cage vs. Matanza Cueto vs. Mil Muertes vs. Moose
When you have a shit ton of athletic big men at your disposal, the best thing to do is just put them all together and have them cause a shit ton of mayhem. Good thing that LU and Impact have four guys of that ilk on their side. You could argue that Moose might be a little out place here, but that's only because he doesn't have the history the other three have with each other. Remember, season two was dominated by a bunch of titanic hoss battles between Matanza and Mil Muertes (including one match where they went through a roof) and an outstanding LU title match between Cage and Matanza that remains one of LU's most underrated bouts, while season three had Mil and Cage slugging it out for a magical gauntlet (or as I like to call it, the power glove. It's so bad). We know those three can deliver with each other, so it'll be interesting to see how Moose fits in with their brand of big man lunacy.
Impact Tag Team Championship Match
LAX (c) vs. Aerostar & Drago
You can argue that Pentagon and Fenix are ideal opponents for LAX (they are) but they're also huge solo stars in their own right and you can't have them not appearing in big solo matches on a show of this caliber. So you go with the next best thing to take on Konnan's unit; a guy who is an actual dragon and a time traveling space alien who does stuff like this.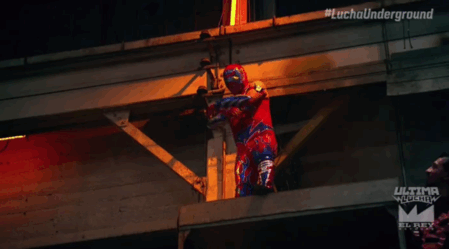 Now I know what some of you LU fans are thinking; aren't Aerostar and Drago no longer friends now that Kobra Moon has brainwashed Drago into being buddy buddy with her, Daga and the dinosaur dude? Technically yes, but you can work around that by a) having Aerostar and Drago put differences aside for the good of LU, b) having them not get along or c) having Kobra Moon come out with Drago and making things difficult for the team. See; three great ways to work around that issue, and frankly LU can probably get away with not doing so anyway. Whatever way you decide to go, you've got two crazy teams in there together, featuring two dudes who participated in that nutty barbed wire match Impact couldn't air and a guy who would jump off the moon if he thought he could stick the landing. Drago is the tamest guy in it, and he's, I'll say it again, supposed to be AN ACTUAL DRAGON! Throw in how big an opportunity this would be for Aerostar and Drago to get some well deserved looks and I think this more than makes up for Pentagon and Fenix wrestling higher on the card in singles action.
Alberto El Parton vs. King Cuerno
Both guys have said repeatedly they want to work with each other. Both guys will be on this show. Neither has a better potential match up for them than this one. And oh yeah, did I mention both guys want to work together? Seems simple enough to me. I can't say I'm crazy about watching Alberto wrestle considering, oh I don't know, everything that's happened with him over the past few years, but I do love some King Cuerno and watching good ole Deer Antlers make mincemeat out of Patron is a pretty good way to spend a Friday night. So let's do it. By the by, if you had told me when Alberto El Patron left LU for WWE a few years ago that he would ever again wrestle at a Lucha Underground event again, I'd have done the Bender "oh you're serious, let me laugh even harder" gag. That be the most professional wrestling thing to happen if not for this next "genius" match I came up with.
Scott Steiner vs. Vampiro
Full disclose; I did not come up with this match initially. It was in fact jokingly suggested to me by Kevin Kleinrock, who is now firing me from Rudo Can't Fail as we speak for outing him on this matter. Jokingly or not, I instantly got excited about it, and Caleb had no issue when I pitched it so here we are. I love everything about this potential match sports fans. I love the promos that would lead into it, which would surely feature Steiner saying such eloquent things about Vampiro ("HE'S PHAT!"), followed by Vampiro responding as only he can. I love that it would be two former WCW stars meeting in the ring long after they probably shouldn't be wrestling. But most of all, I love, LOVE, the potential of this match if it combined LU's cinematic touches with Impact's "Final Deletion" style craziness.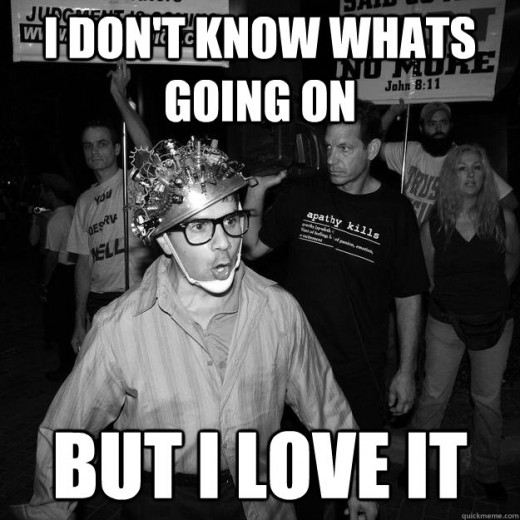 Think about it peeps; if you're going to do Vamp-Big Poppa Pump, is the best option to do it as a straight singles match or an over the top, campy style special? If you say it's the former, you're nuts. The best way to do this is to have them start in the ring, have them go to the back and then let the craziness ensue. Have Rick Steiner show up for some interference. Bring on the Insane Clown Posse. Throw in a disgruntled Konnan cameo. Hell I'll even take Disco Inferno showing up, even if it makes no sense. The point is that this match can work as a brilliant, hilarious piece of Final Deletion style art if Impact/LU/whoever is running this thing decides to go in the style both promotions have had success with. So why not do it? Steiner will be on the show anyway, Vamp will most likely be there and you can't have two forces of personality like those two in the same area and not run with it. So put them together, make it crazy as holy hell and hope everyone has a good sense of humor about it. That sound you hear right now is Rob Viper not having a good sense of humor about it.
Lucha Underground Championship Match
Pentagon Dark (c) vs. Eli Drake
I like the idea of both major titles from Impact and LU being on the line, and as this is Impact's main shindig, their title gets the main event slot while LU gets the semi-main. You can't go wrong with anyone challenging Pentagon, who's a Rockstar, but Eli Drake is definitely up there as one of the best options. I'm not sure he has the in ring work to keep up with Pentagon, but the man of Cero Miedo is so good it probably doesn't matter anyway, and Drake both has the charisma and the history of working with luchadors (little known fact; Drake is currently champion for California lucha promotion Pro Wrestling Revolution, where he plays the character El Hijo del Trump) to present an interesting matchup for LU's top star. Throw in how hot the crowd will be for these two fan favorites and I'd call this a no brainer. Not as much of a no brainer as the main event, but pretty close.
Impact Championship Match
Austin Aries (c) vs. Fenix
You may be wondering why this match isn't Pentagon vs. Aries, champion vs. champion. That's because the two of them will be wrestling earlier that day on The Crash's WrestleCon show. You'd have to be pretty bold to go back to that match hours later, and I don't see Impact doing that. So what's the next best option? Why not Pentagon's baby brother, a luchador arguably even more talented than Mr. Cero Miedo and a dude without a marquee singles match that weekend after The Crash decided that Fenix-Flamita needed the toxic Rich Swann inserted in for reasons not a single solitary folk knows. Remember when The Crash was supposed to be the smart lucha promotion?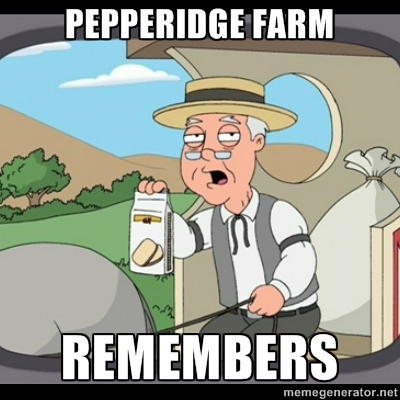 Anyways, this is the right call. It wouldn't matter who was in this match opposite Fenix honestly; ever since he escaped from AAA the dude has risen to a whole other level, with only CMLL's Soberano Jr. and rival Flamita coming close to the level of effort, athleticism and innovation (and even Soberano doesn't quite have Fenix' ambition). If it's a big match on a big stage, Fenix will deliver in spades. That said it greatly helps that he'll be across the ring from an all time great in Aries, who is still great to this day and is working his ass off now between all the promotions he works for. They'll be able to do whatever the crowd desires, be it an epic struggle, a fast paced sprint, whatever. With Pentagon-Aries off the table, I can't think of a better headlining match for this show than this one. Book it DJ. Or Callis. Or Konnan. Or Dorian. Seriously who's running this show?!
That's game sports fans. Special thanks to Caleb for the help; if you missed it earlier, you can find him on Twitter @SMC_CalB and be sure to check him out on The SMC Podcast, which airs on the Social Suplex Podcast Network! I don't know when you'll see him in this column next, but you'll see me tomorrow when I review CMLL's show and preview the Oscars. That's right; the Oscars. We cover everything here! Till then, THIS!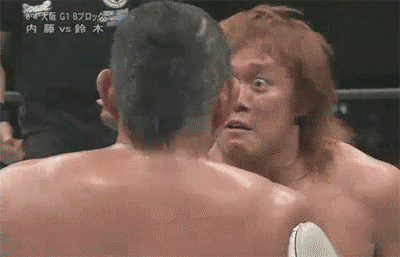 Please change disks to continue…