It's been one hell of a morning sports fans. Actually it really hasn't; all that happened was I got woken up early by the cat I'm watching breaking a coffee mug, which I then proceeded to clean up before going on to do what I was going to do anyway. I'm not sure why I tried to make that so dramatic. Ah who cares; let's move onto AAA vs. Elite, the next big AAA event of the year. And it's big; World of Warcraft has partnered up with both AAA and Elite to sponsor the show, fans are being encouraged to dress in team colors (AAA is red, Elite is blue); there's even a gorram Wikipedia page for this show! Lucha Libre Elite doesn't even have a Wikipedia page! I'm not sure anyone is quite clear on what the relationship between AAA and Elite is (are they partners? Is Elite now part of AAA? Something else entirely?) but that's secondary to how the card looks. And overall the card looks good; some things look destined to be completely out of control but almost every match interests me in some form and several matches have a chance to be legitimately great. It should be an exciting show and that calls for a preview that's only semi-less exciting. Eh, I'm probably giving myself too much credit there. But enough of that noise; it's time to preview. GET ON YOUR BIKES AND LUCHA!
Faby Apache, La Hiedra, Vanilla vs. Keyra, Lady Maravilla, Zeuxis
What to Expect: Can it be? Is it she?! YES! THE QUEEN OF LUCHA LIBRE HAS COME BACK INTO MY LIFE!
I tell you sports fans, it has been dark days ever since Zeuxis left CMLL, both because I now no longer got to see her every week and because that CMLL luchadoras division without her is like Los Angeles in 2029 after Skynet became self aware. But now she's back on a live show that'll be covering and all is right with the world again! And what a match for her to make her AAA debut in (yes I know she's part of Elite, just go with this). I'm a little worried about squad imbalance because the team of the Queen, Keyra and Lady Maravilla is so unbelievably good that I'm not sure any other luchadora team could equal them. Unless you cloned Faby Apache two more times I suppose, but clearly that hasn't happened; otherwise AAA would've done it. Even still Faby is Faby (which could be a bad thing if she's stiff), La Hiedra has improved greatly in the past couple of months and…alright I don't actually know too much about Vanilla, other than she seems to be the same luchadora who fought Reyna Isis and joshi legend Mima Shimoda at Dragonmania last year. That match could've been better, but it was a year ago (a lot of improvements can be made in that time) and Vanilla will be working with three rudas who are far superior to Reyna and even Shimoda these days. The point is, this should be a really strong opener and even if it isn't, who cares; I GET TO SEE ZEUXIS WRESTLE LIVE AGAIN! That's enough cause for celebration.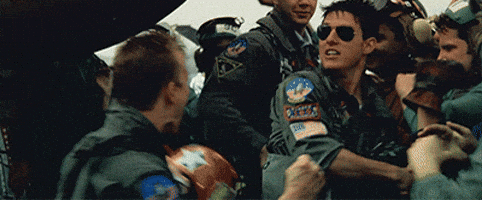 Winners: It may be a different company (or companies in this instance) but the same rule applies; I never, ever bet against the Queen. Zeuxis, Keyra and Maravilla defeat Team AAA when Zeuxis plants La Hiedra with the Package Piledriver.
La Máscara & Máximo vs. Trauma I & Trauma II
What to Expect: There's a lot going on in this one sports fans. It's great to see the Trauma's on such a big event; they've been a fantastic team for IWRG and the indies in general over the past several years and Trauma I will always have my respect for what remains the best mask match I've seen in the past few years against Canis Lupus in 2016. But the story will be Máscara and Máximo. It's a chance for them to try and build on their decent performances just a week ago (the lone good match they've had during their current AAA stay) and might be one of their last opportunities; less we forget, Máscara looks to be on the verge of turning on his cousin because…Máximo is a fun loving dude who doesn't take things too seriously. What a dick! Stuff like that, and what I figure to be a short time limit, should keep this match from being a true banger, but the Trauma's will try hard and Máximo and Máscara are good enough that this should be decent.
Winners: Hot damn, I have Elite up 2-0 out of the gate! It's bold, but a) Máscara and Máximo aren't winning while having issues and b) I never bet against the Queen so thus it has to be 2-0 Elite to start the show. The point is the Trauma's win via some misunderstanding that gets Máscara all pouty, he and Máximo will tease breaking up and then they'll both leave cause it's still too soon for the turn. Here's what I want to know Máscara; you've known Máximo is like this for years. I know this because you guys worked in CMLL together and then destroyed Último Guerrero's car to get fired together. Now suddenly his attitude bothers you? I think it's time to look in the mirror Máscara. You know, for reasons other than admiring yourself.
Aerostar & Luchador Sorpresa vs. El Hijo de LA Park & Taurus
What to Expect: Come on; did you really expect Luchador Sorpresa to take off a show this big? Luchador Sorpresa on a AAA show (even a co-branded AAA show) is as sure a thing as David Price coming up short in the postseason, someone dying in a Lucha Underground, season four episode and me screaming "come on!" at the TV when something in a video game doesn't go my way. Thank Grodd I haven't reached full "rage quit" mode yet; it'll be ugly the day that happens.
You know what won't be ugly; this match. Aerostar is on a roll (when isn't he) and has the ideal base to work with in Taurus, who's probably going to do five or six things in this match that makes us all wish AAA had gotten it right with him the first time. Hijo de LA Park is in a bit of a weird spot on the rudo side, but that may be because I just saw him work technico in Arena Mexico for weeks; in any event he's more than capable. That just leaves the surprise as the question mark and, considering he worked MLW's Battle Riot last night, I have strong suspicions that Aerostar's good friend Drago will be the Luchador Sorpresa, and banged up or not he's one hell of a talent. Hell even if he isn't in this match I'm pretty sure AAA will pull someone in like an Arkángel Divino, Hijo del Vikingo or whoever to bring the high flying. The point is unless AAA sticks Aerostar with Imposter La Parka or Dave the Clown, this match should be really good. Of course now I just gave AAA this idea and they'll now surely do it. If you'll excuse me, I need to make like Metallica and disappear.
Winners: Just kidding! I'll face the music if I have to. Regardless of that this is where AAA gets on the board, with Aerostar and his mystery partner winning after Aerostar does something wacky and awesome to take out Taurus.
Rey Escorpión & Texano Jr. vs. Golden Magic & Laredo Kid
What to Expect: Let's get bold here sports fans; this will be the best match on this show. I mean it's not that bold considering some of these other matches have more potential for spectacle than greatness. Even still there's some things (the opener, the previous match) that look really strong on paper, but not nearly as strong as this. AAA already set things in motion for this match last week by having Escorpión and Texano bully Golden Magic (their partner in a trios match against Los OGT's) to the point it cost them the match, so there will actually be some heat beyond AAA vs. Elite going into this. Even if there wasn't I love every component about this match. Escorpión and Texano are good to great individually but they've been a house of fire since coming together, especially when put in a position to base for high flyers. What do you know; Golden Magic and Laredo Kid are terrific high flyers and the perfect guys to sell for Escorpión and Texano's power/brawling offense to boot. It's a perfect match the same way Aerostar and Drago were for these rudos in April and May. Obviously there are no sure things in wrestling but this match has the potential to be great. Not good, not pretty good, not very good; honest to Grodd great. I will be floored and disappointed in a way I haven't been since Justice League if that's not the case.
Winners: The heat leading into this match between Magic and the AAA Tag Team Champions might mean something, but it's hard for me to believe that AAA will have their top tag team lose here. Thus AAA knots it up at 2-2 with Escorpión and Texano picking up the win.
Joe Lider & Pagano vs. Jack Evans & Teddy Hart
What to Expect: Look sports fans, I know the technico team in this match is horrid; I've seen Pagano and Joe Lider wrestle consistently after all. They may be lucha soul mates and all but it doesn't change the fact that, other than Lider's good effort last Friday, they're mostly not very good. But that doesn't matter; what does matter is that THE HART FOUNDATION 2.0 IS BACK BABAY! Time to break dance to the 8-Mile song!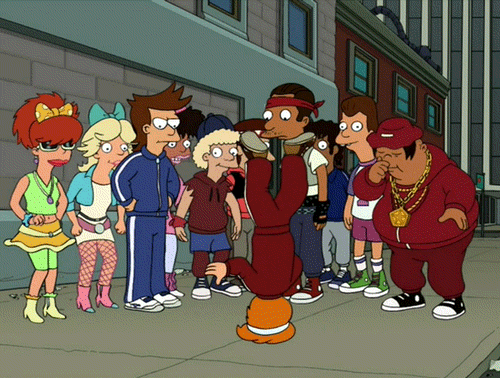 Honestly AAA could've put Imposter Parka and Dave the Clown on the technico side and I would be hyped for this match. Jack Evans and Teddy Hart are among my favorite performers today; even their "lesser" stuff like their match with Pentagon and Fenix from Wrestlemania weekend is enjoyable to me. And while I would've preferred them against Aerostar and Drago for an all out high flying spectacle, both guys should be able to get a few high spots in before Lider and Pagano decide to do whatever bat shit crazy thing they do. So yeah, I'm stoked for this one. It won't be pretty, but it'll be fun at least for this guy.
Winners: Here's where I'm lost sports fans. I will be picking The Hart Foundation 2.0 to win this match as it makes more sense for them to win than Lider and Pagano (especially since AAA seems to have bigger plans for Jack and Teddy based on their ability, who's booking and upcoming cards), but that would then give Elite a 3-2 advantage with only one match to go. The best AAA could do is tie…and I don't see this ending in a tie, which tells me I'm either going to get this wrong or AAA will be adding an extra match to open the show to make this a best of seven. Eh, I'm probably over thinking it. Either way Teddy Jack is winning and I will be very happy when they do.
Dr. Wagner Jr., El Hijo del Fantasma, Psycho Clown vs. Electroshock, LA Park, Luchador Sorpresa
What to Expect: Luchador Sorpresa is back and whoever he is may be only the fourth most interesting thing in this match. The first is (obviously) LA Park's presence. Regardless of how you feel the rest of the year will play out for him, his appearance here is yet another milestone moment for the Chairman in a year already chock full of them. Throw in how everything is must see with Park and he can't help but be the biggest thing in this match. Second is Dr. Wagner; will he or won't he be here? He's said he's done with AAA, he wasn't around to promote this show at the press conference the other day and yet he's continuing to show up on AAA posters. Something is going on there. Third is Imposter La Parka. I normally wouldn't say that even with his antics at the press conference the other day (which he crashed by riding in on his motorcycle), but he looks to be a prime replacement to step in for Wagner if the Good Doctor isn't in which, you guessed it, places him in the war path of LA Park. And if ever there's a time Imposter Parka is watchable, it's when he's right across the ring from the man who did this to him.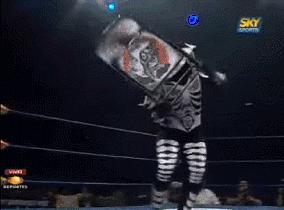 Because of all that is in play the Luchador Sorpresa thing is kind of secondary, and that's despite the fact that I truly have no idea who it could be. The presence of three of the four Triplemania headliners in Fantasma, Psycho Clown and Park suggests that the fourth man, Pentagon Jr., will be involved, only he's heavily involved with CMLL right now. I don't believe AAA would care about that but CMLL appears to, which makes that unlikely. Beyond that the best guesses I have are Sam Adonis, Imposter Parka in a rudo turn (though that would make no sense), Brian Cage, Juventud Guerrera (he did work a few Elite shows once upon a time) and Blue Demon Jr., but I'm not confident at all with any of those names and some of them are just picks because they're big names. In other words; who knows what's going to happen there? Frankly who knows what will happen with this match period. The best case scenario is that Wagner shows up and the Sorpresa is someone impressive, giving us five really good luchadores in a match that will offset whatever deficiencies the past his prime Electroshock has. As you can clearly see I'm not at all confident that will happen however and if it doesn't…we could go anywhere. I'll say this much; this match will be required viewing. I reckon we'll either get a surprisingly good match, an overbooked mess, a whole lot of surprises or the possibility of LA Park finally ending Imposter Parka for good. All those scenarios and more are in play.
Winners: You know what's funny; I have no idea how the match will play out but, at least in my opinion, the result isn't in question. The show may be AAA vs. Elite but it's being put together by AAA, which means that they'll end the show with the W while Elite gets the glory earlier in the show. Thus, regardless of how we get there, AAA will emerge victorious.
That's game sports fans. See you tonight for the CMLL review. TILL THEN!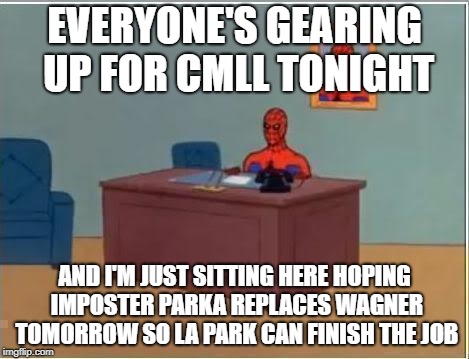 Please change disks to continue…