It's time! It's time! It's AAA vs. Elite time! Yes sports fans, not only will I be using the Vader Time joke twice in this column (spoiler alert) but AAA and Elite are back to fighting each other again. Technically this will be the third show where the two have gone against each other (maybe even fourth; unbelievably I do miss things from time to time) but since it's the second one being streamed I'm going to say this is AAA vs. Elite II: Electric Boogaloo. It just fits. Whatever showdown this is between the two sides, it looks to once again be a pretty good show, even if it appears to be missing a sixth match (maybe something will be added?). Really everything other than the semi-main looks good and with AAA who knows; maybe some people will get replaced and that will turn out to be a barnburner too! We can only hope. For now I can only preview what I have sports fans, and given the day I've had I think it's time I dive into it. I can hear Super Smash Brothers calling my name from the other room and I cannot delay it any longer; that would be rude.
Faby Apache, La Hiedra, Lady Shani vs. Keyra, Lady Maravilla, Star Fire
What to Expect: What a way to start this one off, huh?! The only way AAA could've made this match more appealing to the masses is if Scarlett Bordeaux was replacing La Hiedra, but hey, AAA ain't just in this for the YouTube views amirite?! Stay on target Cult. Realistically speaking this is the best crop of luchadoras AAA has to offer with Mary Apache not around at the moment. You know Keyra and Maravilla are going to bring the hurt (especially if they're in there with Faby), Star Fire will go all out, La Hiedra's continued to show improvement, Shani and Shani and Faby is Faby. Those are both good things! There will be some flying and all but frankly I expect this match to be a more hard hitting opener than usual given how snug Faby, Shani, Keyra and Maravilla are known to work. That's quite alright and should make for a good opening slugfest.
Winners: I mean, both Keyra and Star Fire have a title shot against Faby coming up at Heroes Imortales so it kind of makes sense for their team to get the W here. I say they do, with Keyra surprising Faby with a victory after Faby and Shani have a communication break down due to the fact that they loathe each other.
Aerostar, Argenis, Niño Hamburguesa vs. Ciclón Ramirez, Demus, Emperador Azteca
What to Expect: I know the first match is really good but this match is so much podracing that I have to use the gif. It's just the right thing to do!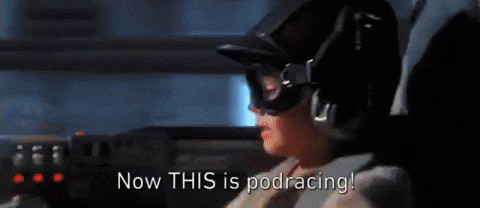 I know what you're thinking; this match can't be podracing because it's got Hamburguesa in it to prevent things from getting too crazy. NOT SO FAST MY FRIEND! Not only is Niño Hamburguesa actually really good, but he's been in several great matches this year where his antics fit in quite well with all the high flying. I see no reason to believe otherwise here, especially since this match is crawling with high flyers. Ciclón Ramirez was very impressive in his AAA debut (before he was betrayed by Juventud Guerrera, as it were), Argenis can do some stuff and I don't think I need to rant about the greatness of Aerostar again, do I? We know he's doing at least one "HOLY SHIT!" move in this match. Frankly all of that may come second to the fact that Demus will be back on a major lucha show for the first time in awhile; he was awesome in CMLL back in the day and I see no reason to think he won't bring his high impact, hard hitting style to AAA. Emperador Azteca is the only question mark and that's only because I've only seen him one time previously (in a really good Elite match with Hijo de LA Park); otherwise everything suggests that the long time IWRG star should be more than able to keep up with the rest of these speed demons (and Hamburguesa). Put it all together and this should not only be a good match but could be one of the best on the show.
Winners: It's time! It's time! IT'S CANADIAN DOLLAR TIME! Heads AAA, Moose Elite…and it's MOOSE! GET OUT THE WAY! GET OUT THE WAY! Elite takes this one to go up 2-0.
Three Way Tag Team Match
Rey Escorpión & Texano Jr. vs. Mamba & Máximo vs. El Hijo del Dr. Wagner Jr. & Golden Magic
What to Expect: Oh look; Dr. Wagner's son is back. Did you miss him? I didn't think so. I can only guess that someone just wasn't available and he took their spot, because he really looks out of place in a match that otherwise features some pretty good talent. We all know how fond I am of Escorpión and Texano and they will definitely bring it. Mamba and Máximo can descend into silliness but in theory they can be a really good team too. And Golden Magic, when on, is one of the most underappreciated luchadores around. This match could've been something…if they had just found someone else to team with Magic other than Dr. Wagner's kid. Maybe he'll surprise me, but the fact that he showed nothing for AAA earlier this year leaves my cynical and has me believing this match will be, like Ted Mosby's salary, aggressively average. Getting a lot of mileage out of that joke between these two previes!
Winners: Whether this turns into a title match or remains a nontitle match, there's little chance that Escorpión and Texano are losing. They take this one by pinning Mamba or Máximo after La Máscara suddenly appears to help screw over his cousin/rival.
Imposter La Parka, Joe Lider, Pagano vs. Hijo de LA Park, Laredo Kid, Taurus
What to Expect: Talk about A Tale of Two Teams sports fans. On one side you have The Elite team which consists of one of the best all around luchadores alive (Taurus), one of the most exciting luchadores alive (Laredo Kid) and the son of a legend who is having a break out year right before our very eyes (Hijo de LA Park). Then on the other side you have two guys with a death wish (Joe Lider and Pagano) and arguably the worst wrestler in the world who also has the distinction of the biggest poser in the world (guess who?). You know how bad Imposter La Parka is sports fans; when it was announced that his "sons" were debuting sooner than later, I nearly gagged. He's the only lucha libre star in the world who can make "second generation" luchadores look less than appealing. Even Octagon couldn't do that, and he's the guy who bullies people with armed bodyguards.
To the match…there is no hope here. I would normally not say that because the Elite team is that good but my Grodd that AAA team…it's like the Miami Marlins, Ice Train and every Limp Bizkit album after 1999 all rolled up into one pile of suck. Granted we know Pagano and Lider will try hard but unless this match comes to involve weapons and features Imposter Parka disappearing five minutes in…I just don't see how it can be good. The only thing I'm looking forward to from this match at the moment is Hijo de LA Park whooping Imposter Parka's ass ala his father at Triplemania 2010. That will be sweet. Beyond that though it just seems like this will feature a lot of below average lucha and a whole lot of Imposter Parka sequences I don't need to see. Without question this seems to be a shoe in for worst match of the AAA show and the second worst of the evening. Sorry Guerreros vs. Klan (Kaoz); nothing is beating you.
Winners: The Elite team should totally win this, which means the AAA team is totally taking it home with Imposter Parka getting the pin. I'll say Laredo Kid because that's the stupidest possible result and exactly the one Imposter Parka would think he's entitled to. Konnan, if you're reading this; MAKE SURE THIS DOESN'T HAPPEN!
El Hijo del Fantasma & Psycho Clown vs. Electroshock & LA Park
What to Expect: On the one hand sports fans, there's been somewhat diminishing returns when it comes to the recent matches Fantasma, Psycho Clown and LA Park have been involved in, and now a mediocre worker in Electroshock is being thrown into the mix. Not good. On the other hand, Electroshock was involved in the last AAA vs. Elite show that just happened to feature Fantasma, Psycho and Park and that wound up being one of the best AAA main events of the year. Very good! I guess what I'm trying to say is this match could end up going both ways.
Now sure, that last match during the first streamed AAA vs. Elite show also featured Dr. Wagner Jr. and Puma King, two really talented (and in Wagner's case legendary) luchadores who aren't around for this go around. Even still I think this match will be fine. The biggest problems recently with these Fantasma/Psycho/Park encounters have been a) the frequency of them and b) the finishes. You can't do much with the first problem but the second can be fixed. If AAA is to do that then we should be golden, as I personally have enjoyed the majority of these Fantasma/Psycho/Park battles. It's given life to Fantasma, it's really made Psycho Clown more interesting and at this point LA Park could simply read the newspaper and be the most charismatic/entertaining guy in the room. Throw in how hot he is after that unbelievable Puebla main event from this past Monday and I like the chances of this match being good, even if Electroshock just kind of disappears. I don't know if it'll be AAA's top match of the year, but it should be fun and hopefully not as predictable as some of the other matches have been recently.
Winners: I'm very, very tempted to pick a screwy finish involving Fantasma screwing over Psycho to give Elite the victory but you know what; I'm going to think positive in order to try and will this match towards a clean finish! Thus I have the Chairman and Electroshock pulling this out LOL I couldn't finish that with a straight face. Yeah, Park and Electroshock will take this after Fantasma betrays Psycho and ends the show by posing with his Los Mercenario pals. It's just the way things got to be sports fans.
And that's the sign that the tank is full. I'm out sports fans, but I will return tomorrow night to do a live review of this AAA show. As stated in the CMLL preview, a review of that show will be out for all to see sometime on Saturday. Till next time!
Please change disks to continue…