The time has come sports fans. The biggest lucha libre event of the year this side of Triplemania is tomorrow…and we're not going to get to see it for a few weeks! That is only part of the weird ass story that is AAA's Triplemania Regia event. Save for AAA's Invading New York show it is the most ambitious event AAA has run all year; a major show run in Estadio de Beisbol Monterrey, the 21K plus capacity ballpark that homes Sultanes de Monterrey (the "Monterrey Sultans"). With the help of media conglomerate Grupo Multimedios (who owns the stadium and the baseball team) AAA will look to fill 15K of those seats tomorrow with what has to be one of the most loaded cards I've ever seen. Because Multimedios has first rights over broadcasting the show however, it has led to AAA being unable to make this event available live, though it will be available eventually. That is the wild, exciting and sad story of Triplemania Regia, a show that may be the best AAA show of the year with the best AAA match of the year…and yet we'll have to wait. On the one hand it is a massive bummer. On the other hand, the fact that this event is happening and that we will get to see it still has me hyped, especially since the show does look so good! As such, despite the fact that it'll at least be a few weeks before we see this show, I couldn't help but take a few hours out of my Saturday to do a massive preview. Here's what you need to know about AAA's Triplemania Regia show out of Monterrey.
Big Mami, Dinastia, Mascarita Dorada, Pimpinela Escarlata vs. Cassandro, Dave the Clown, Demus, Lady Maravilla
What to Expect: This is an Antonio Peña special and a half. Fitting because this is exactly the type of show Peña would've thrown himself completely into back in the day. It's also not going to be the typical, batshit insane AAA opener we've all grown to love this year but that's okay because it's going to have everything else. Dinastia, Mascarita Dorada and Demus (especially when he's with Dorada) will provide the great wrestling. Big Mami and Lady Maravilla will provide the heat in their final encounter prior to the big Guerra de Titanes hair match. And if that's not enough then the presence of Cassandro, the legendary exotico who is returning to AAA for the first time in over a decade for this show, should definitely provide some star power, even if he and Pimpinela are unlikely to do wild headscissors variations like Dorada. Just like Buffy the Vampire the Slayer, there's something for everyone in this opener, right down to Dave the Clown playing the Riley Finn/Dawn Summers role. I kid Dave I kid; you're much cooler than those twerps were.
Winners: This could go either way here and I must admit it's weird to think that Cassandro would return here only to lose, but a) there's no guarantee he's sticking around and b) starting this show with a happy crowd seems to be a good idea. As such I'll go with Team Mami picking up the win.
Hijo de LA Park, Hijo del Volador, LA Park Jr. vs. Carta Brava Jr., Mocho Cota Jr., Tito Santana
What to Expect: AAA is really going all out to test how good Poder del Norte is this weekend; first they get the talented but inconsistent team of Bengala, Draztick Boy and Eclipse tonight and on this show they're getting the Baby Parks and Hijo de Volador, a luchador who is actually real! You could've fooled me; I like to think I watch a ton of lucha libre and I had never heard of the dude prior to him being announced for this show (he is apparently Volador/Super Parka's son-in-law, Volador Jr.'s brother-in-law, LA Park's cousin-in-law and the Baby Parks'…cousin-in-law once or twice or three times removed for those who care about this sort of thing). Between him and Ángel de Amor it's a big week for luchadores who you've never heard of suddenly being involved in major lucha happenings. And yes, the CMLL Bodybuilding Contest is a major happening and I won't hear otherwise on the matter!
In any event, I have no unearthly idea what to expect from this Hijo de Volador. Perhaps he's really good. Perhaps he's only here because he's related to LA Park and Park needed another family member to go with his sons. Perhaps it's just like the Baby Parks where Hijo de Volador is largely here because of connections but does have some talent. Whatever the case we'll be finding out soon because if any unit can get the most out of what he has to offer, it's Poder del Norte. I have no doubt that Brava, Cota and Santana will be up to the challenge and will find a way to at least make this match passable. From there it'll be up to the Volador and the Baby Parks. We at least know that Hijo de LA Park (a legit good worker) and LA Park Jr. (a promising worker) should be able to hang to some degree. Let's hope Hijo de Volador can do the same. The uncertainty does at least make this match interesting; I wouldn't be shocked if this was a really good match or something out of a CMLL opener when all is said and done.
Winners: Poder del Norte always wins and I don't see the need for that to change even with who's on the other side. Plus LA Park's thing is always about getting his sons booked; they don't have to win after that point. So look for Brava, Cota and Santana to do their usual triple team followed by the Cota Frog Splash to give Poder del Norte another W.
Four Way Tag Team Match
Aramis & Hijo del Vikingo vs. Bandido & Flamita vs. Brian Cage & Puma King vs. Taurus & Villano III Jr.
What to Expect: This match should basically come with a sound bite of Chris Tucker screaming "THIS SHIT IS CRAZY!" And that'll be the case whether "newly signed CMLL luchador" Bandido shows up here or not, because you know AAA will likely just replace him with the not quite as exciting but still fun Myzteziz Jr. It's just a case of there being so much talent that the match won't be able to help itself from being good. I mean for crying out loud there's a Cage/Puma King team here that would be a top team anywhere else and here's probably the fourth best unit! That just goes to show you how excellent the Bandido/Flamita unit is and how individually great Aramis, Vikingo, Taurus and the certifiably insane Villano III Jr. are. Barring there just being a high volume of sloppy spots I can't see this match being anything other than borderline great with at least three or four jaw dropping moments. In fact I wouldn't be surprised if this found a way to sneak into the Match of the Evening conversation if a few things bounce their way. As the Killers would say, this match has potential.
Winners: I'm going with my heart more than my head here in picking Taurus and Villano III Jr. In a match loaded with talent, those two are the best and craziest team and thus deserve to pick up the W over everyone else save maybe Vikingo. Thus I'll go with them while Vikingo can still get over doing the first ever…whatever crazy move he's come up with for this occasion.
Five Way Match for AAA Reina de Reinas Championship
Taya (c) vs. Ayako Hamada vs. Faby Apache vs. Keyra vs. Lady Shani
What to Expect: This is almost the forgotten match on the card given how deep the field is. Well that and the fact that the Triplemania match featuring the luchadoras was more fine than good. Even still this match looks absolutely enticing on paper. I may have preferred AAA using La Hiedra over Ayako Hamada given how great Hiedra has been recently but Hamada certainly can go (especially with Taya) and the other four luchadoras here are all exceptional talents. On top of that I'd pretty much watch anything Lady Shani does at this point after how great she was with Keyra and La Hiedra this past Wednesday on Lucha Capital. She has become so great thanks to the addition of her top notch mat work that it's almost like she's the real life Alita; well minus the android/humanoid/robot stuff. In any event, between her overall skill, the hard hitting this match will provide and the super cool mini match ups this provides for Taya (Taya vs. Shani, Taya vs. Hamada, Taya vs. Keyra) I get the feeling this match is going to take the people of Monterrey by surprise.
Winner: This is Taya's first defense of the title and while Tessa Blanchard lost the belt to Taya the first time out, Taya losing it would now make it the third straight time the AAA Reina de Reinas Championship was lost without a successful defense. I don't see AAA going that route again so look for Taya to get the W here and, hopefully, transition into a one on one match with Lady Shani. That's the match we need to see; Shani is Taya's protégé, AAA has wisely held off on the match and Shani is, quite frankly, the person who should be carrying the luchadoras division going forward. That's the next match. Give Taya this win and then get to it AAA!
Copa Triplemania Regia
Luchador Sorpresa vs. Luchador Sopresa vs. Lucha Sorpresa vs. Luchador Sorpresa vs. Luchador Sorpresa vs. Luchador Sorpresa vs. Luchador Sorpresa vs. Luchador Sorpresa vs. Luchador Sorpresa vs. Luchador Sorpresa vs. Luchador Sorpresa vs. Luchador Sorpresa
What to Expect: I love that I get to preview this match, mainly because it allowed me to type Luchador Sorpresa twelve times! It's the simple things in life you know? I'll be honest; I almost slipped a Vacant in there but then I remembered that bastard only works the US because he believes he's too good for Mexico or Japan. He's worse than that Chico guy I tell you.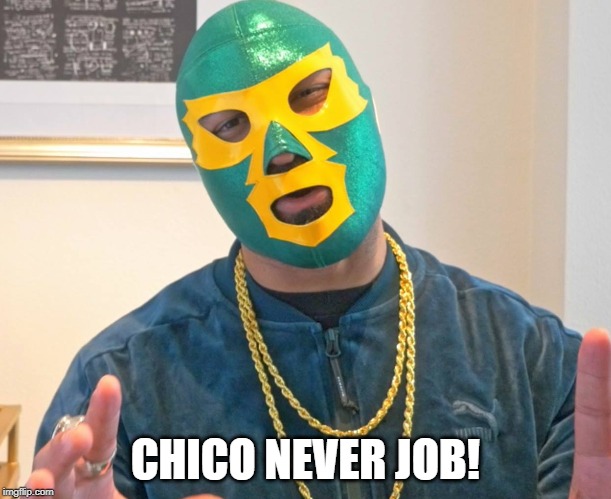 In all seriousness, you'd think this match would be difficult to preview given we don't know who will be in the match. NOT SO FAST MY FRIEND! No we don't know who will be in it but I do know it'll a) include several talented members of the AAA roster the promotion couldn't find a spot for otherwise and b) it'll be done in the same format as Copa Triplemania and Copa Antonio Peña were done. And guess what; both those matches were really good! Unless AAA just runs out Bestia del Ring and Dave the Clown multiple times in this match then I see no reason to believe this will be any different. It may be a little less than the previous Copas because of someone like Bestia (who will surely be here because he has to be everywhere Rush goes) but I'd still bank on this being a lot of fun. You know; like the rest of this show. Man I forgot how great it was to preview a show that looks like fun from top to bottom. Take notes CMLL!
Winner: This is where not knowing who's in this match makes it tough to predict. I guess I'll go with Killer Kross. I seem to recall Konnan mentioning AAA had something big planned for Kross on this show and him winning this Battle Royal to set something up would fit the bill. Seems like a safe pick on the whole.
AAA Mega Championship Match
Kenny Omega (c) vs. Dragón Lee
What to Expect: Locally the main event and the LA Park-Pagano-Rush three way are the biggest matches on this show. Internationally it doesn't get bigger than this one. It's Dragón Lee vs. Kenny Omega. I repeat; IT'S DRAGÓN LEE VS. KENNY OMEGA! The fact that this is Dragón Lee's first AAA match ever would make this a big enough occasion; that he's also facing Omega for the first time in a legit dream match…I mean how can you be all Wesley Snipes in that Blade II scene over this?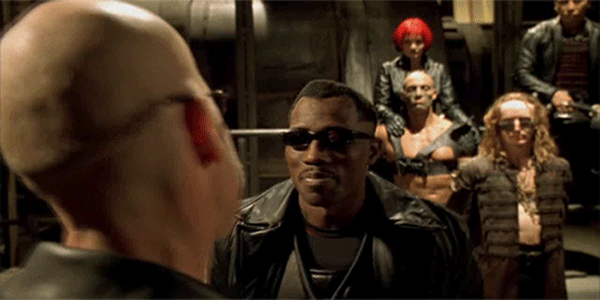 I'm not even sure what there is to say about this bout sports fans. We all know it's a big deal, we all know it's a big coup for AAA (getting to do a major match that New Japan had an opportunity to do but never did) and we all know the only way this match isn't at least four stars is if one of the guys doesn't show up. 2019 hasn't been the year 2018 or 2017 were for Kenny Omega but that's mostly because he spent half the year getting AEW off the ground; when he's been in the ring he's generally been off the charts and was absolutely outstanding against Fenix back at Heroes Inmortales in October. And Dragón Lee has only had maybe the best year of his career between his classic matches in New Japan and PWG, and will be absolutely jazzed up to show what he can do against a well known international player in Omega. The talent is there, the effort will be there and quite frankly I think Lee, given his Japanese influences, will be a better fit for Omega than even Fenix was. In terms of spectacle this may be beat but I will be flabbergasted and floored if this match isn't the best thing on this show from an in ring standpoint. Quite frankly it may wind up being the best match of the year. There really is no limit to how great this match can be.
Winner: Dragón Lee appears to be heading back to New Japan by early next year and that would make it unlikely we'll see Lee back in AAA any time soon, if at all. That, coupled with Omega likely having a few more defenses lined up on AEW Dark, means that Omega's reign will continue with a victory, thus giving him as many successful title defenses with the Mega Championship in just a month than Fenix had in over a year. Hot damn. By the by, given what Konnan said about Kross, I wouldn't totally be shocked if he attacked Omega here to set up Kross-Omega. The only reason I'm not predicting it is Kross' whole uncertain future and the potential political ramifications Kross-Omega could create.
Three Way Match
LA Park vs. Pagano vs. Rush
What to Expect: Dragón Lee isn't the only Muñoz debuting for AAA tomorrow. After years and years and years and even more years of chasing after him, AAA has finally snagged their white whale in Rush and as a bonus have put him against his biggest rival, LA Park, in his debut. Oh and Pagano is also there to build off a Triplemania angle where LA Park attacked him. Normally that would annoy me greatly given that everyone wants to see LA Park vs. Rush and Pagano being involved is some third wheel shit Esfinge would even shake his head at. That said it's too early for AAA to do Rush vs. LA Park in a major situation (if they even plan on doing it at all) and Pagano, flaws and all, will fit in well here given that Rush vs. LA Park are all about chaos and chaos is where Pagano works best. This will be violent, this will be bloody, this will feature many weapons and this will be spectacle of the highest order. I would be stunned if Rush, Park and Pagano are able to top the work rate Omega and Rush's brother Lee are able to provide before them. But it doesn't have to be; it just needs to be wild, out of control and loaded with heat. It will have all three of those things and as such it will be glorious.
Winner: The other good thing about Pagano being in this match; he can take a clean pin and thus we can somewhat avoid the overbooked finishes Rush and Park bouts need to have. As for who will be pinning Pagano, I think we can safely say it'll be Rush. Unlike Lee we know Rush will be returning (he's booked on Guerra de Titanes) and starting out whatever his AAA run will be with a win seems like a wise move in my book. He takes this after pinning Pagano with a Rush Driver through a shopping cart. Why not right?
Eight Man Mask vs. Hair Cage Match
Aerostar vs. Blue Demon Jr. vs. Chessman vs. Dr. Wagner Jr. vs. Monsther Clown vs. Psycho Clown vs. Rey Escorpión vs. Texano Jr.
What to Expect: We have reached the end of this glorious rainbow sports fans and it ends with a match that, out of all the big matches, will probably be the least of the big three! And yet it'll still be the most important. Four masks and four hairdos will be on the line and several stories should wrap up. Of the eight luchadores involved, only Chessman (currently feuding with Pagano) and Texano Jr. aren't feuding with anyone. Blue Demon Jr. and Dr. Wagner Jr. have now been feuding over a year, getting more out of a program that no one could've ever predicted being this interesting for this long (thank their epic Triplemania match for that). Rey Escorpión has been chasing after AAA ace Psycho Clown ever since he came to AAA at Triplemania XXV in 2017. And while I can't remember how it began, I can definitely recall Aerostar and Monsther Clown beginning a feud last year that has since continued with seemingly no end. Until now. And that's why we have this eight luchador mask vs. hair cage match.
So yeah; there will be heat in this one sports fans. This being AAA there will also be blood, albeit without Daniel-Day Lewis and Paul Dano. Will there be good lucha though? To me that largely depends on what happens when we're down to the final two. If the guys are still confined in the cage then my confidence goes down. If it's like the Triplemania main event from last year where the cage was raised up and LA Park and El Hijo del Fantasma were allowed to go full throttle then this could wind up being a really strong match in the back end. It really comes down to that because the talent here, save for maybe Wagner and Blue Demon, is really strong and a Psycho-Escorpión or Aerostar-Monsther pairing sounds like money to me (even with Aerostar's injury). So that's that. If AAA raises the cage when we reach the final two then you can expect a heated, solidly worked cage match to then explode into a really strong final fifteen to twenty minutes. If the cage stays then you can expect a heated, solidly worked cage match to pretty much stay the same. That would still make it better than the CMLL Aniversario cage match but would also put a lid on what could be a really exciting final stretch, the way lucha cage matches tend to do. My advice AAA; raise the cage and give us a great conclusion to what should be one hell of a show.
Result: I've been of the belief that this is coming down to Aerostar and Monsther Clown, with Aerostar winning, ever since this match was announced. It just makes the most sense; they've already done the true Wagner-Blue Demon blow off and Psycho Clown vs. Rey Escorpión is a potential Triplemania main event with the right build. My certainty has wavered however, especially now that we know Aerostar is working through what sounds like a pretty serious elbow injury. I have no doubt Aerostar will work through it (he's said as much) but if the injury affects him enough it wouldn't shock me to see AAA change things up, save the Aerostar vs. Monsther pay off for another time and just go with Escorpión vs. Psycho as the final two with Psycho shaving Escorpión's hair (a finish that would also get the biggest reaction). I do believe that is in play…and yet it's so late in the game that I'll play it safe and stick with my pick. The final two will be Aerostar and Monsther Clown and Aerostar, in the biggest win of his career, will defeat Monsther Clown to unmask his rival.
And with that I am off to enjoy the rest of my day sports fans. I'll see you tonight for a review of AAA's Veracruz show and while there will not be a review of this Triplemania Regia show tomorrow (for obvious reasons), you can expect something from me as soon as the show becomes available to view. Till this evening!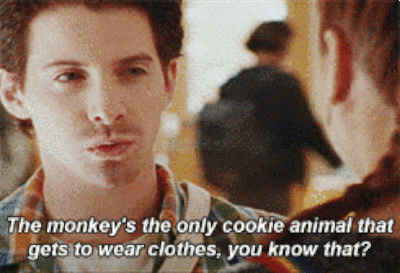 Please change disks to continue…