If you had told me a month ago, after AAA taped three straight stinkers of tapings in Cuernavaca, San Luis Potosi and Monterrey, that I'd be more excited for their next taping over a CMLL show that same night, I'd have assumed CMLL had just booked Máscara Año 2000 against The Artist Formerly Known as Pierroth in a 60 minute Iron Man Match. CMLL didn't do that…and yet here we are with me being more interested in AAA's next taping in Tijuana then a good looking Super Viernes show earlier in the night. On tapings alone AAA has done nothing to get us hyped. But since that last show in Monterrey things behind the scenes have become…interesting. First Vampiro, AAA's booker/producer/authority figure/worker, was written off on the Monterrey taping, followed by him retiring and unretiring so much that even Atsushi Onita and Terry Funk told him to cool it. Then Pentagon and Fenix were allowed to use their AAA names again for Impact and MLW. Then AAA announced that they were back in business with Rey Mysterio Jr. for sometime later this year. Then there was AAA announcing that several opening match workers from The Crash would be on this Tijuana show, though their role as of yet is unknown. And if all that wasn't enough, rumors are now building that lucha libre legend Konnan may or may not be poised to return to AAA sometime in the future.
As of now Lucha Central cannot confirm any of this; hell Vampiro as of this time has yet to announce whether he's left AAA or not (though he has been mysteriously quiet about promoting AAA on social media over the last week). Whatever the case, something is going on and it makes this show the most interesting AAA show since Triplemania. Hell it may be even more interesting than Triplemania, and that show had Dr. Wagner Jr. lose his mask en route to becoming the most beautiful person in the world. Will there be surprises? Twists? Turns? People we've never seen before? People we haven't seen in a long time? The same damn thing we've been watching from AAA for the past few years?! I have no idea but I'm damn excited to find out and just as excited to preview the show. So let's get to it sports fans. It's not every day one gets stoked for previewing AAA.
Big Mami, Mamba, Pimpinela Escarlata vs. Ashley, Faby Apache, Estrella Divina
What to Expect: I should've clarified; not everything on this show looks interesting! I will admit I like the ruda team in this one. Ashley and Estrella Divina are both better than they're given credit for and Faby Apache is Faby Apache. Has she ever had a truly terrible performance? The problem is that the technica team is so abysmal that the best worker of the group is Mamba. MAMBA! When your best performer is the combo of Hayden Christensen and Paulie Shore, you know that all hope is gone. The best case scenario is that Lady Shani is back early and replaces Mami or Mamba, a possibility considering Shani is booked for an AAA spot show a few days after this. But barring her riding in on the white horse, this is likely going to be mediocre as holy hell, with Ashley being bullied by Faby and Divina as the only thing of interest happening.
Winners: Unless Shani is there this feels like a ruda victory all the way. Team Faby wins after Ashley hits a big move and Faby steals the pin from her. Bickering will ensue.
Four Way Match
Dinastia vs. Hijo del Vikingo vs. Lanzeloth vs. Máscara de Bronce
What to Expect: For the second time today we bring back Anakin Skywalker to let you know that this, is in fact, the following.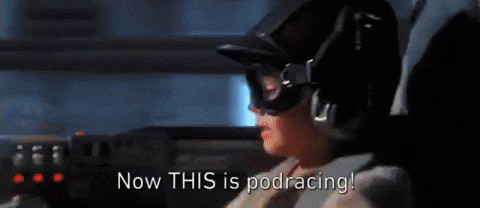 If you like high flying then this is the stuff that dreams are made of. All four of these guys are tremendous daredevils, with Dinastia and Hijo del Vikingo really standing out from the pack. That's something because Lanzeloth and Máscara de Bronce are pretty good themselves; it's just tough to be Harrison and Ringo to Dinastia and Vikingo's McCartney and Lennon. I do think this match would benefit from having some sort of stipulation to make it more meaningful; it certainly wouldn't hurt for this to be for a shot at Australian Suicide and his Cruiserweight Championship. But that's only a hang up for those who need every match to mean something other than winning. At the end of the day this will be fast, fun, will feature at least one moment that could've gone better and at least one moment that makes you question whether gravity is still a thing in the year of our Lord Grodd 2018.
Winner: Even if there is no connection to Australian Suicide as of now, I can't help but feel this match will be connected to an upcoming match he has. Thus I'm ruling out Lanzeloth and Hijo del Vikingo as potential winners because a) Lanzeloth just held the title and b) Vikingo recently challenged for the title. That leaves it down to Dinastia and Bronce and well, Bronce is higher on the totem pole. The man who once held that AAA briefcase that has since vanished without a trace will win this one at about nine minutes in.
Four Way Tag Team Match
Aerostar & Drago vs. Cuervo & Escoria vs. Histeria & Psicosis vs. Rey Escorpión & Texano Jr.
What to Expect: First off, don't be stunned if this suddenly becomes a four way match for the AAA World Tag Team Championships. It does only feature the new champs in the match after all! Secondly, this has the potential to be a lot of fun. I can't say great because you just know Cuervo is going to spend the whole match making you question why he's still around, and I don't think we need to go into how lifeless the team of Histeria and Psicosis are. But a multi-man match is the perfect place to hide the weaknesses of those three while also highlighting their positives. And that doesn't even get into the fact that Escorpión and Texano have really clicked as a team, Aerostar and Drago's consistent greatness and Escoria being one kick to the curb of Cuervo away from being someone with huge potential. I think the Viper's will do enough to hold this back from truly being great, but everyone else here is good enough that this should be a really fun match.
Winners: Title match or not, it's very hard for me to believe that Escorpión and Texano are losing in their first match since winning gold, unless AAA has plans to feud them against each other. Ergo, they're winning this match. I see them using nefarious means to beat Aerostar and Drago, setting up a match that was teased a month ago in Monterrey.
Six Way Match
El Hijo del Fantasma vs. Joe Lider vs. Imposter La Parka vs. La Parka Negra vs. Pagano vs. Luchador Sopressa
What to Expect: This match is the glass ¾'s empty. I mean the bad stuff in this match is really bad. You've got Joe Lider, who is out of shape, almost a decade past the point where we could all say, "you know; Joe Lider isn't that bad) and most importantly hasn't cut himself in several shows. What is a Joe Lider match without Joe Lider bleeding? You then have the Imposter La Parka, a man who could ruin a Buffy the Vampire Slayer episode. To be so bad you could ruin an episode of the greatest TV show of all time! It doesn't even matter that the three other luchadores known to be in this match (Fantasma, Parka Negra and Pagano) are good; everything Imposter Parka touches turns to ash. If this match was Bram Stoker's Dracula, Parka is the Keanu Reeves.
Now having said all that…if you were to argue in favor of this match you'd look to two points. First, Fantasma, Parka Negra and Pagano are all three very watchable luchadores who could do something amongst themselves. Hell we know Fantasma and Parka Negra can considering the great match they had in Monterrey last month. And then there's the return of Luchador Sopressa, the great unknown that always leaves us hopeful that a big name is going to come in to spice things up. I don't know if that'll be the case here but, at worst, it could be someone who is actually good (like an Australian Suicide) that can contribute something productive. Throw in the possibility of Lider and Imposter Parka spending most of the match on the floor selling shit before they inevitably come in to ruin the ending and sure; I could see a scenario where this match works. Unfortunately I don't see that happening at all, which means the only other shot for hope is if Imposter Parka gets butthurt over having to put someone over, AAA stands strong and he just leaves. So yeah; I'm not optimistic about this one.
Winner: Guess this depends on how good a Luchadore Sopressa AAA's got. Either way I say they get the job done by pinning Imposter Parka through nefarious means. In other words, look for it to be Dave the Clown as the surprise guy, pinning Parka to continue the feud no one ever asked for. Hey I said AAA would be getting better; I didn't say it would happen with the drop of a hat.
Dr. Wagner Jr. & Vampiro vs. El Hijo del Dr. Wagner Jr. & Hernandez
What to Expect: And so begins yet another match to keep your eyes glued to. On paper this doesn't look to be that good, but that's because of Vampiro's presence. As said earlier, that's no guarantee he will be in it  as a) Vamp being stretchered out midway through his match in Monterrey seemed to be an angle used to write him off and b) Vamp has retired, unretired, retired and unretired again at least 9,000 times since then. He may have just done it again as of this writing for all I know! No one seems to have a clue what's going on with him, which means no one has any clue what's going on with his status in this match. My guess; that match a month ago was his write off match and, regardless of what's going on, he won't be in this match. On the one hand that could be a great thing if Wagner gets an excellent surprise partner to step in for Vamp. On the other hand he could also get the second Gronda, Dave the Clown or any other number of people I'd rather never see again into the role, which would leave me feeling like Zorg here.
Either way there's a lot of questions to answer about this one. Will Vampiro be in it? Who takes his place if he's not? What's the next step in the Wagner v. Wagner: Dawn of Doctor storyline? Does Blue Demon Jr. make a surprise cameo? And perhaps most importantly, how many gorram times is Hernandez gonna make that gorram duck face? For a match I'd normally have no interest in I'm very intrigued by what we might possibly get. The match quality is almost secondary to it. All I can tell you for sure is if Vamp's in it, this will be your usual overbooked, silly AAA main event style match we all wish would get left behind. If Vamp isn't in the match though? Then there are endless possibilities to where we may end up. Well except CMLL. We aren't ending up there!
Winners: I guess it really depends on who Wagner's partner turns out to be? Honestly, regardless of who it is I see this ending in a DQ. Hernandez and Hijo del Wagner will cut off a Wagner comeback with either a weapon shot or a low blow, allowing the legend and Ravi from iZombie cosplayer to pick up the win with his partner, whoever that may be. Now watch me be completely wrong and Wagner ends up getting betrayed by whoever his new partner is. Hey, what's Silver King doing?!
La Máscara, Máximo, Psycho Clown vs. Averno, Chessman, Super Fly
What to Expect: Look what we have here; the most normal match on the show! It's so normal I almost feel, given what else is going on, that something must be happening here. Then again that's probably not the case as both of these teams have been feuding with each other, Averno and La Máscara is such a natural feud; you really don't need to do anything here unless you're going to blow it all up. I don't see that happening, so look for this match to be very similar to the previous bouts these two teams have had, which should feature a lot of CMLL style booking, a lot of energy from Psycho Clown and probably a spot where someone ends up bleeding. It'll be a solid, though unspectacular match and perhaps the only thing on the show that doesn't have some sort of twist.
Winners: It's the last match of the show, the crowd is gonna want to go home happy and no one sends the crowd home happier than Psycho Clown. He, Máscara and Maximo take it home after a kiss, a superkick and a Code Red on Averno. I'll also reserve the right to say I told you so if Máscara challenges Averno to a hair match after this is all set and done.
There we have it sports fans. Now it's time for me to go enjoy my last day in New Jersey, before I drive back home tomorrow to watch and review both the CMLL show and this one. It's going to be one hell of a day; I just have the feeling. Till then, THIS!
Please change disks to continue…