This has been a rough day sports fans, and it's only noon time for me. I'm not one to generally get involved with politics and whatnot but I cannot ignore a certain event in starting this column. You may have heard of yet another shooting today at Great Mills High School in Maryland. That's no ordinary high school; it's the high school my mother and three uncles went to and the place where my cousin, cousin attends as a freshman. Fortunately he was running late for school today and wasn't there when the shooting took place. Unfortunately that does little to change how furious I am that we have yet another shooting that has resulted in, at least, injuries to several people. I am just calming down right now and my cousin wasn't even hurt; I cannot begin to imagine what those whose loved ones are hurt, or worse, killed have to go through. I'm sure there will be some people who don't like what I'm going to say but screw it, it has to be said; this needs to stop. I'm glad that the shooter was stopped by an armed police officer, but it still doesn't change that the shooter was able to get a weapon, walk into my cousin's high school and open fire in the first place. How many more wounded and dead students do there need to be before someone realizes that this is unacceptable?! I'm tired of all this; I'm tired of the lack of balls congress has to do something about this; I'm tired of seeing people suffer both directly and indirectly from these tragedies; hell, I'm tired of being ashamed of this country and its inability to do something as simple as making it harder for people to get guns. Enough is enough.
With that, it's time to make the difficult transition back to lucha libre. There is another AAA show, from San Luis Potosi, Mexico, to be shown on Twitch tomorrow and while I'm sure the good people of Lucha Central would've given me the afternoon to get myself together, I feel it's best to dive in and write, both because it's what I'm best at and because I desperately need to take my mind off things. I can't guarantee this will be as lighthearted and funny as it usually is, but I will do my best to make it so. Mom, Grandma, Dave, Todd, Shawn, Dee Dee, Cameron and everyone affected by these unspeakable tragedies, this is for you.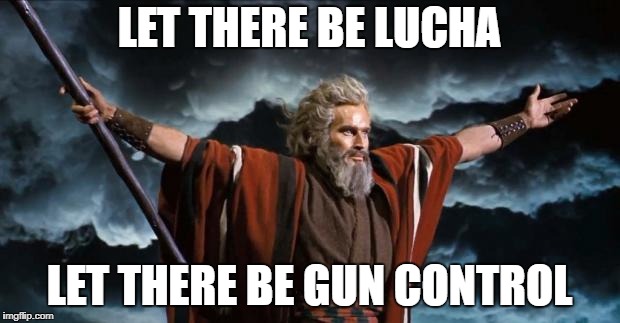 Mamba & Pimpinela Escarlata vs. Ashley & Estrella Divina
What to Expect: Did you see this match on Saturday? You did? Yeah, expect the same thing for the sequel; Mamba will do a few cool things, Pimpi will do some painfully sloppy arm drags, Ashley and Estrella Divina will fall apart as a team and I won't give a crap. When are Faby and Lady Shani coming back again?
Winners: If this were WWE Ashley and Estrella Divina would get their win back to set up a 1-1 tie for a climatic rubber match. This ain't WWE, Ashley and Divina aren't keeping it together for the eight minutes this lasts and Mamba and Pimpi are winning again to give them a 2-0 match advantage.
Cuervo, Escoria, La Parka vs. Joe Lider, La Parka Negra, Mr. Aguila
What to Expect: The good news; no Imposter La Parka in the main event! The bad news; he's still employed, and his appearance in this match instantly nukes any chance it has of being good. That and you can expect a potential Dave the Clown appearance, which would be infuriating even on a day when I'm not furious at the world. Our best hope is that Parka and Cuervo decide to no show and Escoria gets several fun minutes with Aguila and Parka Negra while Joe Lider frantically blades himself from the apron. As that won't happen, expect instead one minute of Escoria getting to strut his stuff with Aguila and Parka Negra, way too much Imposter Parka, a lifeless Cuervo performance and Joe Lider frantically blading himself from the apron. I guess if you like watching Lider bleed, this match is for you.
Winners: Perros del Mal will have their moment later in the night and come on; when was the last time Imposter La Parka ever lost something? He wins after pinning Lider with the worst DDT known to humankind.
Aerostar, Drago, El Hijo del Fantasma vs. El Mesias, Rey Escorpión, Texano Jr.
What to Expect: If there's one good thing about the end of the Lucha Underground tapings, it means every AAA/LU guy is heading back to Mexico. Case in point; this match, the first sign of hope on this show. I'm not sure if the match will reach its ceiling; Texano is hit or miss with me and the last time we saw Mesias he looked like he'd rather be anywhere but in AAA. That said Mesias is a dynamic talent when he's on, Escorpión never turns off the effort and all three rudos are the perfect opponents for Aerostar, Dragon and Fantasma, who should be flying around at all times. If this isn't the Match of the Evening, I will be stunned.
Winners: Too close to call, which means it's an appearance from the Canadian Dollar. Heads the technicos, Moose the rudos…and its heads! Team Aerostar takes it home, with Fantasma getting the pin on Texano.
La Máscara, Máximo, Psycho Clown vs. Averno, Chessman, Super Flyer
What to Expect: If they play it straight, this match has the talent to be just as good as the match prior. Unfortunately AAA is running this bout again in Monterrey just a few days later, which means a) we're not getting this match at full potential and b) there's going to be some sort of ending that makes us wish we had decided to watch D2: The Mighty Ducks instead. At least it'll be be super heated thanks to Psycho Clown's presence; at this point I'm pretty sure the guy could work with me and get a reaction.
Winners: The technicos win via DQ after Super Fly low blows Máximo, setting up some heat for the rematch on Sunday.
Dr. Wagner Jr., Pagano, Vampiro vs. Blue Demon Jr., Dave the Clown, Hijo del Dr. Wagner Jr.
What to Expect: From the company that brought you La Parka/Pagano vs. Dave the Clown/Hijo del Dr. Wagner Jr. 29:54 comes the latest disasterpiece known as the Vampiro-Dave the Clown experience. You just know they're going to get a sequence together and that luchablog is going to face palm so bad when it happens. The good news is I think/hope AAA has realized how dumb they were with that tag match the other day and will keep this shorter. Of course that still won't change the fact that Vamp, Demon and Dave cannot work to save their lives in this type of match or that the Wagner's will have little interest in giving an effort. That leaves Pagano to try his heart out again, and if he couldn't save Saturday's debacle he won't be saving this.
Winners: I look at this match and I think to myself, what's the most unintentionally hilarious result AAA could do? Here it is; Team Vamp wins when Imposter La Parka comes out to distract Dave, leading to Vampiro getting a roll up victory. I can hear the rage quitting right now from the lucha community.
Copa Perros del Mal
What to Expect: Does anyone have a clue what this is supposed to be? I mean I know it's going to be based around Perros del Mal and feature Perros del Mal talent, but beyond that I'm stumped. How many Perros del Mal members will be in it (the AAA website suggests four, but I've seen it been suggested it could be as many as eight)? What's the prize? Why should I care unless I'm a fan of watching Joe Lider mutilate himself? The best case scenario is that AAA has somehow convinced Taya and Pentagon to come back and you know that's not happening. After that, I think our only hope is that X-Fly and Halloween are prominently involved and that those two combine with Mr. Augila to make this worthwhile. Just please; no Khan. I'm pissed off enough already that I don't need any Khan appearances.
Winner: Khan does appear and wins because of course he does. Thank Grodd this show is happening later on and not after the events of today; I may have just lost it.
That's a wrap sports fans. I'm sorry this wasn't written under better circumstances, but I did what I could. I will more than likely be in a better mood tonight when I review the CMLL Tuesday show, so I invite you to join me for that. See you then.
Please change disks to continue…