Warning sports fans; there will be times in this column where I seem to be really down on AAA and this show coming to us from Veracruz tomorrow. That's misleading. There are definitely two matches on this show that fill me with the same emotion the jackass on my Facebook page does when he posts about "Bret screwing Bret" but on the whole, this looks to be one of the more exciting events AAA's had in awhile. Not counting Lucha Capital of course. We've got a great looking opener, two trios matches with promise and, for the Lucha Extrema fans out there, the two best crazy men in AAA taking on two of the best crazy men from DTU. Sounds like a winner to me. And without any further gilding of the lily, and with no more ado, I think it's time to preview said winner. Let's have it!
Arkángel Divino, Dinastia, Dragón Bane vs. Aramis, Lanzelot, Toxin
What to Expect: Oh look; another AAA opener that's going to be better than anything else on the show. Where have I seen that before?! Honestly I don't have much to say about this match because it's pretty much guaranteed to be a nonstop thrill ride. All three members of Team Dragón Bane can go, Aramis and Lanzelot are really good and Toxin, the only relative unknown, is the same guy who had one of the best matches of the year in lucha libre a few months ago with Fly Star. This will be great, so great that it's not really that interesting to talk about. You know what is though; Lanzelot appearing again! Remember when he was AAA Cruiserweight Champion at the beginning of the year? Pepperidge Farm remembers.
Winners: What is it with these openers being TOO CLOSE TO CALL these days? Time to give the ole Dolar Canadiense a spin I suppose. Heads Team Bane, Moose Team Aramis…the moose is loose! Aramis, Toxin and the forgotten man Lanzelot take home the W.
Aerostar, Niño Hamburguesa, Super Fly vs. Espectro, Kahos, Taurus
What to Expect: What a week it's been for Aerostar. He got the power glove back from Johnny Mundo, then foolishly gave it to El Dragon Azteca Jr. to lose, shrugged it all off to bring Dario Cueto back to life and then went on to beat Máximo at Lucha Capital, week two. The man is so great that unlike Poochie, Aerostar could leave Earth because his planet needed him and not die on the way back to it! He'd also somehow find a way to jump off a high place in between. Like so.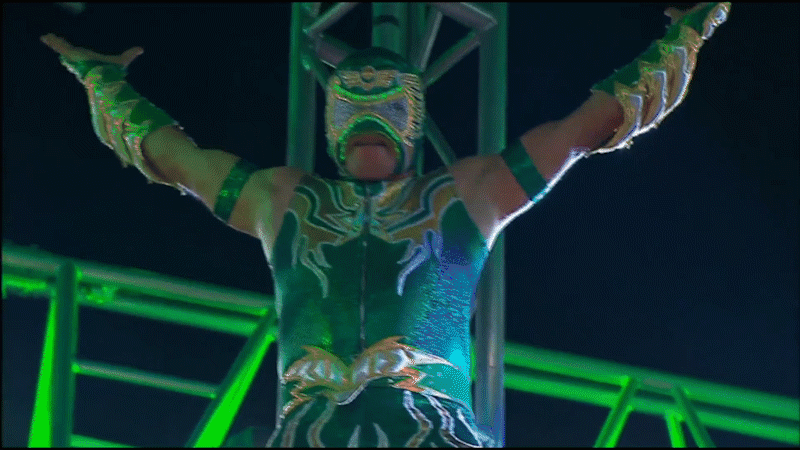 Anyways, this match is promising and holy hell I just realized Aerostar and Super Fly are teaming! How long has it been again? Are we sure this is the same Super Fly? And is there any chance Super Fly doesn't betray the dude who both unmasked him (we don't count the Sexy Star one) AND shaved his head? Focus Cult; the important thing is not the Aerostar-Super Fly reunion but the fact that we'll get to see the Artist Formerly Known as Black Danger and Último Maldito as Kahos for the first time in a regular match (no, Copa Antonio Peña was not a regular match). Both guys were really good in their old personas and, provided AAA has fixed the mask/hair situation for Kahos, both should be really good in this match. Throw in the underrated Niño Hamburguesa and the always reliable Taurus and this match could give the opener a run for its money. And that's regardless of whether Aerostar comes up with a new move for Taurus to catch in the dying embers of this bout.
Winners: Lucha Libre doesn't always play by conventional rules but I trust Konnan enough to believe he'll want New Espectro and New Kahos to start out with victories. So look for them and Taurus to get the W at the nine minute mark, perhaps after Monster Clown comes out to attack Aerostar like the coward he is.
Joe Lider & Pagano vs. Cíclope & Miedo Extremo
What to Expect: Let's get the disappointment out of the way to start sports fans; this is not the Cíclope that Dean Malenko once dressed up as in WCW, nor the guy who did this to Rey Mysterio.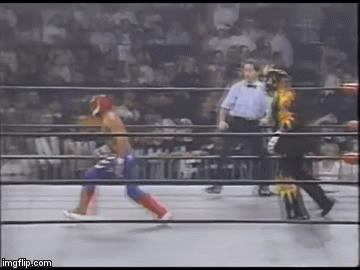 I know; I'm sad this isn't Halloween either. Nope, this Cíclope is a Lucha Extrema expert most known for his legendary death matches in DTU, and now he and good friend Miedo Extremo have come to AAA to challenge the two craziest AAA luchadores not named Aerostar or Fenix. This match is likely building to a bigger match down the road, which won't come close to stopping it from being crazy. Unless AAA turns this into Pagano vs. Mesias from last year's Triplemania, there will be all sorts of weapons used and spots that make Pentagon vs. Marty "The Moth" look like a scene out of Charlotte's Web. Will it be good? I suppose that depends on how you feel about Lucha Extrema and if we're getting good over the top Pagano or "Pagano against Murder Clown" Pagano. I can tell you that Cíclope is a fun wrestler to watch in this scenario and you know Pagano and Lider will kill themselves to make this work. Who knows where these four will wind up but, in the words of "Smiling" Jack Ross, it's gonna be entertaining.
Winners: This is another "the new guys should win to establish themselves as threats" situation here. And once again, I trust Konnan enough to know that Cíclope and Extremo need more than just beat downs of Lider and Pagano if they're going to be established as legitimate threats. Look for the duo to win after about twelve minutes, one fire spot and five "is Pagano still breathing?" moments.
Mamba, Máximo, Pimpinela Escarlata vs. La Máscara, Rey Escorpión, Texano Jr.
What to Expect: You hear that sports fans? That is the sound of Máximo's heart breaking. The man finally got to strut his stuff for the AAA audience this past Wednesday at Lucha Capital and now he's going back to do the same damn, boring ass shit he's been doing since he walked into AAA. Allow me to call this match right now; Los Mercenarios will take control early, dominate for at least seven minutes, Los Exoticos will turn the ship around for a comeback, the match will conclude with a foul by Los Mercenarios and I will beg for the sweet, merciful release of Killer Kross throwing all six of these luchadores around like French Fried Potatoes. And even then I may not be interested in this match. Use this time to order a pizza, restock your fridge or tell someone important you love them sports fans. It'll be a better use of your time. Unbelievable that I'm saying that about a match featuring three legitimately good luchadores isn't it?
Winners: See the last paragraph! Los Exoticos win after La Máscara fouls Máximo for the DQ. The feud continues and so does the sorrow.
Angelikal, Hijo del Vikingo, Laredo Kid vs. Carta Brava Jr., Mocho Cota Jr., Tito Santana
What to Expect: This match is either going to be much lower on the card then we all think or AAA has finally realized that those Poder del Norte guys should be having matches much higher up than they've been having. Either way I'm, all for this match. Poder del Norte is great and they're working with a really talented Angelikal, a budding superstar in Vikingo and a Laredo Kid who seems to be catching fire at just the right time, both from a performance and push standpoint. It doesn't hurt either that Angelikal and Vikingo have both worked with Poder del Norte quite a bit this year, which should help this match run smoothly. Unless it's moved down, this should be the first upper card match AAA's had since LA Park's brief run that is actually above average, and it could even challenge the opener and second match for Match of the Evening.
Winners: Poder del Norte haven't lost a match since Verano de Escandalo against Los OGT's and there's little reason to think that would change now…other than the fact that they're this high up the card. That is interesting and suggests something could happen; perhaps Los OGT's run in to cost them the match? A bout between the two teams is booked for December and Laredo Kid getting a victory here (even by fluke) with the help of OGT's would make sense. Alas I think we'll just play it safe for now. Brava, Cota and Tito keep the winning streak up by defeating Team Laredo after a little more than ten minutes.
Dr. Wagner Jr., Drago, Psycho Clown vs. El Hijo del Fantasma, Jeff Jarrett, Killer Kross
What to Expect: There are two potential saving graces to this match sports fans. First, the potential of Killer Kross just rag dolling Drago like he did to Hijo del Vikingo this past Wednesday is very strong. Second, Drago can one day tell his grandchildren that a) AAA allowed him to main event a show teaming with Dr. Wagner Jr. and Psycho Clown and b) he faced Jeff Jarrett while doing so. He'll leave out the part where Jarrett is fifteen years past his sell date but hey, wouldn't you?
Other than those two things…yeah there's not much here. There will be some brawling with Fantasma and Psycho Clown, Wagner and Jarrett will do their usual thing and Psycho will try his ass off because that's the only way Psycho knows how to rock. It doesn't change the fact that Jeff Jarrett is in this match or that this about the 9,003rd time we've seen an AAA main event like this in recent memory. I'm not sure we can even get excited about the potential of Double J not showing up, as all that will lead to is Blue Demon Jr. of all people taking his place. So frankly the best bet is to try and find some little thing to enjoy, like Kross getting moments of domination, Psycho doing something wild, Drago hitting a dive or Fantasma reminding us that he can be really, really good, and hold onto it. Because everything else sports fans is going to be, what's the word…oh yeah, dicey.
Winners: I'm guessing something similar to the Exoticos-Mercenarios match; one of the technicos is fouled by the rudos to give the good guys a DQ victory. And with that the cycle begins all over again. Joy?
There you have it sports fans. I'm off till later tonight for the CMLL Live Review. TILL THEN!
Please change disks to continue…