Tonight was the night Game of Thrones held their hotly anticipated "Battle of Winterfell" episode; naturally I decided the best course of action was to watch a AAA show from Sonora instead! And this wasn't just any AAA show; it was one where all the matches featured at least one change and a semi-main that starred La Parka and Dave the Clown. I'm happy to say I don't regret my decision. Even with all that chaos AAA still found a way to put on a worthy companion to their Friday show in Mexicali, thanks to a great main event, two very strong undercard matches and some great individual performances from the likes of Taurus, Laredo Kid, Hijo del Vikingo and Puma King (just to name a few). And with that, let's start the review! I have some GOT to get to.
Four Way Match to determine #1 Contender for the Reina de Reinas Championship
Chik Tormenta defeated Lady Maravilla, Faby Apache and La Hiedra
Good news sports fans; AAA TOOK MY ADVICE! Instead of this being a tag team match, Lady Shani emerged to announce this was a four way match with the winner getting a title shot against her. That automatically gave this match a higher ceiling than previously. Unfortunately I'm not quite sure the match reached that ceiling. That isn't to say this match wasn't good; it was, with the action especially picking up towards the end. I guess it just wasn't as hard hitting as I was expecting and it felt like it took a few minutes for all four to really click. Even still it was a solid opener and I liked the unexpected curveball of Chik Tormenta winning. Faby, Hiedra and Maravilla all made sense winning this match in some way, but that's also a reason not to give them a win. Tormenta meanwhile has really impressed in her short AAA stay and makes a great opponent for Shani. So overall I have no complaints. Good opener, good result.
Four Way Match
Jack Evans defeated Villano III Jr., Australian Suicide and Taurus
Let the record show that through two matches on this show AAA changed the first match (exactly what I wanted) and then put over Jack Evans in this match (exactly what I predicted). The lesson, as always; blind luck is your best friend. That and four way matches featuring Australian Suicide, Jack Evans, Taurus and Villano III Jr. doing crazy shit!
This wasn't the smoothest match I've ever seen in my life sports fans but boy was it a lot of fun! And it's not like some of the choppiness came from stuff these guys usually do, but mostly from some crazy new ideas like Taurus trying to catch both Jack Evans and Australian Suicide in Samoan Drop position on the floor. I always like ambition that just misses over ordinary stuff that hits and I'm willing to let a spot like that slide in this situation. Plus the rest of the match ruled. Villano III Jr. killed himself this past Friday night and decided to do so again here with terrific results. Frankly he may have been even more impressive tonight given he was working through what appears to be a legit shoulder injury. Meanwhile Australian Suicide did some Dragonrana's and a few crazy dives, Taurus was an absolute monster and Jack Evans was, as always, Jack Evans. I must admit I'm kind of surprised he won given Taurus entered this match, but they found a way to get out of it with Taurus still looking strong while Jack got the W. I don't know if Jack is getting a shot against Laredo Kid, but I sure as hell wouldn't be opposed. We'll see. For now, let's just bask in this fun match!
Carta Brava Jr., Mocho Cota Jr., Tito Santana defeated Golden Magic, Flamita, Hijo del Vikingo
It was right around the time this match ended where I started penning a remake to "It's Beginning to Look A Lot Like Christmas" called "It's Beginning to Look A Lot Like Tepic." Get it; cause the show is Tepic was great and every match on it was good to great?
Anyways, this match was super! It was like the last match except a bit calmer and a whole lot smoother, not counting the spot where Flamita didn't get enough air to hurricanrana Santana. There was still plenty of craziness though, with most of it coming from Vikingo doing two death bumps! He did one early in the match when he missed a dive that turned the tide to Poder del Norte's favor (and took a chair shot right after) and then missed a moonsault with Flamita at the end that sealed their fate for good. A different twist than usual but still really cool! Everything else was a lot of fun as well. Golden Magic picked up where he left off on Friday to complete his great weekend, Flamita was sharp, Vikingo was Vikingo and this was an even stronger performance than usual from the always great Poder del Norte. You can tell they're getting a push of sorts and are reveling in the opportunity to once again throw down with the Trios Champions, a match destined to happen after yet another victory here. I can see some people going a bit lower on this match because it lacked a "big spot" but I thought this was tremendous.
Killer Kross defeated Puma King
Someday sports fans we're going to look back on this match and write songs about how friggin good Puma King was in this match. No disrespect to Killer Kross; I enjoy him a good portion of the time, the Undertaker tribute tonight was fun and in the right situation he is great. This was the right situation. Another luchador may have tried to make this more lucha libre style, but instead Kross and Puma worked this as a quasi American style match and it worked like a charm, with Kross dominating most of the match, Puma staying alive and even seriously threatening to win (they got me on the La Casita attempt) before Kross put Puma away with two Last Ride's through a table (it didn't break the first time). But while Kross did his job, Puma made it all work with his selling, some great spots and storytelling; the beat at the end where he got put through the table, one he introduced because he wanted revenge for what Kross did to him on Friday, is the sort of little thing that just makes matches better. It's almost like Puma learned from some wise family members or something! But yes, this was enjoyable. Other matches on this show were better and I do think this proves there's a bit of a ceiling on what Kross can do in AAA, but Puma King's effort and strong storytelling made this worthwhile.
La Parka, Murder Clown, Niño Hamburguesa defeated Averno, Chessman, Dave the Clown
You are not seeing things sports fans. For tonight and tonight alone, Impostor La Parka has earned the right to be called La Parka. And he earned that right by being in a passable match that involved Dave the Gorram Clown. I don't know how this happened.
Now let me be clear sports fans; the match was passable, not good. It was easily five minutes too long, Parka and Dave at their best are still mediocre as holy hell and the best thing you can say about the match is that it was professional. It just goes to show you how often we don't get those things from Parka and Dave and how them doing so tonight was the difference between a shit show and a watchable match. In the end both guys did the best they could, neither guy messed anything up and that allowed the other guys to take care of the rest. And to the credit of Averno, Chessman, Murder Clown and Hamburguesa, the rest was pretty good and would've been enough for a good match with fewer minutes and two other guys. Averno and Chessman based like crazy to make Parka's offense work, Hamburguesa was as charming as ever while somehow still getting distracted by Lady Maravilla (who made an appearance to continue that angle) and Murder Clown was a freakin star. He did all sorts of things he shouldn't be capable of (in addition to the stuff he already does that he shouldn't be capable of) to elevate this bout and he was clearly the best worker of this group. Give him more opportunities AAA! Again, this wasn't a perfect match or even a good match. But the guys who were good were really good and the fact that Parka and Dave didn't suck made this watchable. A minor miracle if there ever was such thing as a minor miracle.
Hijo del Vikingo, Laredo Kid, Psycho Clown defeated Rey Escorpión, Taurus, Texano Jr.
For the second straight show AAA's main event featured an addition during the match, with Hijo del Vikingo joining Laredo Kid and Psycho (who had no partner after Puma had his earlier match). For the second straight show AAA's main event was pure chaos. And for the second straight show, AAA's main event was the best damn thing about the show. It took a few minutes to get there, but by the end this match turned into the final ten minutes of Rollerball, Mad Max: Fury Road and presumably the Battle of Winterfell. Can't say for sure though; I watched this show instead of that!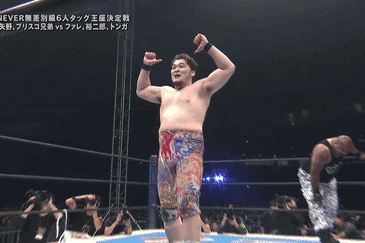 But seriously, this main event was excellent. I was concerned for a moment when things started slowly for the first five minutes that it wouldn't quite get there, but then Vikingo ran out and the match went into overdrive from there. What a glorious overdrive. Everyone in this match was terrific (right down to La Hiedra, who kept interfering to less and less effect) but this was quite frankly Laredo Kid's show. He provided the match with two memorable moments (the tope to end all tope's on Taurus, plus an unbelievable inside out hurricanrana to the floor), he got the pin to end the match; it was just another day in Laredo turning into a superstar before our very eyes. None of that is to take away from Vikingo or the ace, with the former providing some of his own thrills (can you say double jump Dragonrana?) while Psycho continued his hot streak with Rey Escorpión and even found time to put Texano through a table with a Michinoku Driver. And just so we're clear, all three rudos should be commended as well for complimenting the technicos perfectly, with Taurus especially going above and beyond (in his second match of the show!) with his basing. I absolutely loved this. It didn't touch the Tepic main event and the Friday cluster classic was a little crazier, but workrate wise this match was right there with it. A second straight great main event by AAA and a great way to close out a strong show.
And with that sports fans, it's time for me to watch Game of Thrones. TILL WE MEET AGAIN!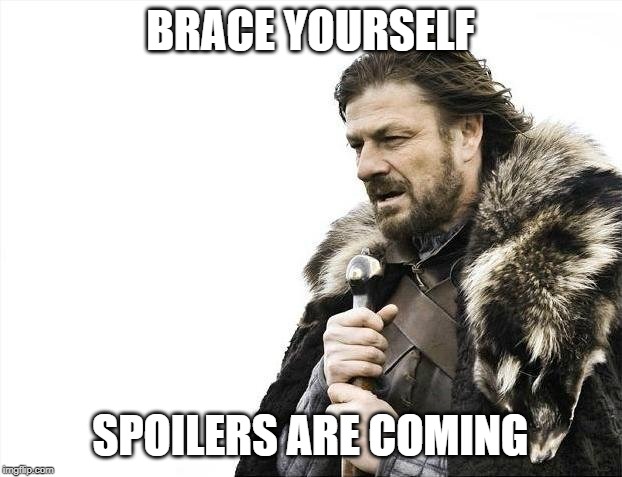 Please change disks to continue…