The week is about to get hectic sports fans. Lucha Underground will be back at it tonight and as of this writing I have no idea what will be going on with the episode. It could be anything.
Somehow that's tame compared to what will be happening the next few days. Tomorrow AAA will be back at it again, this time from San Marcos, with a show that looks to be a significant improvement over their offering this past Sunday in Ecatepec. That would be wild enough, except that 24 hours later CMLL will be running the 40th Aniversario of Negro Casas in Arena Mexico, featuring legends, Matt Taven vs. Volador and a main event that not only has Ring of Honor stars but two of the luchadores headlining tomorrow's AAA show. That's right; LA Park and Pentagon will headline AAA on Thursday and then headline CMLL on Friday. Mind blowing ain't it? Throw in the possibility of the Triplemania card dropping this weekend and its pretty wild. I myself have at least four columns to get done before the end of tomorrow and it'll probably be more than that. We'll start here with a preview of tomorrow's AAA. Are you excited? YOU SHOULD BE!
Angelikal, Astrolux, Hijo del Vikingo vs. Carta Brava Jr., Mocho Cota Jr., Tito Santana
What to Expect: Let the record show that this will absolutely, 100%, not be the opener of this show. As of now there are only five matches on the card and I'd be floored if AAA doesn't add a match featuring high flying undercard dudes to kick things into high gear. If this does somehow sneak in as the opener though, it should continue AAA's streak of super fun openers. It's tempting to be a little down on Poder del Norte after the solid yet disappointing match they had with Aramis, Bandido and Flamita the other day…until you remember that was less about any of those six guys and more about the lack of time. Plus Poder del Norte had most of the match anyway and looked great; I'm not all souring on them. And while Angelikal and Astrolux aren't Aramis/Bandido/Flamita tier, they're both pretty solid overall and their partner, Vikingo, is on that tier in my eyes. At worst this should be a fun few minutes and at best it could be spectacular.
Winners: I think the other thing that caught people off guard the other day was that Poder del Norte went over the heavily favored technico super team. If nothing else it shows AAA is making an effort to build up Brava, Cota and Santana (as they should) and I foresee that effort continuing here. Poder del Norte takes it in about eight minutes.
Aerostar, Drago, Vanilla vs. Bandido, Chick Tormenta, Flamita
What to Expect: And just like that it's time to break out annoying young Anakin.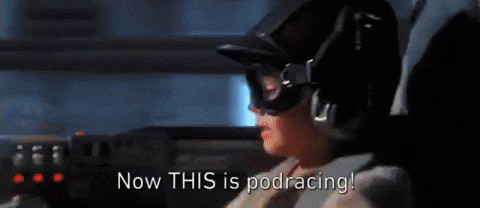 Honestly the only thing that could make this match better is if AAA had put either Lady Maravilla or Star Fire in Vanilla's place. I don't mean to be too hard; Vanilla has looked alright in both her AAA appearances thus far, but I must admit I still haven't seen anything that suggests she fits in these fast paced, Fury Road style matches AAA keeps putting her in. But ultimately this isn't really about her or Tormenta (who showed she could work this match a few tapings ago). This is about Aerostar and Drago taking on Bandido and Flamita! That's three of the most innovative luchadores in the world in the ring with each other, with the fourth guy (Drago) being as good an all rounder as you'll find. And this is before you take into account how hungry Bandido and Flamita should be after that disappointing showing they had on Sunday, or how Aerostar's bat shit craziness won't allow them to take it easy. Need I remind you of what he did last match?!
What I'm trying to say is you may want to have yourself safely secured as this match is going on. Sunday proved there are no guarantees in life and it's possible we're left with just a "good, not great" match again. But I don't think so. Bandido and Flamita will be raring to go, Aerostar will surely have another cool idea up his sleeve and Drago, Tormenta and hopefully Vanilla will be there to keep the rest grounded. There's no reason this can't be the best match on the show.
Winners: I'm tempted to go with Bandido, Flamita and Tormenta here but after the last match I'm not sure if AAA is looking to book Bandido and Flamita that strong yet, whereas you know Aerostar and Drago will always get at least a decent sustained push. So look for them to pick up the W here, hopefully after ten minutes of action that has me reaching for the nearest Sunkist.
Argenis, La Máscara, Máximo vs. El Hijo de LA Park, Monsther Clown, Murder Clown
What to Expect: You can tell this match is troubling because the most interesting thing about it is El Hijo de LA Park. And he didn't he even need a bicycle to make it happen!
But seriously, this match leaves me with the same blank expression known in my house as the Hayden Christensen. Máscara and Máximo have yet to prove they can be interesting when not wrestling Jack Evans and/or Teddy Hart (who are both very much not booked on this show) and it's not like their impending breakup is getting me psyched. Meanwhile I didn't need to see Monsther Clown ever again and…wait, didn't Murder Clown just turn technico on the last show? Why is he a rudo again here?! Classic AAAitus is rearing its ugly head there I tell you. Put all that together and it really does just leave whatever Hijo de Park can throw together and whatever decent dive Argenis brings. In other words, this should easily be the worst thing on this show.
Winners: If nothing else this Máximo/Máscara story has made their matches easy to predict. Park, Monsther and Murder win after some "misunderstanding" between Máscara and Máximo, with Murder likely capitalizing on it because AAA does seem to be going somewhere with him. As the only Murder Clown fan alive I approve of that; I just kind of wish he'd stick with one role between shows is all.
Averno, Chessman, Super Fly vs. Juventud Guerrera, Killer Kross, Taurus
What to Expect: It's the semi-main from last Sunday's show only with Killer Kross in for El Hijo del Fantasma. I don't see that making much of a difference either way. What will is whether these two teams have figured out the kinks that made Sunday's match somewhat aimless and disjointed, something that should actually be helped by Kross replacing Fantasma (he and Juvy have worked together frequently after all). Will it amount enough to be a great match? I don't know. Some will surely say no due to Kross replacing Fantasma, but those people would do well to remember that Kross' only real opportunity to have a good match during his AAA run was at Verano de Escandalo (which was in fact pretty solid). Every other situation of his has been an overbooked clusterfuck or skirmishes with the Imposter La Parka, and I don't know about you but it's not fair to judge one's ability when wrestling a talentless wannabe of those proportions. I still believe he's capable and the OGT's will provide a good chance for him to show what he can do. And even if he can't do anything, there's no reason why the OGT's, Juvy and Taurus (all good to great) can't figure this out. It could go either way but I expect it'll be better than what we got on Sunday. Or maybe I've just gone mad. Or is it the sun?
Winners: MAD hasn't lost yet from what I can recall and shouldn't be losing till at least Triplemania, especially since AAA seems to be getting the better of them in the weird mini segments they have every show. They take this one here, likely due to shenanigans that probably involve referee El Hijo del Tirantes, because of course they will. When I eventually take full control of lucha libre, the rudo ref thing is going to be a thing of the past, like Joel Schumacher Batman films or Salsa Doritos. SALSA DORITOS! Shit, now I've made myself sad.
Pagano & Psycho Clown vs. LA Park & Pentagon Jr.
What to Expect: Level with me sports fans; has there been an AAA main event as exciting as this one since Wagner-Psycho at Triplemania last year? Hell, has there been a match featuring Pagano as exciting as this one since his match with Psycho at Triplemania two years ago? I can't think of an example that tops this. The sad thing is that the excitement has little or even nothing to do with Pagano and Psycho Clown's involvement. It all has to do with that legendary skeleton man continuing his career defining 2018 run and his partner (a luchador he was born to team with mind you), the ace of Lucha Underground himself, making his first appearance in AAA since January of 2017. Seriously sports fans, if you're not excited about LA Park and Pentagon joining forces for this match then we very well can be friends.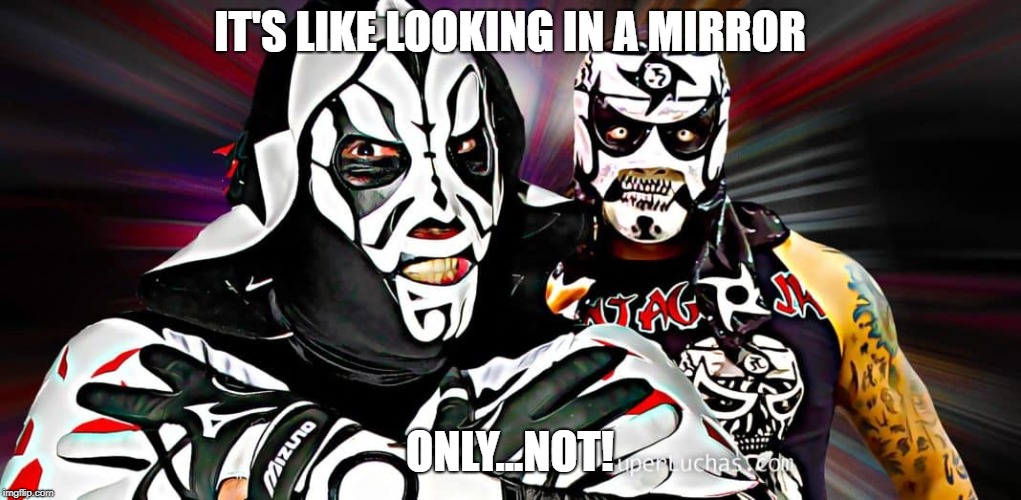 There truly is so much going on here. There's what I described above. There's the fact that twenty four hours later LA Park and Pentagon will be teaming against with Fenix for CMLL in Arena Mexico against Rush and Ring of Honor's the Briscoe Brothers, in case lucha libre in 2018 couldn't blow your mind even more. Obviously there's the whole Triplemania backdrop as well, with Park, Pentagon and Psycho all being in the main event of the big show in just a few weeks time. Whatever way you slice it this match is massive; all that's left is for it to live up to its potential. I think it will do just that. There's no need to question LA Park or Pentagon; you know they'll bring it (especially Pentagon, who I anticipate will be looking to make a big statement in his first match back). But while Pagano and Psycho aren't the story, they shouldn't be underestimated. We all know how Psycho Clown shows up in big moments and what Pagano lacks in talent he makes up for in nonstop, 100% effort. He will do everything to make this match work, which is exciting and, after what happened with him and Teddy Hart, terrifying. Really my biggest concern is how AAA will book this; hardly an AAA main event goes by where there isn't some sort of run in (and Fantasma's absence on the card makes you wonder if he'll make an appearance here). But there will still be a lot of match to go through before we get to whatever AAA has planned and that ride down should be a lot of fun. So much fun that I wouldn't doubt we'll be calling this the best AAA main event of the year when the curtain closes. Granted that's not a high bar to clear but still.
Winners: Talk about the ultimate "could go either way" scenario. Let's make history and use the Canadian Dollar to predict a main event for the first time since…ever? It's been awhile at the least. Heads clowns, Moose ninja skeletons….and it's MOOSE! GET OUT THE WAY! LA Park and Pentagon emerge victorious in what's sure to be a wild AAA main event.
That's game sports fans. I'm off to eat breakfast and then probably write another column. The work is never done. Till next time!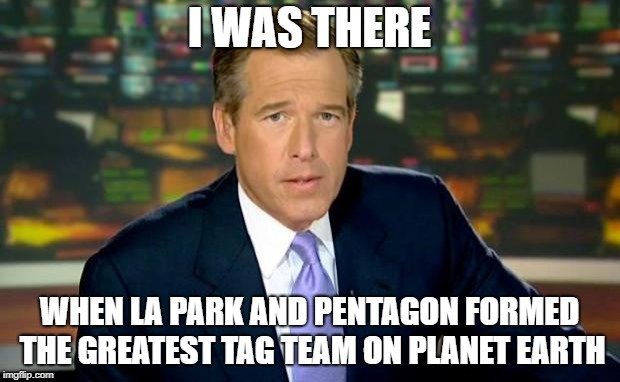 Please change disks to continue…