This week I've had family visiting from Maryland in preparation for the 4th of July. This is a good thing. It is not a good thing, however, for my writing schedule. With so much family stuff to do it left me with no time to preview tonight's AAA show in San Luis Potosi, something I would've enjoyed because the card looked tremendous. I did get to review it though and at the start of the show I was wondering if I'd regret that. First there was the announcement that AAA legend Perro Aguayo Sr. passed away before the show, casting a somber feel over the proceedings. Then AAA's Spanish feed started lagging like crazy and looked poised to do so for the whole show; it was all giving the feel that tonight's AAA show was cursed. Fortunately the lag was fixed and AAA wound up delivering the good show they had on paper, surely making the legendary Aguayo proud wherever he may be. And on that note, let's begin the review before I get sad again.
Dr. Wagner Holds San Luis Potosi in His Hands
I'm not joking sports fans; in this building during this segment Dr. Wagner Jr. was the most over wrestler anywhere in the world. Frankly the only thing I'm surprised by is that I got to see it; the AAA stream was at its all time lagginess on the Spanish side and the English said…well we won't talk about that. Fortunately the feed on the Spanish side was fixed, we got to hear Wagner be all charismatic and it was good. Now if only Wagner could get rid of the fake hair! He's batting .1000 otherwise.
Dinastia & Iron Kid defeated Arez & Latigo
There is starting off a show with a bang and there is starting off a show (DDP voice) WITH A BANG! This was the latter. HOLY SMOKES!
Let me see if I can put this in the proper context sports fans. I've seen great matches this year, I've seen innovative matches this year and in the case of Laredo Kid vs. Hijo del Vikingo I've seen them both at the same time. This was another example of that. The creativity and ambition these four guys brought to the match was astounding; you would've thought guys like Dinastia, Iron Kid, Arez and Latigo would've gone right into the dives, but instead they worked their way towards it, throwing in some cool new moves and different beats along the way. Not all of them worked, particularly a double dive catch sequence where the timing seemed nonexistent. But on the whole they hit on everything and the results were breathtaking. Arez and Latigo have long been fantastic workers and this was in some ways their apex in regards to creativity. Dinastia looked smoother than he has in awhile, surely a product of Arez and Latigo being base kings. But at the end of the day this match belonged to Iron Kid. Like Dinastia he benefited from working with bases. He also looked otherworldly explosive at all times and by the end felt like a mega star in the making. He should be at the top of the list for guys AAA brings back soon. Hell all these guys should be. This was a stupendous opener, both from a work rate standpoint and an ambition standpoint.
Eterno defeated Villano III Jr. and Dave the Clown
And I thought the first match was something! I was fairly certain this match was doomed as soon as Dave the Clown came out. Instead this wound up being the best match of Dave the Clown's career. He most definitely wasn't the reason for that and was still nowhere near great, but overall Dave was relatively smooth, he didn't screw anything up (including his wild suicide dive) and proved one thing; he's far more trustworthy than Pagano. What a world. All of that was enough to allow the other two guys make this good and they did. Eterno wasn't as good as he's been recently in IWRG but he had a solid performance, and Villano III Jr. continued his audition for a future remake of Death Wish by doing all sorts of crazy shit, including a double spear to the floor that served as the match's big highlight. It would've definitely been better if Dave hadn't been in the match and I'll never understand why he was, but in the end Eterno and Villano III Jr. found a way to make it work anyway. An honest to Grodd good match and the best thing you're likely to ever see Dave the Clown involved in.
Three Way Match for the AAA Latin American Championship
Drago (c) defeated Golden Magic and Chik Tormenta
Fun fact sports fans; Chik Tormenta's appearance in this match marked the first time a woman has challenged for the AAA Latin American Championship. Someone obviously clued her in to this fact before the match because she then went out there and walked away with the whole damn match. This was show stealing stuff, Agent Coulson seal of approval stuff.
That's not to take away from Drago and Golden Magic mind you; both guys did really well. But they were not on Tormenta's level tonight and the match noticeably died a bit when she disappeared towards the end. Just goes to show you the impression she left. We've known for awhile that Tormenta is really good, especially at beating the shit out of her fellow luchadores. Tonight we saw that she could also toss people around to great effect and that she can fly with the best of them. When this match was at its best, it was when Tormenta was doing things like double suplexing Drago and Magic and tossing Magic around like he was a chew toy. It all peaked when Tormenta did an AMAZING flip dive to the floor; you don't see that from many luchadoras today and Tormenta hit it perfectly. It's a shame she didn't get more to do towards the end and doubly a shame that Daga (who came out to attack Drago afterwards) will likely get the Latin American Championship in a few days despite not having nearly as impressive a performance as Tormenta had tonight since he returned. In the end though the most important thing is that Chik Tormenta went out there and had a performance we won't soon forget. Drago and Golden Magic were good and deserve credit for feeding for Tormenta as much as they did, but in the end this match went as far as the luchadora went. It went pretty far.
Daga & Keyra defeated Puma King & Star Fire
You would think given all the talent in this match that it wouldn't have come close to being a dud. Alas here we are. The only reason I'm not calling this match mediocre is because these four did manage to drag something out of the match towards the end. But beyond that this match was all over the place. Keyra and Puma, the two people you'd think should've been featured the most, largely felt like afterthoughts and never got a rhythm. Star Fire had some terrific moments, but always seemed to follow them up with a botch soon after. And Daga…look the dude is talented, but it's a little concerning that we're now a few months into his return and the only match's he's had that have been standout involved Laredo Kid, a guy who can do no wrong right now. This match was definitely not close to his best work; he started off by grinding the match to a halt, and then tried to get into the groove and just never found it. I hope he's got something good planned for the Drago match because this wasn't doing it for me at all. It's a pity because you'd generally expect a match like this to be killer. Instead it was at times dull, at many times sloppy and overall a disappointment.
Aerostar, Lady Shani, Niño Hamburguesa defeated La Hiedra, Monsther Clown, Taurus
You know how the last match should've been good but wasn't? This match was the opposite; it should've been good and was good. I don't know if it was a great match but it certainly checked off all the boxes to be a fun one. Aerostar was 100% less crazy than his last few appearances and was still 100% awesome, having some tremendous sequences with Taurus and rival Monsther Clown. La Hiedra didn't have any huge moves but looked really smooth and fast. Niño Hamburguesa was a weapon of mass charisma. Monsther Clown did what he needed to do with Aerostar and was otherwise fine. Lady Shani was great. And Taurus was at times the inspiration for Guster's "One Man Wrecking Machine" and at other times a super base. Aerostar and Lady Shani are great workers, and he made them look otherworldly with his basing on some spots. Then no sooner did he do that did he go on to have sequences where he just wrecked fools. The point is Taurus is awesome and he and Cody Rhodes are going to be a lot of fun when they lock up. Hopefully just as fun as this bout. A hopping good time.
Averno, Chessman, Super Fly defeated Hijo del Vikingo, Laredo Kid, Myzteziz Jr.
Here's how I felt about this match before it started.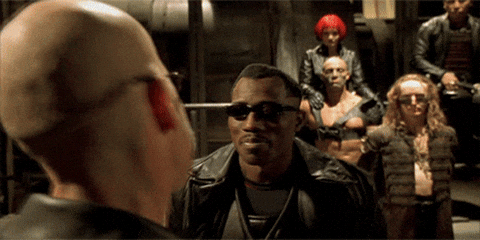 Now here's how I felt about this match when it ended.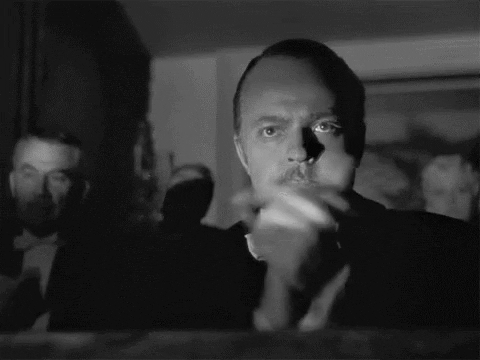 And finally, here's how I felt after the post match beat down.
I think it'll be easy for people to go back afterwards and think this match was "pretty good, but it felt like they were holding back." Part of that is because they were holding back; it's quite clear there's going to be a rematch for the Trios Championships, and I expect that match will be white hot. Even still, this match was sublime. What it lacked in the creativity it the opener had it made up for with some flawless wrestling. Hijo del Vikingo was exquisite in this match. I still think Laredo Kid is the overall star of the team, but this was very much Vikingo's night, and he never let up after a white hot start. Laredo was meanwhile the calming presence of the team, and Myzteziz Jr. had one of his more consistent performances. Overall though it felt like Los Jinetes del Aire was in a way secondary to re-establishing Los OGT's as legit challengers. I think AAA did a hell of a job. Averno, Chessman and Super Fly are as dynamic a rudo team as there is in AAA (only Poder del Norte can match them) and like Taurus in the previous match, they were excellent at basing for the technicos while also getting their own stuff in. I wouldn't have had them win under normal circumstances, but with a rematch coming it was the right call for Los OGT's to get the win. It's a tough call between this match and the opener for the best thing on this show, but while that match was more ambitious, this match was smoother and better worked. A fantastic semi-main.
Blue Demon Jr., Rey Escorpión, Texano Jr. defeated Dr. Wagner Jr., Pagano, Psycho Clown
First we'll start with the important news; no, Pagano did not screw up a suicide dive this time. He actually didn't screw up much at all tonight, which can only mean he's botching every move he does next time out. Now that that's out of the way, let's get to the match. I liked it! It wasn't the best thing on the show workrate wise but my goodness did they do one hell of a job getting heat Demon vs. Wagner. Quite frankly, between his promo to open the show and his work here, I think you can argue Wagner was the best performer on this show. He's always going to be overflowing with charisma, but he added to that with some tremendous selling (especially after he took a Blue Demon Piledriver) and a willingness to bleed like he was Dustin Rhodes at Double or Nothing. It was the perfect performance to give himself sympathy. To Blue Demon's credit he was as vicious as you can get in a rudo role, both in beating up Wagner and his two kids. Perhaps there's a way for them to get more heat before Triplemania but they won't need it after this shindig. This was Grade A work to give the match a little more oomph, while also giving Escorpión, Texano and Psycho Clown a night off in some regards. I don't know if this was a great match, but it was an effective close to a good show. Most importantly, given the style Perro Aguayo Sr. was known for, it was also a fitting tribute to the legend we sadly lost tonight.
There you have it sports fans. I'll try to see you tomorrow for the CMLL Super Viernes preview, but given that it's the 4th of July that may be tough. Never the less you'll see me Friday for a review of that show. TILL NEXT TIME!
Please change disks to continue…