I don't even know how to begin summing this bad boy up. Well actually I do, because I can simply say WHAT A SHOW! What an absolute banger from AAA tonight sports fans. The card looked great going in and AAA has been white hot so a good show was expected, but this was beyond expectations. Aside from a few hiccups, everything on this show clicked, everything ranged from good to excellent and everything just seemed to get better and better and better as the show moved along. I'm sure there will be other shows this year that come along and put this one to shame, but much like last year's epic Tepic show (in February no less), tonight's AAA classic in Queretaro will be something that sticks with me for awhile as a show that, from top to bottom, was just absolute excellence. Let's review.
Drago Boy, Iron Kid, Laredo Boy defeated La Parkita Negra, Latigo, Low Rider
We were promised insanity and we got insanity sports fans! Holy shit this match. The only reason I'm not declaring one of the better openers in recent is because Drago Boy was, to put it kindly, the dirt worst for most of this match. He was fine in the beginning, great at the end and in between was a botch machine, messing up at least five different moves in what seemed to be the span of two minutes. It was a bad enough performance that I think it'll keep the match from being great. Fortunately everyone else in the match was great; Latigo was off the charts as a base, especially at the end when he managed to pull Drago Boy back together for the outstanding finish (a pop up Dragonrana), La Parkita Negra was out of the world with his athleticism and both Laredo Boy and Iron Kid were too cool for school. Even Low Rider was above par, while also almost breaking his ass yet again. If Drago Boy had just been better than usual this would've been a borderline all timer. Instead it was a crazy, imperfect yet still really fun opener.
LAREDO KID HAS RETURNED!
And that is where the good news ends for poor Laredo Kid sports fans. The best luchador in the world (in the opinion of yours truly) came out to "Rock You Like a Hurricane", cut a quick promo and then immediately got put down by Los Faccion Ingobernables, who beat and unmasked poor Laredo. Where were Pentagon and Fenix during all this you may ask? Who knows because they never appeared; maybe the line in catering was too long! Whatever the case we got another promo from Rush and LA Park that was fun, the crowd was behind Laredo even after the beat down and overall I've got nothing bad to say about this, even if I would've had Laredo get some help instead of just getting obliterated.
Big Mami, Dinastia, Mr. Iguana defeated La Hiedra, La Parka Negra, Lady Maravilla
Perhaps it's now time to stop sleeping on the Big Mami match for good sports fans. Two weeks ago she was part of the craziest match of the night and here she was again being part of a match that was somehow just as crazier as the opener! It was also better, but that's probably because no one was botching moves left and right like poor Drago Boy was. Well that and it had this.
Amazingly the match somehow got better after that kiss cam moment, easily the best kiss cam AAA has done in the past year (and there have been many good ones!). It was in many ways a La Parka Negra/Dinastia showcase, with the former reminding us why he's probably the most underappreciated luchador on the roster while the latter was just plain out of his mind. It's easy to forget with all the talent AAA has that Dinastia measures up to the very best when he's on, and he was on and then some tonight with some unbelievable dives and sequences. This was a team effort all around though, with La Hiedra having another strong basing performance, Lady Maravilla throwing herself into a Cavernario esq splash on the floor, Big Mami doing Big Mami things and Mr. Iguana finding the right balance between comedy and serious work. A very good, highly entertaining match.
Three Way Tag Team Match
Myzteziz Jr. & Octagón Jr. defeated Super Fly & Villano III Jr. and Hijo de LA Park & LA Park Jr.
This was the point in the show where AAA came back to the table, asked us all how we were enjoying our insanity and then asked if we would like some more insanity. Bring me that John C. Reily gif!
What a match this was sports fans. I thought it would be awesome going in and it wound up being even better than I could've imagined. A big part of that is because the Baby Parks, who were the one question mark going in, came to play and then some. Hijo de LA Park remains the sneaky good luchador he proved himself to be during his 2018 runs in AAA and CMLL, while LA Park Jr. (who is basically a carbon copy of his day) looks to have improved significantly since I last saw him. Add the fact that they're both Parks and thus both nuts and they fit in perfectly with this match, which saw Villano III Jr. nearly die on three different awe inspiring moves, Super Fly have an all time great "no one notices it but I'm killing it with the little things" performance and Octagón Jr. just flat out stealing the show. I know Hijo del Vikingo is the star of Los Jinetes del Aire and Myzteziz Jr. is right behind him, but the former Golden Magic is just as good as them and he was the star of this bout from the moment he nailed that awesome apron rana spot to the close when he nailed the Moonsault Side Slam for the pin. This was such a great match, and then AAA made it even better by revealing the long dead La Parka Negra-Hijo de LA Park feud was back on when Parka Negra came out to attack Park after the match! Argenis was also there attacking Myzteziz Jr. but hey; it can't all be perfect! Besides that, this was stupendously good.
Hijo del Vikingo, Puma King, Rey Horus defeated Rey Escorpión, Taurus, Texano Jr.
I was having trouble coming up with things to say before this match sports fans. By the time it was over…hell even now I've got nothing. After three straight matches that were good to great, this match came along and wiped all of them out. WHAT IN THE HELL AM I WATCHING?!
And to think this match existed primarily to build to the Los Mercenarios vs. Los Jinetes del Aire match at Rey de Reyes; if this was the appetizer, imagine what the main course will be! We might get Vikingo busting out two versions of the move he tried last week, which he did a variation of tonight and nailed perfectly. That was the moment that solidified the greatness of the match but we were heading there anyway and, somehow, it only got better from there. Vikingo was off the charts. Rey Horus, in his second AAA match, fit in to the chaos with ease, only getting overshadowed because of how crazy everyone else was. Rey Escorpión was so great, both in basing and even showing off some of his highly underrated offensive game. Puma King and Taurus feuded like they had a major singles match with each other coming down the road, and their intensity only added to the proceedings. Somehow AAA even found time to give Texano more to do than hit people with a bull rope, as he showed off his own impressive basing game. Whatever way you slice it, be it heat, dives, basing, sequences, pace, whatever, this was an excellent effort across the board. I'm not sure it was Match of the Year level as others thought, but at worst it was close. What a match!
Monsther Clown, Murder Clown, Psycho Clown defeated Carta Brava Jr., Mocho Cota Jr., Tito Santana
Yes indeed sports fans; the Circus is back in town and it's like they never left. I know I've said this a ton in this review but my goodness what a match this was! I was half expecting the match to get by a bit on nostalgia while still being really good, but it wound up being a great match for the precise reasons I was excited for this match when previewing it yesterday; since they last teamed, each member of Los Psycho Circus has gotten better. This match set out to showcase that and it did, with Murder Clown in particular showing off his new skill set while Monsther Clown flew more than he has in the past three years. Frankly it was Psycho Clown of the three who took the back seat (there's a lot more in his arsenal than what we saw) but he was great too. And as strong as those three were, they couldn't have had better opponents than Poder del Norte. It won't be remembered what Carta Brava Jr., Mocho Cota Jr. and Tito Santana did in this match but let the record show that they pulled every single trick to help Los Psycho Circus look great and even managed to get in a few good spots of their own in. It was a masterpiece performance by a rudo team whose job was to make the technicos look like a million bucks, and if I were the Dinamitas I'd be watching Poder del Norte matches religiously. They could learn something from them. That's a topic for another time though. What's important now is that the Circus is back and better than ever, thanks to this awesome match.
Bestia del Ring, LA Park, Rush defeated Fenix, Laredo Kid, Pentagon Jr.
Given how this show was going, the only reasons to worry about this match were Bestia del Ring and the finish. Aside from missing a Laredo Kid dive Bestia was hidden pretty decently and the finish wasn't quite bad enough to put a dent in this one. Though to be fair, it was trying hard Scott Pilgrim against evil exes five and six.
AAA finding new ways to do the usual LA Park finish aside, this was exactly what the match should've been the moment it was clear Laredo Kid was joining Pentagon and Fenix for this one. We got the brawling (though we didn't quite get the blood), we got all the cool one on one sequences between Pentagon, Rush, LA Park, Fenix and Laredo Kid (in some form or combination), we got a red hot crowd and we got jaw dropping moments. I'm still trying to decide if the most amazing moment was Fenix hitting LA Park with a Spanish Fly, Fenix turning into Super Calo and wining up in row seven or Laredo Kid hitting a moonsault on Bestia del Ring AND BESTIA CATCHING HIM! Miracles are possible. In between all this we also got an Averno run in to potentially set up a Los OGTs-Lucha Brothers tag title match and Los Psycho Circus running in during the post match to set up what looks to be a really enticing Los Psycho Circus-Los Ingobernables feud. A ton was going on here and aside from the finish it all worked perfectly to me. Rush was awesome, Park was awesome, Pentagon was awesome, Fenix was out of this world, it was so great to see Laredo Kid back and thank Grodd Bestia del Ring didn't do much. Other than the overbooked finish, this was a fire end to an absolutely amazing show.
And on that note it's time for me to rest up sports fans. I will see you Monday night for some thoughts on the Arena Puebla show. TILL THEN!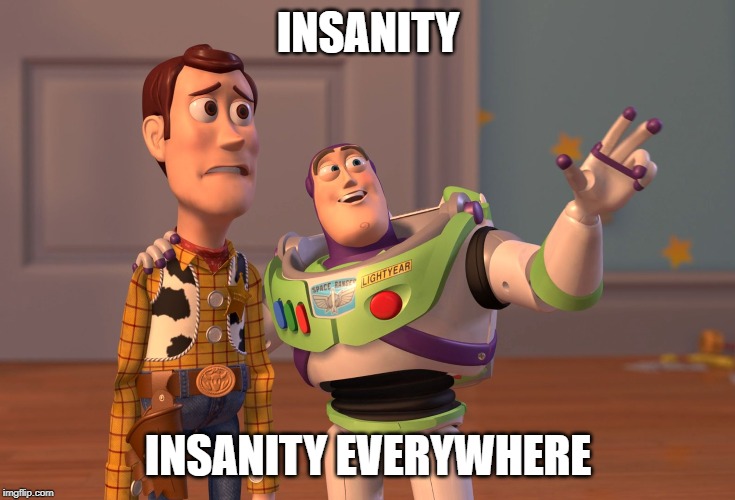 Please change disks to continue…
© 2020 Lucha Libre AAA / Twitch
 We invite you to follow us through our official social media accounts: