Ever since last Sunday night I've been asking myself the same question sports fans; just how was AAA going to follow up their masterpiece of a show in Tepic. In the process I forgot the cardinal rule; it's very, very difficult to follow up something that's borderline perfect. AAA was always going to have that challenge tonight in Morelia and it's not too surprising that they ultimately did not come up with an effort as good as last Sunday. Of course just because it was inferior doesn't mean it wasn't good. Indeed, while there were things off with this AAA show I still found myself enjoying a good chunk of it by the end, with two matches really impressing and most of the flaws being easily fixable. It could've been better, but this show was still, at least in my view, a positive step forward for AAA. Now let me go into full detail as to why. TO THE REVIEW MOBILE!
A Wild Impostor Appears
There's nothing quite like an AAA show starting with a La Parka promo huh? Oh wait; there's many things because many things suck, just like Impostor La Parka! Thankfully he kept this promo short, declaring he was tired of Los OGT's and Los Mercenarios attacking him and that he will be joining forces with Los Jinetes del Air to fight back. How very Triple H and Stephanie McMahon latching onto Becky Lynch of him! As long as he keeps to the background and lets the kids do their thing it could be worse I suppose.
Dragón Bane, Drastik Boy, La Parkita defeated Latigo, Mini Monsther Clown, Mini Murder Clown
My Grodd this match was wilder than a Buffalo Wild Wings. And not entirely in a good way! I was expecting big things from this match, which was a mistake without knowing who were playing Mini Monsther and Mini Murder Clown. Those guys are not very good and it showed, especially when working with La Parkita. That guy is very good, but his big moves all came with the clowns and they were either sloppy due to them not wanting to sell (the death rana off the apron spot) or dangerous because they couldn't catch (Parkita's great senton attempt). It's a testament to the others that this match wound up still being fun. This was not a great Dragón Bane or Latigo performance but both were still very solid, while Parkita looked great prior to the injury and Drastik Boy (a late sub for Dinastia) looked great. It was out of control at times but overall still a good opener.
Family Matters
Another angle! AND THE RETURN OF SUPER PORKY!!! All hail!
Man I'm happy to see that jewel of a luchador again, especially since he's going to just be doing angles now. The lucha legend had a confrontation with La Máscara, which would normally be a negative if it didn't lead to Psycho Clown coming out to defend his father. Defend he did and it appeared he's now entering into the Máximo/Máscara rivalry. On the one hand, I don't want Psycho to be tainted by this rivalry. On the other hand, if there was anyone who could save this feud it would indeed be the one true ace of the universe.
Keyra, Lady Maravilla, Villano III Jr. defeated Golden Magic, Niño Hamburguesa, Star Fire
Let's call this one a swing and a miss sports fans. Of course when I say that I mean by the standards of the last match this Hamburguesa/Maravilla put on. That was an exceptional match exceptional storytelling; this was somewhat the latter and only a little of the former. There were definitely some high spots; Niño Hamburguesa remains a treat to watch while Keyra and Lady Maravilla were as hard hitting as ever. Unfortunately we got very little out of Golden Magic (who was good when he had shots), Villano III Jr. felt like an afterthought and my Grodd what the hell happened to Star Fire?! She was really impressive the last few times we had seen her, but today she looked more lost than the guy who plays Archie in Riverdale. Just a really sloppy performance that made you long for Lady Shani's presence. She wasn't the only problem, but her presence really hurt this match in a way the returning love cam could only slightly salvage. An alright, but disappointing match.
AAA World Cruiserweight Championship Match
Laredo Kid defeated Sammy Guevara
I'll take "Things That Weren't Supposed to Happen Tonight" for 500 Alex! Not only was Sammy Guevara originally booked for a trios match but Laredo Kid wasn't even involved in it. And yet here we are with Laredo Kid as the new Cruiserweight Champion after an awesome match!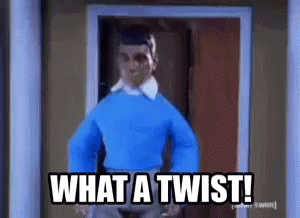 I'm pretty sure I'll be the only one high on this match sports fans but so what; the only thing I didn't like about it was the post match beat down that didn't allow Laredo to celebrate his victory. Everything else was great or a minor inconvenience, like Villano III Jr.'s interference on Guevara's behalf. This was definitely the best I've seen of Guevara in AAA; he's had good but inconsistent performances before but here he was on at all times with some outstanding offense. And Laredo Kid of course remains one of the best in the world right now; it's incredible how hot he's gotten, how he manages to fit something new into every match (like the 450 to the floor in this one) and how he's now a Trios Champion and a Cruiserweight Champion! Who had that at this time last year? What a turnaround for him. Again, I would've preferred AAA actually allowing him to celebrate but the most important thing at the end of the day is he has the title and the match prior to that was awesome. Not quite some of the great matches from last weekend but still an outstanding effort from both guys.
Faby Apache, La Parka Negra, Super Fly defeated Dinastia, Myzteziz Jr., Lady Shani
It was during this match where it was beginning to dawn on me that with every match (save Guevara-Laredo Kid) there seemed to be something a little off. That was the case with this bout as well, at least until the end. It was a thrown together match so a lack of chemistry is to be expected, but man it didn't seem like Faby, Parka Negra and Super Fly had any idea how to work together early on. And the technicos weren't much better. Luckily they found their groove later in the match and managed to make it into a borderline good bout. Myzteziz Jr. and Parka Negra in particular looked like world beaters during a late match segment; Parka Negra is an outstanding base and that works great for a guy like Myzteziz, who busted out some unbelievable dives to remind everyone he has a ceiling just as high as his teammates. Everyone else save Super Fly got some shine too, and the Dinastia-Faby Apache sequence at the end was fun if you look past the Tirantes stuff. I'm not sure what AAA is doing with that angle (nor am I sure I care; it is Tirantes, and he was inconsistent even in this match) but hey; it's better than La Máscara-Máximo! In any event, this started slow and ended really strong.
Mamba, Máximo, Pimpinela Escarlata defeated Chessman, La Máscara, Taurus
Oh look; a La Máscara match.
Actually it wasn't that bad sports fans! It wasn't that good either but it was better than usual with these two units. And that's despite the fact that you could practically see Chessman and Taurus' souls dying as each minute passed. Chessman may not be a super worker but he's capable of more than this, and I think we all know Taurus is capable of way more. In the end they were just relegated to half assed beat downs (because La Máscara can't/won't do shit) and selling for Mamba, Máximo and Pimpi's offense. And Grodd bless them, Mamba and Pimpi can only give so much no matter how hard they try. At least they did try, and Máximo had some good moments throughout the match for his first good performance involving Máscara. It wasn't enough to make this good, but it did make it passable, and Pimpi pinning Máscara also helped ease the pain of this match. An okay match if there ever was one.
Aerostar, Drago, Hijo del Vikingo defeated Carta Brava Jr., Mocho Cota Jr., Tito Santana
Batman take the wheel!
Let the record show sports fans that this match was an off night for Aerostar. And he still hit an awesome Cannonball Dive and one of the greatest suicide dives you will ever see in your life! Why can't I have off nights that good?! His usual craziness aside this match is exactly what you'd expect it to be when looking at it on paper. And why wouldn't it be? Poder del Norte, as I say often, is incapable of having anything less than a good match at this point and they proved it again here, getting their offense in quickly and then transitioning seamlessly into basing their asses off for the technico team. What a technico team! There was Aerostar having his off night, Drago continuing his hot streak and Vikingo looking like an absolute superstar. It's no coincidence when looking back on this show tonight that you'll see Laredo Kid, Myzteziz Jr. and Vikingo were the three best luchadores; they are just that good right now in almost everything they do and AAA is thankfully rewarding them for that effort. What else do you want me to say?! This was tremendous, better than the Laredo Kid-Guevara match by a slim margin and almost on the level of some of those matches from last week. Exceptional stuff.
Jeff Jarrett, Rey Escorpión, Texano Jr. defeated Dr. Wagner Jr., Pagano, Psycho Clown
Only Jeff Jarrett could leave AAA high and dry and still go out a winner. There's a lesson in that sports fans; make sure to become best pals with Marisela Peña Roldan. Oh, and Rush, but that's only for CMLL purposes. At least Jarrett can leave AAA saying he was in a passable match. This was nowhere near the heights of Tepic's classic main event but it was far better than it had any right to be and was exceedingly watchable. You can largely credit Psycho Clown and Rey Escorpión yet again. The one true ace and AAA's most underrated top star continue to impress, with Psycho topping himself yet again tonight with some excellent dives that Escorpión somehow found a way to catch. They got an assist from a game Texano and a surprisingly competent Pagano; this may have been Pagano's best non hardcore performance I've ever seen. A steep bar to clear I know! The only guy wasted was Wagner, stuck carrying Jarrett again in yet another example of why Blue Demon Jr., for all his flaws, is a much better opponent. It was a lot to ask for but I thought AAA made the most of it, and giving Texano the victory at the end was a nice touch. In the end this was definitely a fitting main event for tonight's AAA show; it didn't reach the heights of last week but in its own way it was still pretty good.
There you have it sports fans. I'll see you Monday night for the Puebla results. TILL THEN!
Please change disks to continue…