The hard part is over sports fans; the CMLL preview is done and now we can get to the AAA show! It's been nearly a month since AAA ran their last show in Tijuana and you'd have thought the momentum would've died down for them a bit. NOPE! Instead the upcoming fall show from Madison Square Garden still has people excited and 5.4 million viewers for AAA's recent showing on Azteca 7 have kept things hot, which is good because this show has strong potential to continue the momentum. You never know how a AAA show will turn out but as of now this card, save for the main event, looks to have a good match everywhere you turn, and certainly appears to be the stronger of the two weekend shows AAA is delivering. Frankly I'm just happy to have them back; a month without Hijo del Vikingo doing crazy shit on an AAA platform is too long! Let's not make it longer by delaying this preview.
Big Mami & Niño Hamburguesa vs. Black Danger & Lady Maravilla
What to Expect: And so AAA's hottest storyline resumes! Last we saw Niño Hamburguesa and Lady Maravilla the former was once again carrying the latter to the back, much like he did at Rey de Reyes. Big Mami wasn't too pleased with that and now should have another chance to wonder what the hell Hamburguesa is doing in this match! There's some intrigue besides the angle as Black Danger appears to have returned to The Crash and likely won't be on this show. Unless they replace him with Dave the Clown though (AAA, if you're reading this, please don't replace him with Dave the Clown) this should be the usual fun opener with a fully invested crowd. They love them some Hamburguesa. Now if only Maravilla could get around to that.
Winners: The AAA Mixed Tag Team Championships aren't on the line at this time so I'd look for Maravilla and whoever she's teaming with to pick up the W. Hamburguesa will then carry her to the back again after a Big Mami attack, Mami will be upset and we'll all be left wondering just when AAA will put these two crazy kids together. Hopefully soon; I haven't been this invested in a love story since Buffy and Angel and let me tell you AAA…if Maravilla-Hamburguesa ends the same way that did then things are going to play out like this.
Faby Apache & Taya vs. Chik Tormenta & Luchadora Sorpresa
What to Expect: The return of Luchadora Sorpresa to go along with the return of AAA; how fitting. The word from Varys' birds is that Tessa Blanchard will be Chik Tormenta's partner and it does make sense. After all, Tessa will be working a few AAA shows next month and looks to be a shoe in for the MSG show in September; couple that with several Impact stars appearing on this show and I'd put the odds of her teaming with Tormenta really high. If it is her then this match immediately becomes must watch, as Tessa, Tormenta, Faby and Taya are all terrific and all having good chemistry together (especially Taya and Tessa). If it's not Tessa…well it'll probably still be good anyway knowing AAA's deep bench of luchadoras. Either way I'd expect a fun, hard hitting match that the AAA luchadoras division has become known for.
Winners: I would bet my Canadian Dollar that El Hijo del Tirantes will be the referee in this match, meaning he's screwing Faby and Taya and giving the victory to Tormenta and whoever her partner is. I'd personally just have Tormenta and whoever win clean but either way they'll be the winners.
Four Way Match
Flamita vs. Golden Magic vs. Hijo del Vikingo vs. Villano III Jr.
What to Expect: Get a load of this shit!
The only flaw with this match is that it's listed as a #1 contender's match for the AAA Cruiserweight Championship, which would be swell if a match on the show Sunday between Australian Suicide, Jack Evans and Sammy Guevara also didn't have the same stipulation. Maybe we're heading for a triple threat? That aside this match is Michael Peña in Ant-Man and Ant-Man and the Wasp good. The biggest question mark may be Flamita, who has had some off nights for AAA in the past, and it's always a good thing when the biggest unknown is one of the best luchadores in the world. Otherwise you have a really good talent in Golden Magic, the always exciting Hijo del Vikingo (who's had some time to come up with some new tricks) and a quietly really talented dude in Villano III Jr. who's just needed a serious opportunity to strut his stuff. He'll get it here and I expect he'll knock the socks off of many people. This should be tons of fun and may even be the best match on the show when all is said and done, though it'll have stiff competition. Hehehe; stiff.
Winner: Vikingo is the one who is around the most and the one getting the biggest push; he also makes sense as a challenger for Laredo Kid given their friendship. Thus I'd look for him to win, getting the pin on Villano III Jr. after an Imploding 450.
Australian Suicide, Jack Evans, Sammy Guevara vs. Carta Brava Jr., Mocho Cota Jr., Tito Santana
What to Expect: If the last match was like coming across "Creeping Death" on your playlist, this match is like the follow up song being "Rime of the Ancient Mariner." Coincidentally that may wind up being one of Jack Evans' 9,000 nicknames before he retires. I guess there is some question of whether Jack will be on this show (he missed Mania weekend due to injury) but if he is MY GRODD does this look good. Yes it may be an all rudo match up but Jack, Son of Jack and Suicide are all incredible high flyers who will mesh perfectly with the basing maestros that are Poder del Norte. I'm so confident in this match in fact that the only way I can see it being bad is if AAA puts lumberjacks outside the ring. AAA; DON'T PUT LUMBERJACKS OUTSIDE THE RING! In other words look for this to be a show stealer and another match that may potentially be the best thing on this show.
Winners: Jack, AEW Jack and Suicide look to be in line to wrestle Los Jinetes del Aire (Laredo, Myzteziz Jr. and Vikingo for those who have forgotten) for the AAA Trios Championships and one of the members looks to be a frequent challenger for Laredo's Cruiserweight Championship. What I'm trying to say is Los Gringos Locos 2020 are winning and Poder del Norte are losing. I expect it'll end with three synchronized 630's, but then again I'm just a guy with a Dario Cueto shirt and a dream.
Brian Cage & Laredo Kid vs. Daga & Taurus
What to Expect: I'm not sure why this match exists but boy am I glad it does! All the pieces just fit perfectly together. Laredo Kid and Daga is a great match up with styles that should mesh, we've seen Laredo and Taurus tear the house down together, Cage and Daga looked good together a month ago in Monterrey and my Grodd, can you imagine what a Cage-Taurus encounter is going to be like? It's gonna be like if the asteroid from Armageddon collided with the asteroid from Deep Impact, only it'll be 9,000 times cooler than both those movies. The point is this match looks sublime. It does have a bit of a risk of being overrun with some interference due to Laredo Kid being involved but if I'm AAA I play it straight, let these four tear it up and then bring out Los Hijos del Gringos Locos afterwards. If they do that, this is yet another match that could be the best of the show. That's three straight matches with that potential. Remember the last time CMLL had that? I think Salsa Doritos were still around back then.
Winners: This is a tough one because all four guys are valued by AAA (for one reason or another) and all four have been pushed pretty good (even Taurus, who looked like a monster in Rey de Reyes). I guess in the end I'll go with Cage and Laredo Kid in order for Laredo to stay strong, with him picking up the victory on Taurus after a Laredo Fly.
Impostor La Parka, Psycho Clown, Puma King vs. Chessman, Rey Escorpión, Texano Jr.
What to Expect: There is only one thing separating this AAA main event from greatness…and it's a 54 year old never was in LA Park's costume. That is how close AAA was to making this match look better than the Tepic show on paper.
But not all hope is lost sports fans. AAA has wisely lessened Impostor Parka's role this year and he's frequently been removed from match's he's been booked for. There's nothing to stop AAA from doing it again here and by Grodd I hope they do it because with anyone else (save Dave the Clown or Jeff Jarrett) this match is spitting hot fire. I know it's been a month since we've seen Psycho Clown but the dude has been having one hell of a year and he'll be in there with his favorite dance partner in Rey Escorpión. Meanwhile Puma King has been excellent wherever he's been found, Chessman is ultra reliable and Texano always seems to be better when he's palling around Rey Escorpión. It literally just is Impostor Parka holding this match back and his presence (or lack thereof) will determine what happens. If AAA removes him with an early show angle then this match becomes another potential Match of the Evening contender. If he stays in, then look for it to be just kind of okay, with Psycho, Puma and the rudos doing enough to make it respectable while Parka slows it down.
Winners: There doesn't appear to be anything set for the Verano de Escandalo main event at the moment and, with the Psycho-Máximo-Máscara feud done and Aerostar-Monsther Clown off this show, Psycho-Escorpión seems a prime candidate to headline. Thus I'd look for the rudos to eke out a dirty victory here with Escorpión beating Psycho and ripping his mask. Hey now; it wouldn't be an AAA show if it didn't end with some major HEAT!
There you have it sports fans. I'm now off to rest up for tomorrow, which will see me review this show. I may try to squeeze in a CMLL review as well, but it'll most likely have to come Saturday in addition to yet another AAA preview. So much to do and so little time. TILL WE MEET AGAIN!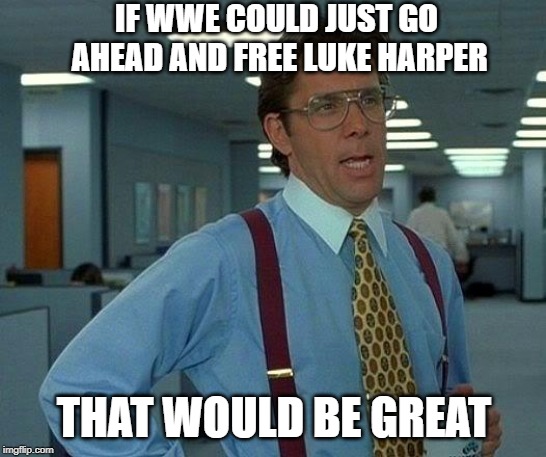 Please change disks to continue…