It's been one hell of a day sports fans. First AEW sold out their show All Out in fifteen minutes, followed by Gedo reportedly stepping down as New Japan booker, only for it to be revealed that he was, in fact, not stepping down as New Japan booker. That would normally be the two biggest things of the day, only it got topped by a great trailer for the new season of Veronica Mars, which dropped right when I was schooling dorks who worship Inoki-ism. All in all a good day! And it's about to get better, not only because CMLL is tonight because I now have an AAA show to preview! Remember how I said last Sunday's Monterrey show was the last stop before Verano de Escandalo? OOPS! Turns out this Saturday's show in Cancun is the last stop, and it looks to have all the hallmarks of an AAA show; good matches, wild angles and a whole lot of shuffling around the card. Let's break it down before the Inoki boys start throwing Dr. Pepper bottles at me.
Faby Apache & Lady Shani vs. Chik Tormenta & Keyra
What to Expect: Here is AAA teasing me yet again sports fans! Last week they had the Faby/Shani alliance team against Keyra and Tessa Blanchard in a match I was sure would be marred by Tirantes interference…only Tirantes wasn't there! Now a week later we pretty much have the same match, except with Chik Tormenta replacing Tessa. My heart tells me AAA goes nuts and let's these four go nuts; unfortunately my head then hits my heart with an empty soda bottle and reminds it that Faby vs. Tirantes is happening this Sunday. You know AAA isn't passing up getting some last minute heat for that match. Thus we can all look forward to a lame ending marring what should be an otherwise hard hitting, fun ten minutes.
Winners: Keyra and Tormenta win, both because it helps set up Faby-Tirantes and because it allows Keyra and Tormenta to look good going into their triple threat match with Lady Shani the next day.
Myzteziz Jr., Scarlett Bordeaux, Taya vs. Daga, La Hiedra, Tessa Blanchard
What to Expect: This match will require Lucha Central writer Miguel Peña to have medical attention nearby, mainly because I don't think he'll be able to handle Scarlett Bordeaux and La Hiedra in the same match! In all seriousness, this is a fun, if weird,  looking match overall, mainly because Scarlett was a ruda last time I saw her in AAA and rudo(a)s teaming with technico(a)s generally lead to betrayals in AAA (though they've thankfully avoided the trope recently). If AAA just plays it straight with her though this should work; Scarlett has been putting in good work with Impact recently (I loved her Juvy style dive on a recent episode of Impact), La Hiedra is having the best run of her career (both in ring and character wise), Myzteziz Jr. just had some of the best work of his career last week and Taya vs. Daga and Tessa is always a good time. As long as Scarlett doesn't do any betraying or Killer Kross doesn't come out to kill Myzteziz because he looked at Scarlett too long, this should be another good one.
Winners: Tessa has won every match she's had in AAA and Daga is currently in line to wrestle Drago for the Latin American Championship the first week in July. They shouldn't be losing…and they won't be losing. They and Hiedra take this after Scarlett does indeed betray her team, sending me into a fit of rage the likes of which I haven't experienced since my combo in Batman: Arkham Asylum was interrupted.
Laredo Kid & Puma King vs. Sammy Guevara & Taurus vs. Mamba & Máximo
What to Expect: We come to this match with good news sports fans; Sammy Guevara will actually be in it! He's even confirmed it himself on social media. Finally us AAA fans will be able to witness the Jack Evans Experience yet again, except it'll be done by the equivalent of a watered down cover band.
I honestly wouldn't be surprised if some pieces move around in this match, most notably Puma King moving up one spot and Hijo del Vikingo moving down to team with his Trios Champion partner Laredo . Not only would that make sense but it would be fitting just one week after Laredo and Vikingo co-starred in the best match of 2019 (in the opinion of yours truly). In the end it doesn't matter who teams with Laredo or what the fun Guevara/Taurus team do; this match rides on how much Mamba and Máximo will be willing to do. Judging from their most recent work, my guess is not so much. Hopefully being in there with two strong teams will motivate them, but ultimately I think this match will come down to how much AAA can hide Mamba and Máximo while Laredo-Puma/Vikingo and Guevara-Taurus go off. If they can do that effectively, this can still be a strong match while Mamba and Máximo coast. If not…prepare to be whelmed.
Winners: Guevara and Laredo Kid have slightly feuded when they've seen each other (Laredo did beat Guevara for the Cruiserweight Championship after all) so I'd expect those issues to play a role in this match, with Guevara stealing a win to help set up a future title defense.
Aerostar, Hijo del Vikingo, Impostor La Parka vs. Australian Suicide, Chessman, Monsther Clown
What to Expect: Once again, and maybe it's just me really wanting to see Laredo and Vikingo paired together, I'm expecting there to be some changes here. I don't know if Puma and Vikingo just swap places or if Vikingo takes Puma's spot, Puma takes Pagano's spot in the main event (to be opposite his rival Killer Kross) and Pagano takes this spot (he is feuding with Chessman after all), but something will be changing here. Quite frankly I'd much prefer Pagano in this match than the main event anyway, mainly because this bout has nope hope. You can thank Impostor La Parka for that, who has only had one decent match in the last year and likely won't be turning it around for this bout. What a pity because Aerostar, Australian Suicide (who was terrific just a week ago) and Monsther Clown will give us at least one or two cool things, while Chessman does his usual solid work. It won't be enough though, regardless of what they do or what changes are made. This is a Parka match and unless he's removed, he will drag it down kicking and screaming.
Winners: Team Parka goes over after Aerostar gets another W over Monsther.
Dr. Wagner Jr., Pagano, Psycho Clown vs. Killer Kross, Rey Escorpión, Texano Jr.
What to Expect: Let's take a sneak peak at what this match will be like if it stays exactly as it is now.
Now let's see what it'll look like if Pagano is swapped out for Puma King.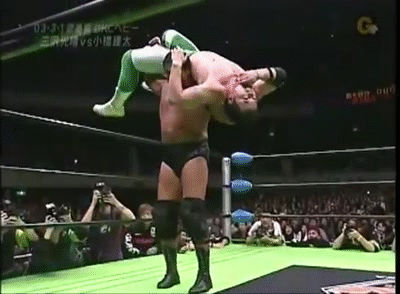 Hey AAA; listen to your boy Vanilla Ice on this one.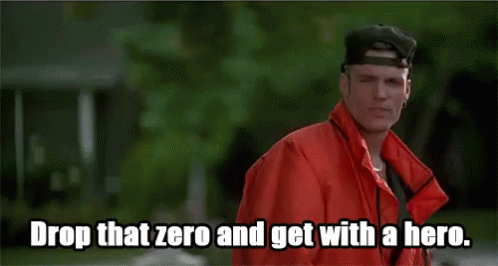 Now that I've finally found an excuse to use that gif, let's break this down! Regardless of how this match goes, I can't deny that I'm looking forward to it, if only because Rey Escorpión and Texano have become one of the most entertaining acts in AAA, especially when La Hiedra is with them (and she's going to be accompanying them for this match). And while Psycho Clown is definitely slowing it down a bit over the past few shows, he's still having one hell of a year and his chemistry with Escorpión alone means this match will have a few good sequences. That, and the heat this match will have, will be enough to make this watchable. Whether it's anything more than that will depend on whether Pagano or Puma is in it. If Puma is in it, we have both the element of his feud with Kross and a better worker involved. If Pagano is in it, you know we'll have a high effort performance with at least four to five moves that will fail more spectacularly than Dr. Wagner Jr.'s hair extensions. Not good. To make a long story short, this will continue the trend of decent AAA events, but unless there are changes it won't rise to the level of some of the matches Psycho and Los Mercenarios have had this year.
Winners: The Mercenarios seem to keep winning these bouts with Psycho so why stop now? They get the job done again after Hiedra does some sort of distraction, followed by Escorpión unmasking Psycho and getting the pin.
And with that I am off to make dinner and prepare myself for tonight's CMLL. Should be fun sports fans. TILL AFTER THE SHOW!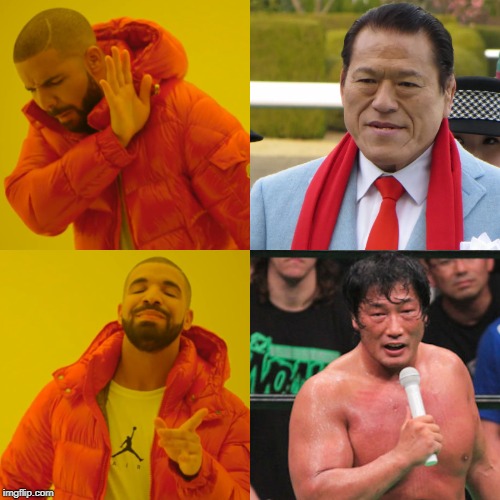 Down with Inoki-ism…