When I'm forced to chooses between doing a Live Review for AAA or CMLL on a night they're competing against each other, the answer is always easy; I'm going with AAA! There's two reasons for this. First, I don't subscribe to AAA's Twitch channel and thus the only time for me to watch the show is live, whereas I can watch CMLL later. Really that's the biggest reason. In addition to that though, it's become pretty clear recently that AAA is the promotion to watch whereas CMLL is the promotion that makes you feel like you're wasting your time. And that's the tale of why you're getting a Live Review of AAA tonight instead of a CMLL one. Let's get started before I miss the start of the show!
Keyra, La Hiedra, Scarlett Bordeaux defeated Lady Maravilla, Lady Shani, Vanilla
This was a good match…I'm just not sure how good! It was certainly not on the level of some of the other AAA openers this year (though I wasn't expecting it going in) and at times it felt a little too much like a luchadoras match you'd see in CMLL. The difference between this and a CMLL match though was that everything came off really smooth. Keyra and Lady Maravilla get a lot of credit for that; they were excellent throughout, especially when together. Everyone else was solid too (even Vanilla, who didn't hurt herself at all!), though it was a little odd to see Lady Shani fade to the background at several points. As for Scarlett Bordeaux…I thought she was pretty good! She didn't reinvent the wheel or anything, but she didn't mess anything up, had some cool moves and never looked loss, even when put in a seemingly no lose situation with the green Vanilla. Again, not the greatest opener AAA has had all year but pretty enjoyable overall, and my Grodd AAA needs to put Keyra and Maravilla in a singles match together. That has the potential to spit hot fire.
Wagner Speaks, Keyra Does Something with Vampiro
I guess this is what happens when you only have matches on a show; filler segments! We had Dr. Wagner come out, leading to everyone speculating about who he was replacing on this show or if another match was being added. Instead he cut a Dr. Wagner promo on Jeff Jarrett, just to remind us all that yes, that abomination of a match is going to happen at some point. Hopefully it's an overbooked classic after a card full of high flying excellence. We weren't done though, as we got a scene backstage with Keyra talking to Vampiro about something. I have no idea what it was, but Vamp agreed with whatever Keyra was saying and she was happy about it. Maybe she got a full time deal? A Reina de Reinas Championship match with Faby Apache? Something else?! I guess we'll find out eventually. Hey, I would've given Keyra wanted if I was Vamp too! Did you see her performance in the last match?
Carta Brava Jr., Mocho Cota Jr., Tito Santana defeated Angelikal, Australian Suicide, Hijo del Vikingo
First off, a follow up to the Keyra-Vampiro segment. It does appear Keyra will be getting a title match with Faby Apache! I know we're only two matches in but this is cause for celebration, no?
Onto the match! Credit where credit is due because AAA changed things up a bit. Yes Australian Suicide betrayed his team as expected, but unlike Juventud Guerrera and Hijo de LA Park he did it early in the match instead of the end. Up to that point he was all in on the match, which allowed him, Angelikal and Vikingo to do some cool stuff together, and his early exit still allowed Vikingo to pull off an unbelievable over the turnbuckle dive. In between it was all Poder del Norte, who once again brought their wonderful blend of triple team violence, as well as a super cool suicide dive spot where they seemed to come at the technicos from all positions. Really good stuff, and it may have been even better if AAA didn't have Suicide walk out. I'm not sure where this is all going, but here's hoping AAA changes things up even further with the next Poder del Norte match. Maybe there can be no betrayals! A reviewer can dream, right?
Golden Magic & Jack Evans defeated Laredo Kid & Sammy Guevara
This match had one flaw sports fans; for whatever reason, Golden Magic and Sammy Guevara never seemed to get in synch with each other and their sequences weren't as smooth as they could've been. Other than that I enjoyed this match tremendously! Laredo Kid was off the charts in this match. He began things with a great opening sequence with Golden Magic, followed it with an Aerostar style Bullet Suicide Dive, hit a breathtaking Asai Moonsault where he seemed to have air for days and then capped it off by nearly killing Evans and Magic with a Springboard 450. He came off like a superstar in this match. So did Guevara (when not paired with Magic) and Evans, who continued their entertaining beef with some trash talk, some dives and an Evans low blow to give his team the win. Even Magic was good despite an off night, with his best moment coming on a hurricanrana when he sent Laredo Kid flying into Guevara. Could've been smoother, but the highs were higher than the lows and I'd be pretty surprised if anything bests this match tonight. Well done!
La Máscara, Rey Escorpión, Texano Jr. defeated Aerostar, Máximo, Pagano
In the words of that one guy from Hamlet, this was too long. The focus of this match was on the La Máscara-Máximo feud and, despite guys both doing better since they split up, we got a reminder of why no one wanted to see this battle to begin with. The match largely turned into a grind of Máscara, Escorpión and Texano beating Máximo down, Aerostar and Pagano coming in quickly to also get beat down, then a brief cameo in the end before Máscara pulled it out with a low blow. Doesn't sound too interesting does it? At least we had the beginning of the match, which had a nice pace and Aerostar one upping Laredo Kid's tope with one into Escorpión balls. His cannonball dive was even more impressive later, and just made you wish he had gotten more to do. Same goes for Escorpión and Texano, who felt less like the great tag team they've been this year and more like Máscara's backing band. In the end it was all just a bit too long, too focused on the wrong thing and in need of some excitement. And no, Imposter La Parka coming out at the end to run the rudos off and kiss Máximo wasn't that. Although I can say that was without a doubt the best use of Parka on this show. Hell maybe he can just do that till the end of time!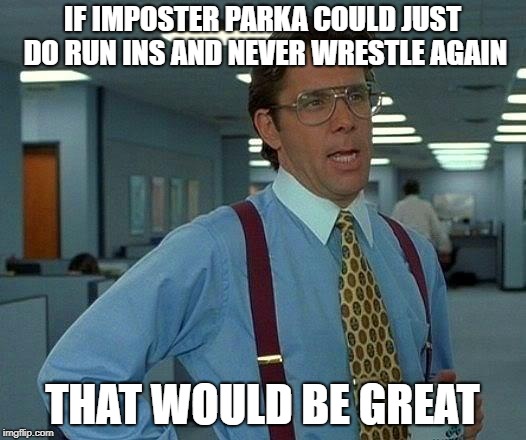 Brian Cage & El Hijo del Fantasma defeated Fenix & Psycho Clown
We were on our way to arguably one of the better AAA main events of 2018…and then poor Fenix came in a little too hot and Cage was unable to catch him for their "dive turns into suplex spot on the floor" they've been doing recently. Is it weird that I was more surprised that they didn't pull it off? They've gotten so good at doing it in Impact, LU and AAA that it feels like it's become more automatic than that Tokyo Hotel song. You know, the one with the weird android in the music video? Did I just make a mistake outing myself as knowing Tokyo Hotel songs?!
Anyways, up till that point I thought the match was really strong. LA Park may not have been here but Psycho Clown continued his streak of strong performances, working really well with Cage and Fantasma and clicking decently with Fenix during some double team spots. Fenix was taking it easy, which of course still meant he was pulling off spectacular dives, effortless arm drags and turning Fantasma inside out with a cutter or two. Cage was Cage. Fantasma didn't do anything flashy but you could see the difference in how much better he is than say La Máscara with how he never managed to make the beat down segments seem dull, despite it going on for a long time. It doesn't hurt when you add in a double suplex into the ring spot that Cage and Fantasma pulled off on Psycho; I got a little nervous for the moment but they pulled it together and nailed the move at the end. If only they had gotten that last spot right! Everything seemed to get a little sloppy from that point on, and you wonder if things would've gone a bit smoother if Cage and Fenix had pulled off the spot. In the end it was still a good match, all four guys looked good and between this match and the previous one, Los Mercenarios feels like a legit stable, perhaps even more so than MAD does (although both stables are so entwined they may as well be the same).
That was AAA in Cancun! I enjoyed myself and judging from how people reacted to CMLL on Twitter it sounds like I made the right call to watch this show (of course I'm now terrified to review CMLL tomorrow!). Nothing AAA did tonight reinvented the wheel but the matches were universally good to really good and some of the individual performances (Keyra, Laredo Kid, Vikingo and Fenix) were outstanding. I say this often but isn't amazing how in the past six months AAA has become the consistently fun show while CMLL has become the drag. What a world. I bet it continues for the next little bit as well.
There you have it sports fans. I'm off to rest up so I can bang out that CMLL review tomorrow (GULP!) and an AAA preview for their show on Sunday (non gulp). TILL THEN!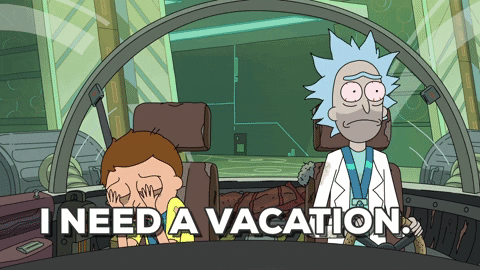 Please change disks to continue…