If you thought CMLL's Gran Alternativa Final was the only big lucha libre happening this weekend, THINK AGAIN! That's right; AAA is back at it again with Heroes Inmortales tomorrow night. The show, run annually in tribute to Antonio Peña, remains a corner stone show for AAA alongside Rey de Reyes, Verano de Escandalo, Guerra de Titanes and (of course) Triplemania. For example, last year's Heroes Inmortales concluded the Dr. Wagner Jr.-Jeff Jarrett feud no one wanted and kick started a Wagner-Blue Demon feud that would become one of the best programs AAA had run in years. This year lacks any big feud but it does feature a huge AEW-AAA crossover match in Kenny Omega vs. Fenix, along with two other title matches, a slew of promising undercard wackiness and a cage match (cause what's a big AAA show without a cage?!). You never know for show with shows but this looks to be another AAA show that will be a fun watch. So what are we waiting for? Let's break it down!
Argenis, Lady Shani, Octagóncito, Pimpinela Escarlata vs. Australian Suicide, Demus, Mamba, Vanilla
What to Expect: Ah the old AAA opener special; a multi-person match featuring a luchadora, a mini, an exotico and a crazy high flyer on each team. They didn't quite land that here by putting Argenis in this match but he does do dives and he should be able to catch some of Australian Suicide's insanity. Honestly it's that insanity and the overall wackiness of this match that should carry things. There's so many styles in this match, from Lady Shani's maestra work to Pimpinela and Mamba's comedy to Australian Suicide and Vanilla's high flying to Octagóncito's…whatever he does (I'm pretty sure nobody knows who this new incarnation is at this time) to Demus dropping people on their noggins; it's pretty much a smorgasbord. In the past I would've thought there'd be no way this would work, but AAA openers seem to work all the time these days so why would this match be any different? These eight will find a way to make it work, even if Argenis is clearly turning on his team by the end. Oh and before I forget; hell yes to Demus being here! You have been missed on CMLL/AAA streams you beautiful bastard and I look forward to watching you wrecking fools left and right.
Winners: Demus, Mamba, Suicide and Vanilla win this after Argenis betrays his team, followed by him cutting a promo about how Myzteziz Jr. is the dirt worst. Listen Argenis; you're going to have to wait for him to get off that island like the rest of us. Search your feelings; you know it to be true.
Three Way Match for the AAA World Mixed Tag Team Championships
Lady Maravilla & Villano III Jr. (c) vs. Chik Tormenta & Latigo vs. Big Mami & Niño Hamburguesa
What to Expect: Finally, after over two months of waiting, AAA is bringing us back to the Big Mami/Niño Hamburguesa/Lady Maravilla love triangle! Although now that I think about it, can a love triangle exist when one of the participants has clearly shown they aren't interested? That's what Lady Maravilla appeared to do at Triplemania when she Shunsuke Nakamura'd Hamburguesa in the nads, officially revealing she just wasn't into him while taking the AAA World Mixed Tag Titles and emotionally wrecking anyone who was rooting for the Hamburguesa-Maravilla union (aka, ME!). I've seen some videos on Twitter since that suggest AAA may try to continue that portion of the angle, but my gut tells me that part is done and we've now moved on to the part where Big Mami seeks revenge on Maravilla like she's Chingachgook in the final five minutes of The Last of the Mohicans.
That's not the only interesting part about this match though sports fans. There will be a change in the Chik Tormenta/Latigo team as Tormenta is now out indefinitely due to her being pregnant. On the one hand she will be missed; on the other hand that's awesome for her and on behalf of Lucha Central I'd like to congratulate her! In any event she is out, Latigo needs a new partner and of the names I can think of Ayako Hamada, Keyra and the recently returned Hades are luchadoras who could step in and suitably replace Tormenta (no easy task as Tormenta has arguably been the best AAA luchadora and one of the best AAA performers this year). As long as it's one of those three and not the return of Ashley or Goya Kong I think this match will be okay. It certainly won't be a MOTYC or anything due to its story focused nature, but it'll still have Villano III Jr. going nuts, Latigo being the brilliant all around performer that he is and the Hamburguesa/Mami duo getting into a frenzy (and that's before the story comes into play). I'd expect a good time.
Winners: I'm pretty sure the plan is for a Maravilla vs. Mami mask vs. hair match sometime soon, so either result works here. My gut tells me however it's a bit soon for Maravilla and Villano III Jr. to lose the titles back, so I say they win again here with Maravilla once again doing something dastardly to Hamburguesa for the finish.
AAA Latin American Championship Match
Drago (c) vs. Daga
What to Expect: This is a rematch to an AAA Latin American Championship bout back in July and if we were just going off that match this would not be a sequel anyone would be interested in. That match was built around Daga trying to steal a win with brass knuckles, a move that would've been fine if a) brass knuckles could still be pulled off in wrestling (a feat that's only happened once since the 1980's) and b) AAA didn't treat the knucks like an automatic DQ, which made the rest of AAA's "anything goes!" matches make no sense. Luckily Daga has all but ditched the brass knucks since and has gone back to doing what he does best; being the Roderick Strong of lucha libre with his strong style offense. As long as he sticks to that and Drago gives his usual very good performance this match has a shot to be a lot of fun. Of course now that I've said that Daga will use the knucks again and I'll spend this entire match wanting to scalp myself with a hardcover book.
Winner: I'm a lot higher on Drago's Latin American Championship reign than most (other than the Daga bout all his other defenses have been solid) but it definitely feels like we're heading to a title change here. I could be wrong, and Daga does have an AAA Cruiserweight Championship waiting for him when Laredo Kid returns from reality TV glory…and yet it feels like Daga is taking the title here after about fifteen minutes with that Double Underhook Codebreaker of his.
Dinastia, Octagón Jr., Puma King vs. Abismo Negro Jr., Arez, Super Fly
What to Expect: Is there any better way to describe this match other than saying IT IS GOING TO BE NUTS?! Well I guess you could describe it as "IT'S GOING TO BE NUTES!" like I just did before I realized my snafu and deleted the E. Except now I've revealed by mistake by bringing it up, which means I may as well have left the mistake in to begin with and why the hell am I going on about this? I must be losing my mind again; hopefully it's one of those temporarily insane things that Michael Keaton experienced in that one Batman scene.
Back to the match! Yes this should be awesome. In fact the only way I can see it not being awesome is if the awesome ideas guys like Arez come up with don't come together perfectly.  A distinct possibility too given how insane some of Arez' ideas are. Beyond that though the talent is all here to deliver the goods, whether it be Super Fly getting a rare chance to cut loose away from Averno and Chessman, Arez being nuts, Dinastia being nuts or Octagón and Puma King just being really, really good. I do hope this match allows Abismo Negro Jr. the chance to do more; he's been a little cold in his first few AAA appearances (under the Abismo Negro Jr. name that is) and now would be a good time to strut his stuff and pull off a Martinete or two. As long as he does that and as long as there are no earth shattering botches I think you can expect a fast paced match with great action and some jaw dropping moments. Don't be surprised at all if this is the second best, and maybe even the best, thing you see on this show.
Winners: This one could go either way but, given that we haven't seen a Martinete from the new Abismo Negro yet, this match seems like a good time. I say he sneaks one in on Dinastia while the ref is distracted and that allows the rudos to walk away with the W.
Copa Antonio Peña
Aerostar vs. Dave the Clown vs. Dragón Bane vs. Faby Apache vs. La Hiedra vs. La Parka Negra vs. Laredo Kid vs. Monsther Clown vs. Murder Clown vs. Myzteziz Jr. vs. Luchador Sorpresas
What to Expect: It's time for another Copa sports fans! And unbelievably this one, done in honor of Antonio Peña, should have more twists and turns than the Rey de Reyes and Copa Triplemania combined. That's largely because a good bulk of the field is a mystery. We know Laredo Kid and Myzteziz Jr. will be absent as they continue to compete on Exatlon, so they'll be replaced. We know former CMLL luchador Tritón, now Rey Tritón, will be in the match. And we also know, in addition to Tritón, there will be at least a few more Sorpresas along the way. This match is basically one giant mystery box and as Peter Griffin would say;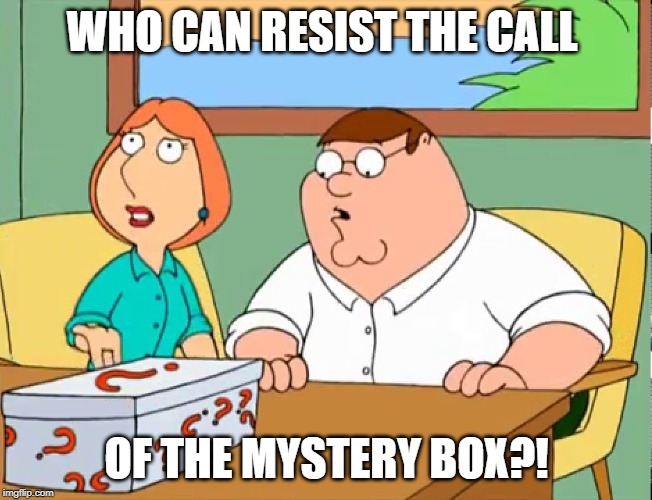 The one mystery I don't believe we'll have to worry about is that this match will be pretty solid, maybe even really good. That can't be guaranteed without knowing who the other nine names are but a) AAA has a lot of strong talent that could fill the remaining spots and b) of the nine luchador(a)s announced and confirmed to appear, Dave the Clown is the only guy who is below average. And even Dave the Clown hasn't been that bad recently! Throw in the fact that AAA has seemingly figured out how to make matches like this work, with both Rey de Reyes and Copa Triplemania working better than expected this year, and this match has a good chance of impressing. And I haven't even brought up the possibility of Rush being in it! He definitely won't be…but what if he is?! Somewhere Delirious and Bully Ray are sweating while looking at that Rush/Konnan/Dorian photo that just appeared on Twitter.
Winner: Nothing would surprise me here sports fans. Rush could show in win and I wouldn't be shocked. Cain Velasquez could appear unannounced for his final AAA appearance, win this and I wouldn't be shocked. And that's just the stuff off the top of my head sports fans; this legitimately could go any which way. But I have to make a pick so I'll go with Murder Clown. Why not; he's over, he's awesome, he's in need a big win. Give him the W AAA!
AAA Mega Championship Match
Fenix (c) vs. Kenny Omega
What to Expect: The match that's getting Dave Meltzer to the Twitch stream tomorrow! There's not a whole lot of build to this one sports fans; Kenny Omega made his AAA (and Mexico) debut at Triplemania where he and The Young Bucks came up short against Fenix, Pentagon and Laredo Kid. Afterwards Omega challenged Fenix to a Mega Championship match anyway and Fenix, never one to say no to a challenge, accepted. And that sports fans is how we got arguably the best wrestler in the world vs. arguably the best luchador in the world.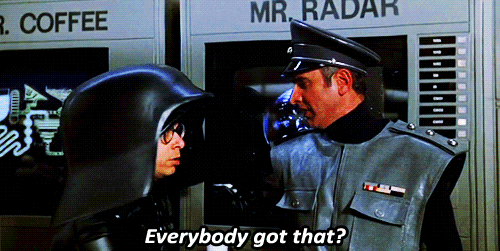 So let's get the concerns out of the way here first; how will the crowd react? That's been the biggest problem to matches involving AEW talent (remember the Young Bucks first appearance?) and while Omega has sent in a promo to hype this match up, it's still iffy that AAA will get the crowd reaction they are looking for. If they are then this match will be a Match of the Year contender. Hell it may be anyway! Kenny Omega is easily one of the most talented performers on this mortal coil right now, a man who's below par matches are still better than most people's best AND a guy coming off two straight stellar performances in the past two weeks (first against Joey Janela, then in tag team action with Hangman Page against Pac and Jon Moxley). Fenix isn't far behind him, both in coming in hot (did you see the stuff he did on Wednesday on AEW Dynamite?!) and in being an awe inspiring talent who always seems to perform at the highest level. Best of all, we've seen these two go at it before in a lower stakes match (they wrestled each other in Connecticut last year) and it was phenomenal. There's no reason to think it won't be again beyond the crowd possibly being comatose. If they are, this will be a great match. If they are, this could be a Match of the Year candidate and a half. Either way it's must see and will surely have many eyeballs from across the globe on it come tomorrow night.
Winner: What an easy call! Not only is it questionable that Omega will ever return to AAA but the dude is also going through a losing streak right now in AEW. He's gotta lose to keep the "losing his mojo" story going. Thus Fenix is 100% winning this match after about twenty minutes, and then his hopefully confronted by his next challenge, whose name will hopefully rhyme with whoosh. Get it? I also wouldn't say no to Jon Moxley making his AAA debut at attacking Omega, even the audience reacts to that the same way I react Hallmark Channel my aunt has on when I visit.
Revelos Increibles Cage Match
Averno & Dr. Wagner Jr. vs. Chessman & Pagano vs. Pentagon Jr. & Texano Jr. vs. Psycho Clown & Rey Escorpión
What to Expect: I have no unearthly idea why this match exists, why it's in a cage and what it's leading to. And who cares; this is an AAA cage match featuring Dr. Wagner Jr., Pentagon and our one true savior, the ace himself Psycho Clown. The people will be hot, the match will be loaded with thunderin' and plunderin' and if nothing else we'll get to see Psycho Clown do one bat shit insane thing and Pentagon do one bat shit insane thing. We'll also get to see every fan tuning into Omega-Fenix confused over why that match is getting crickets while this is treated like Riho pinning Britt Baker via roll up.
Winners: Rey Escorpión will betray Psycho Clown in this match to set up the long awaited and long anticipated mask vs. hair match between the two. The twist will be that Psycho still wins this match anyway! Against all odds the ace will prevail and lead his team to victory, followed by challenges and Pentagon saying Cero Miedo many times.
That's game sports fans. I'll see you soon for the CMLL review and we'll be back tomorrow for a review of this show! Should be a good time. TILL WE MEET AGAIN!
Please change disks to continue…
© 2019 Lucha Central 
We invite you to follow us through our official social media accounts: