You may not have heard sports fans but one of the announcement's last night from All Elite Wrestling's Ticket Sale/Pool Party was the working agreement reached between them and a little promotion known as Lucha Libre AAA. It's kind of a big deal in the lucha libre world! We still don't know just how this whole buddy cop film starring Cody Rhodes, The Young Bucks, Kenny Omega, Konnan and Dorian Roldan as himself came to be or what this means for AAA's other partnerships (Lucha Underground, Impact), but that's okay; what we do know is that AAA and AEW will likely be exchanging talent going forward and that's very exciting! It's also a piece of great timing; all this week I had been planning a "Ten Luchadores AEW Should Sign" column, not expecting this AAA/AEW to suddenly appear. Now that it has I was faced with two choices; do a "10 AEW Wrestlers Who Should Work AAA" list or a "10 AAA Wrestlers Who Should Work AEW" list. I decided to add ten more slots to make it 20 and went with the latter. It still wasn't easy, with some talented luchadores being left off either because they're not exclusive to AAA or because there's just so much talent and only so much room (sorry Texano, Chessman and Dinastia). But in the end I think I still wound up with a good list of 20 AAA Luchadores Who Should Work with AEW. Let's begin!
Aerostar
A list of AAA guys doing something cool that doesn't feature Aerostar is an invalid list! I know he's gotten some exposure on Impact Wrestling, MLW, PWG and most notably Lucha Underground, where I'll remind you he plays a time traveling ancient alien who may be the hero of the entire show. Hell that alone should get him on a few AEW shows! The point is this AEW stage seems to be just a bit bigger than all those, and Aerostar is one of the most innovative high flyers going today. Him not at least getting one shot against one of those OWE guys would be a crime against humanity.
Australian Suicide
If you took the cockiness of Jack Evans, the insanity of Angelico's Lucha Underground dives, tossed in some Monster energy drinks and a whole lot of Down Under, you'd get Australian Suicide. He started in AAA as an exciting young high flyer and in recent years has transitioned into an insufferable rudo who still does all sorts of high flying. This was all on display at AAA's Lucha Capital tournament, where Suicide's off the charts matches (most notably against Laredo Kid and Pentagon) and entertaining rudo routine reminded everyone just how great he is. The dude even killed it in the Facebook chats! There are only a handful of performers these days that can pull off all sorts of crazy shit while still making you hate them; Suicide is one of the best and AEW could use the best.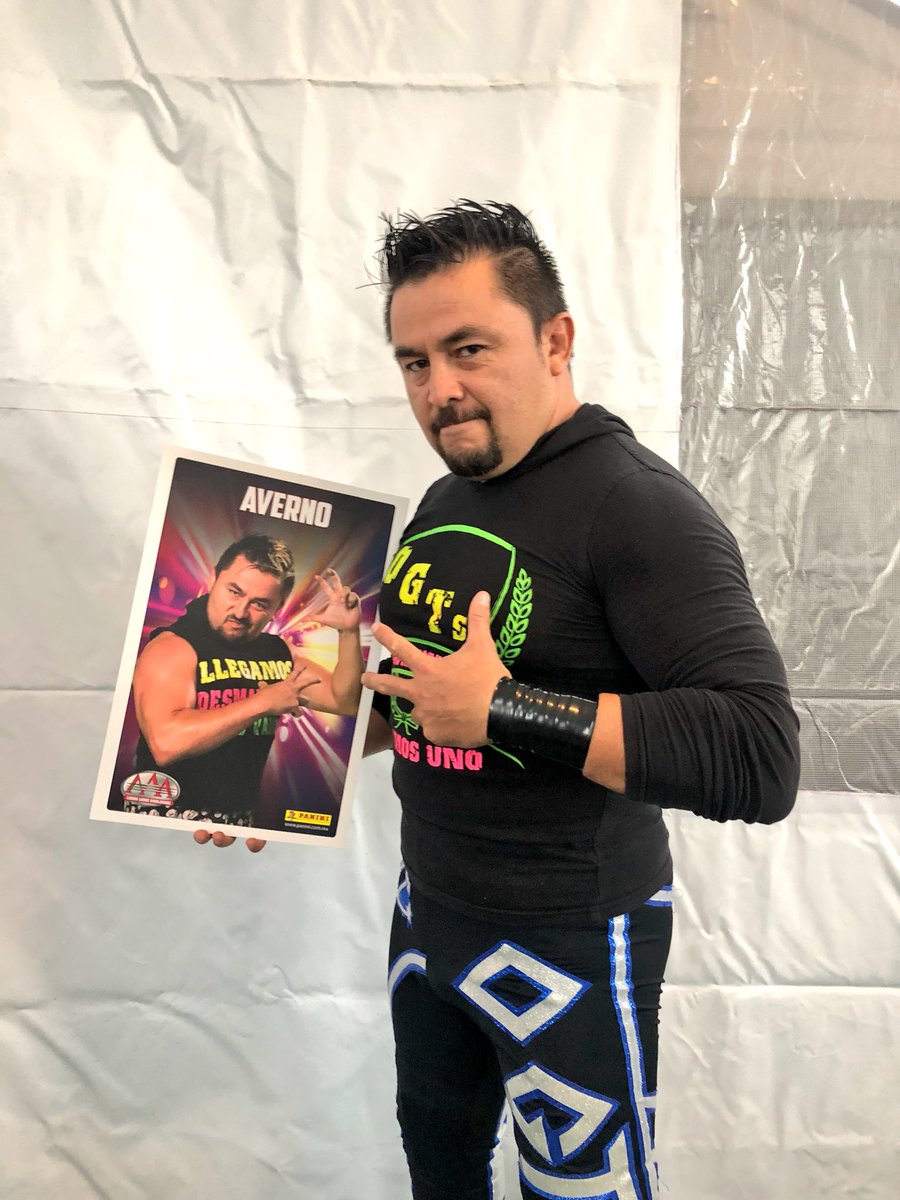 Averno
It's hard to come up with much to say about Averno because nothing he does is flashy. And yet, everything he does is great. He's not the best high flyer in the world but everything else Averno can give you. Need a brawler? Averno's your guy. Need some to cut a great promo (at least in Spanish)? Call Averno. Looking to put over a young high flyer and need someone who will make everything they throw at him stand out? There's arguably only one guy on this list that does that better than Averno; go watch the magic he worked with Hijo del Vikingo just a few weeks ago if you don't believe me. I expect AEW will want to keep the luchadores together a bulk of the time (much like WCW did in the 90's) and for that you'll need someone to fill the role guys like Damian, the Villanos and even LA Park did back then. Averno is the perfect guy for that role. Plus he's due for some US exposure after he passed up a chance to work with WWE back in 2011.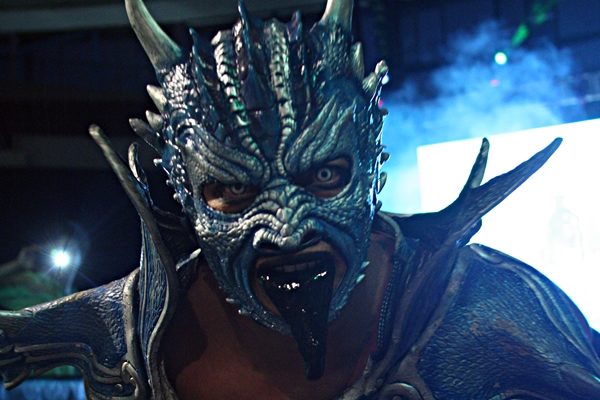 Drago
Take away the time traveling ancient alien stuff and everything said about Aerostar could be said about his long time partner. Well not everything. At nearly 44 years old Drago isn't as athletic or inventive as he once was. But he's still a really good high flyer, has had a nice resurgence recently after healing up from a leg injury and, oh yeah, he's got one of the coolest looks/gimmicks in the business. Only Pentagon may have a cooler look in AAA than him, and even Pentagon lags somewhat behind because HE DOESN'T LOOK LIKE A BAD ASS DRAGON! Plus Drago is the current AAA Latin American Champion and it only feels right he should get an AEW crack considering the current Mega and Cruiserweight Champs of AAA are on board.
El Hijo del Fantasma
It's been a week for Hijo del Fantasma, so it was nice to see him react like he had just won the Super Bowl when this AAA/AEW agreement was reached. And he's got reason to be excited because you could argue there's no AAA talent AEW should want to bring in more. We know Fantasma can work; his performance in this past year's Triplemania main event and his excellent work in Lucha Underground serve as proof. But beyond that he's also someone who looks the part (especially in a suit; Blue Demon Jr. doesn't even wear a suit like Fantasma!) and most importantly, he's bilingual! There's a whole separate discussion on whether that should matter at this point or not, but it's well known that US promotions have been searching for eons for a Latin American star that can walk the walk and talk the talk in fluent English. What do you know; AEW now has access to him in Fantasma.
Faby Apache
I've heard some criticisms of the AEW Women's Division being too thin. Personally I've liked their moves thus far, but there's no question they need to add more names. So how about, arguably, the greatest luchadora of all time and one of the most underappreciated workers ever? Long before there were revolutions, people clamoring for women to main event shows or Becky Lynch turning into Steve Austin, Faby was out there having entertaining storylines (the Faby/Billy Boy saga. Look it up) and stealing the show with high profile Triplemania matches against people like Taya and Faby's own sister Mary. She still remains a force today after some hard hitting feuds last year with Lady Shani and would be a great addition at any point to AEW's budding division. Like, could you imagine a hard hitting battle between Faby and the still great Aja Kong? I feel like Wesley Snipes in that Blade II scene just thinking about it!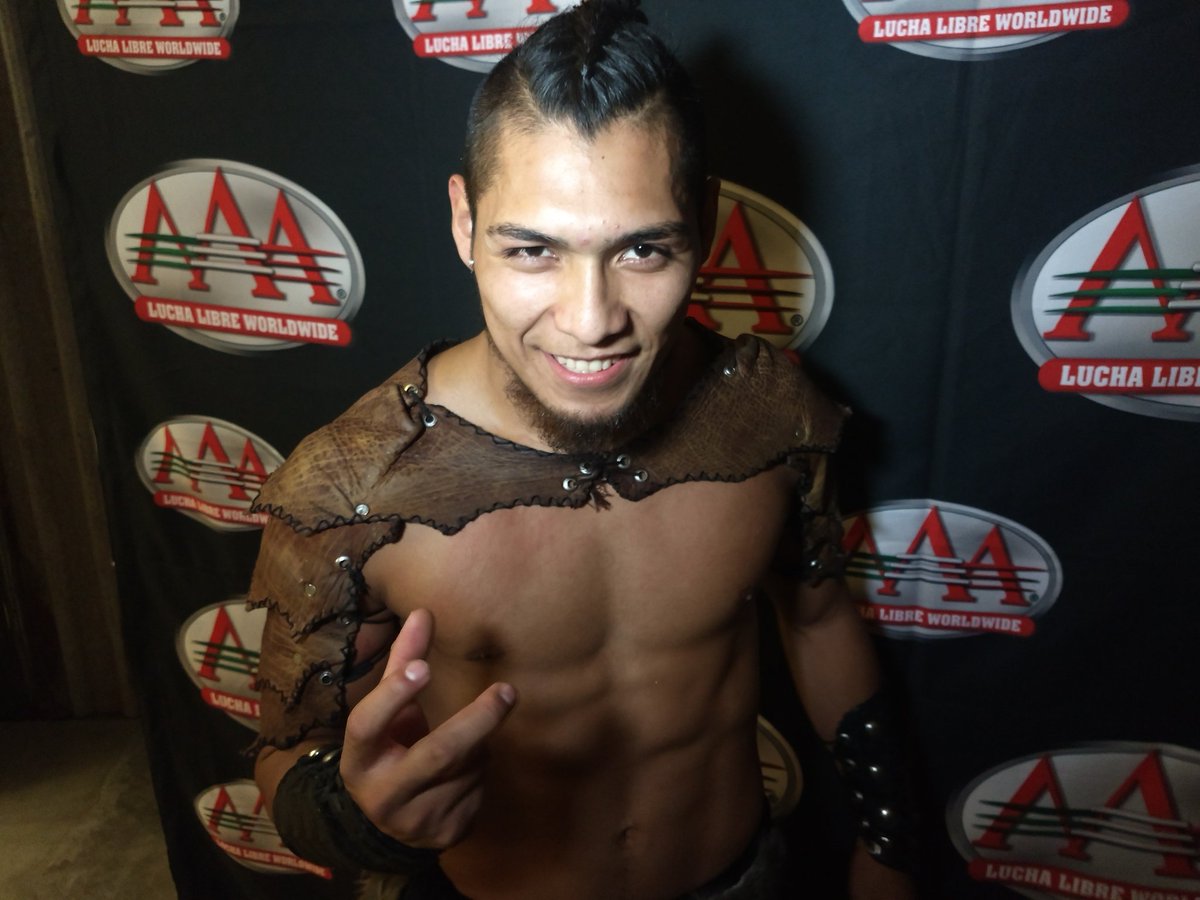 Hijo del Vikingo
There's plenty reasons to be excited about this AAA/AEW deal but it's quite likely the most exciting reason (and maybe the reason AEW even agreed to this deal) is the potential of this young man making the big stage. AAA discovered Hijo del Vikingo a little more than a year and a half ago during their La Llave a Gloria competition. AAA found several gems from that but in Vikingo they found the future of lucha libre; ever since then he's only gotten better and better and as of right now is on the verge of stardom thanks to his individual performances and his membership in Los Jinetes del Air, perhaps the most exciting trio in Mexico (don't worry; we'll get to the other two members). He's got the hops. He's got the charisma. He seems to be able to come up with something new every single match in a way that reminds you of Aerostar, Fenix, a young Juventud Guerrera and, here comes that big name, Rey Mysterio Jr. Whether Vikingo is the next Rey or not remains to be seen, but he's a breakout talent waiting to happen and now AEW has access to him. If he's not on Double or Nothing then I would consider it a giant mistake. GET HIM THAT VISA GUYS!
Keyra
And I told myself I wasn't going to use any gifs for this column! In my defense, how could I pass up the opportunity to show you what makes Keyra special? In many ways she's the successor to Faby Apache; hard hitting, no nonsense and super intense. She's also surprisingly athletic and capable of being a great babyface or heel; look no further than the underrated gem she had with Ricky Marvin (another guy AEW should look into) on the Mexican indies last year. AAA's quietly built up a nice stable of young luchadoras for the next several years and Keyra might just be the best of the bunch.
Lady Maravilla
But then again, so might Lady Maravilla. The comparisons between Keyra and Maravilla have long existed due to both of them working a hard hitting style. The difference is Maravilla's just a bit more athletic, mixing in planchas and Spanish Fly's to go with her vicious arsenal of dropkicks. Like Keyra, she can also slide into any role given, as seen by her effectively playing ruda in AAA right after she was a sympathetic technica in CMLL in 2017. I'd bet Keyra gets the first shot with AEW, but Maravilla's overall style might make her more appealing to AEW in the long run.
Lady Shani
Arguably the ace of the AAA luchadoras division and (not arguably) the protégé of Taya, Lady Shani isn't held in as high regard as workers like Faby, Keyra, Maravilla or her mentor just yet. But don't take that to mean she can't go. After winning the AAA Reina de Reinas Championship in 2017, Shani broke out even further in 2018 that saw her trade that title with Faby in a series of really strong matches. The feud culminated in a Triplemania match that saw Shani shave Faby's head, a career defining win if there ever was one. She'll get opportunities just because of how high AAA is on her and while the hype will be higher for some of her peers, she'll definitely deserve it as yet another AAA luchadora who can hit you hard.
Laredo Kid
There was a time not too long ago when Laredo Kid looked like he was going to be one of those cool journeyman luchadores who never made it as big as he should've. In other words, he was going to be the masked Ricky Marvin. Then August 2018 to December 2018 happened and Laredo Kid suddenly transformed into an AAA superstar thanks to a great Lucha Capital run (he won the competition), the best match on the Triplemania card and the formation of that Los Jinetes del Air team. Remember them? Laredo somehow serves as the "calm" one to Hijo del Vikingo and Myzteziz Jr., which just means he only does five spectacular moves per match as opposed to eight. With some recent PWG performances under his belt to boot, Laredo should be a lock for AEW, if only because Los Jinetes del Air is the perfect team for spotlight trios matches.
Murder Clown
Let the record show that I BELIEVED IN MURDER CLOWN ALL ALONG! When everyone else was calling him immobile and terrible I said "watch closely. He's actually good!" And I wasn't just saying that cause Dragula is his theme song either. Sure enough, after a terrible death match with Pagano that was pretty much all Pagano's fault, Murder turned technico (yes, the guy named Murder Clown is a good guy), started doing 619's and dives and now I get to brag to all of you about how I was right about this guy from the beginning! And that alone should get him into AEW. I mean who doesn't want to see a near 300 lb guy in a killer clown mask doing Rey Mysterio's move set?
Myzteziz Jr.
The third man of Los Jinetes del Air and the guy who has the unfortunate distinction of having the same gimmick Carístico/Mistico/Sin Cara had when he jumped to AAA after his WWE run. Of course his name used to be Angelikal, which is very close to Angelico, and now I'm sad because I miss Angelico and WHY WON'T HE COME BACK TO MEXICO?! My sob story aside, Myzteziz is pretty much the best third man in history. Sure he's not quite as creative as Vikingo or as steady as Laredo, but he does a mean Springboard Double Moonsault and has clicked with Vikingo in a way I haven't seen anyone else to this point. Hell if not for Vikingo, an argument could be made that Myzteziz is the most exciting young luchador AAA has. In other words, yes Vikingo may be the Mysterio of AAA's roster. But Myzteziz Jr.? At worst, he's the Juvy, and being the Juice is never a bad thing. Ask the Juice, he'll tell you himself.
Poder del Norte (Carta Brava Jr., Mocho Cota Jr., Tito Santana)
If Averno is AAA's all around unsung hero, than three of his rivals are the next in line. For nearly two years now the one constant you could always count on from an AAA show is that the match featuring Poder del Norte, the trio consisting of Carta Brava Jr., Mocho Cota Jr. and non Strike Force Tito Santana, was going to be good. I haven't seen a team these three don't click with yet, whether it be against Averno's Los OGT's, Los Jinetes del Air or even just a random technico team AAA has thrown together for the the night. They can fly, they can brawl, they can out wrestle you; everything AAA has asked, they have delivered. And they always give off the impression there is more they can do, especially Brava, who may quietly be one of the best workers no one knows about. If AEW is to do a showcase trios match of AAA stars at Double or Nothing (as I expect they will) this should be the rudo team. It doesn't matter who's on the other side; with Brava, Cota and Santana there, you know it'll be hot fire.
Psycho Clown
If you're a newbie to lucha libre, nothing will quite sum up how wacky and different it is from any other type of wrestling than the fact that AAA's Kenny Omega is a guy named Psycho Clown. Only in AAA! Psycho is a weird one and I don't just mean his gimmick; he's easily been AAA's biggest star for the last three years (he's headlined all three Triplemania's in that span) but he's also the biggest star AAA has who hasn't really broken into the US. He will definitely get that opportunity this time because AAA will insist on AEW using him. The good news is they will be right to. No one will mistake Psycho Clown as the greatest worker in history, but the second generation luchador (the son of Brazo de Plata, aka Super Porky, and the nephew of legends Brazo de Oro and El Brazo) is quietly really talented with one of the highest motors in wrestling. Even in the worst matches, with the worst luchadores, he will give it his all and generally elevates the match. If AEW gives him the right opportunities, he will surprise people in a big way.
Puma King
Back when he was in CMLL and just called "Puma", I once had a conversation with a much smarter lucha fan than I about guys like Puma King. This person lamented CMLL's treatment of Puma and how, if given the opportunity, the dude could be a huge star. He was right; as soon as Puma kicked CMLL to the curb this year he broke out in both Mexico and the US, with some help from a PWG Battle of Los Angeles appearance and Ryan Satin having no clue who he was. He started appearing in AAA around the same time, though I'm still not sure what his status is; hell I may be breaking my rule about "no nonexclusive guys" with this selection! Regardless, you don't find many luchadores as complete as Puma, who brings his father Felino's all around game and the charisma of his uncle, the legendary Negro Casas. Fun fact; Casas is considered to be a mentor by AEW's Chris Jericho and one of his favorite opponents from Mexico. Wouldn't it be something if Jericho were to face Casas' nephew all these years later…
Rey Escorpión
I love Rey Escorpión. I first saw him in CMLL and their then ally Lucha Libre Elite, where he had great matches against people from Máscara Dorada to Último Guerrero to even Teddy Hart. He found his way back to AAA just a year and a half ago and he's just continued to do the same thing when not stuck with La Máscara. Like Poder del Norte, he can do everything you ask. Like Averno, he gets all the little things right. And to top it all off, he has the ability to make everyone around him better. Remember how aimless Texano seemed before he and Escorpión started teaming up? Now they're arguably AAA's premiere tag team and Texano (who just missed this list) is also once again fun to watch when he's not around La Máscara. You can never go wrong with Rey Escorpión sports fans.
Taurus
You may recall at the very beginning of this that I said Averno was probably the best base AAA had, save for one guy. Finally, at the end of this piece, we have reached that one guy; Taurus. He is said to be a luchador that can catch any move, and to this point I haven't seen that proven wrong. But while Taurus is a magician in making guys look good, he brings something that even Averno does in all around excellence. The name Taurus isn't just for show; the dude is as powerful a brute you'll find in lucha libre. Somehow he also finds time to out wrestle people and even occasionally fly around. In another life time Taurus would've probably been a great Lucha Underground roster member. Now he should wind up being a jack of all trades should AEW want to use him. He can slide into the base role for any trios match with ease, and he can also be a luchador final boss for guys like Vikingo and Myzteziz to go through.
There are your 20 AAA luchadores who AEW should use sports fans. If you want to see more of some of these names listed here, I recommend watching tonight's AAA show on Twitch! It'll be live around 10:30 p.m. EST, and will be on live again on Sunday. And with that, I'll go make dinner before all of the lucha shows begin tonight. TILL LATER!
Please change disks to continue…